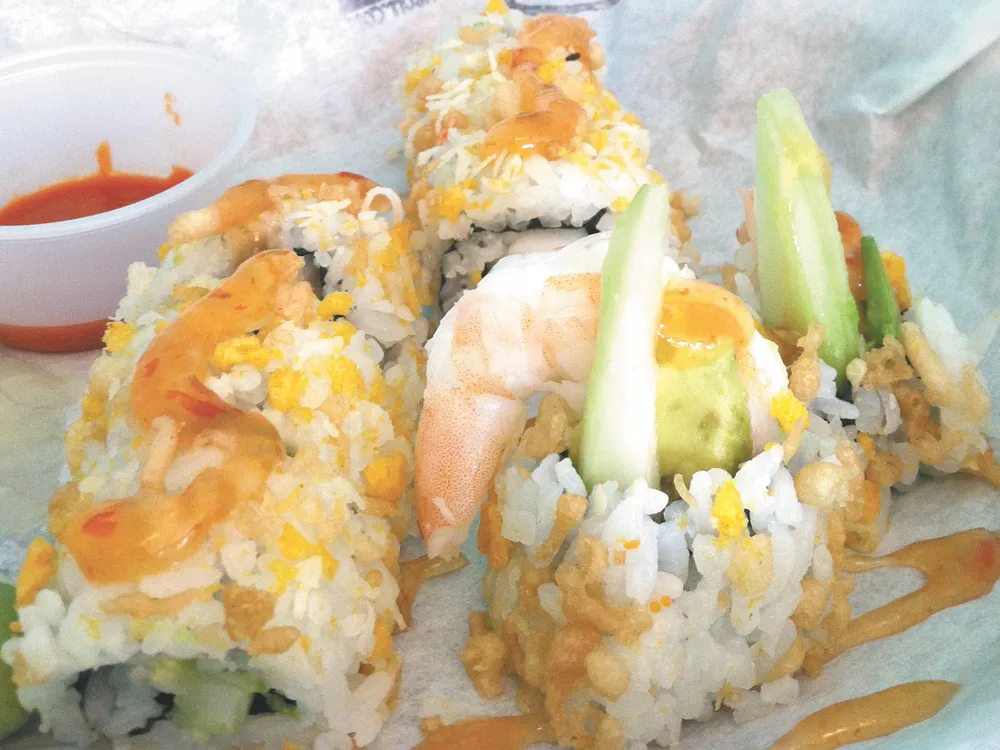 This summer saw the opening of two new sushi restaurants in Sandpoint, one at either end of the Long Bridge, both from existing area restaurant-owners. In town, Little Olive's John and Tullaya Akins, rolled out Big Tuna, a casual eatery adjacent to their existing Mediterranean-themed locale. Just across Lake Pend Oreille, at the point where Sandpoint becomes Sagle, Cassandra Cayson opened Shoga in a formerly unused space next door to her restaurant, Forty-One South.
Big Tuna is a hangin' loose kind of place with bright turquoise walls and indoor picnic table-style seating. Order at the counter from a menu that includes standard rolls and customizable options. Try Crunchie Munchie ($8.95), a cucumber roll with shrimp, tempura bits and sweet chili. Or the groovy 208 Roll with salmon, spinach and sprouts ($9.95). In addition to a modest beer and wine selection, Big Tuna serves sake straight up ($5-17) or in such cleverly-named drinks as the Cool Hand Luke: dry sake, muddled cucumber, lime, cilantro and tonic ($6).
For a little fancier digs and a broader menu, check out Shoga, which combines Japanese decor and a Northwest lodge-like setting. Think kimonos on pine paneling with red linen napkins, white china, black tables and a river rock fireplace.
Besides decor, prices are unexpected. A good sushi dinner, as fans can attest, might set you back $30 a piece; our meal of four shared plates and a beer was $40 with tax. The Hamanegi (yellowtail, green onions) and Walu (escolar) rolls were both buttery smooth ($5 each), a nice complement to our crunchy vegetable tempura roll ($8).
Entree options include the typical chicken ($10) or beef ($12.50) teriyaki and some fusion variations like the 1/3-pound Kobe burger with ginger aioli ($11). The Kake-Udon is a savory Dashi broth with sautéed vegetables and tofu over tender Udon noodles ($9), perfect for a chilly winter evening.
Look for new menu options at both locations, as well as special events listed on their websites or Facebook pages.
Shoga at Forty-One South • 41 Fish Hatchery Road, Sagle • Open Wed-Thu 4:30-9 pm, Fri-Sat 4:30-10 pm, Sun 4:30-9 pm • shogasushi.com • (208) 265-2000.
Big Tuna • 24 S. 2nd Ave, Sandpoint • Open Mon-Fri 11 am-8 pm, Sat 4-8 pm • bigtunaroll.com • (208) 597-7498.