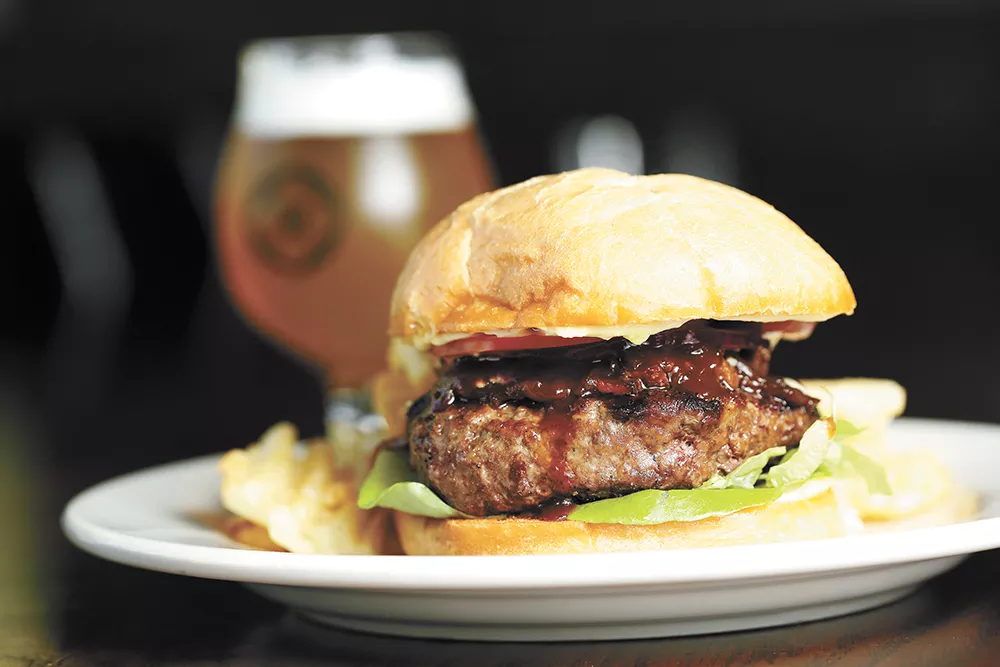 Due to its longstanding popularity — and especially during Wednesday's all-day burger special — parking at Downriver Grill can be a challenge. Finding a spot on the surrounding streets is a worthwhile struggle; just make sure not to block anyone's driveway.
The restaurant's relationship with its neighbors in the historic Audubon-Downriver Neighborhood in northwest Spokane is a symbiotic one, says Downriver Grill co-owner and director of operations Juli Norris.
"We were the first [local] restaurant that was located in a neighborhood, and a lot of people were concerned that we weren't going to make it because we weren't on Division, or we weren't downtown," Norris recalls. "But we believed in the sense of community and building a gathering place in the neighborhood for the locals of Spokane, but also to try to be a destination place for people visiting Spokane."
For the past 17 years, Downriver Grill has simultaneously evolved and maintained its identity as one of the region's dining mainstays, offering customers plenty of reasons to return again and again, whether that's for burger night, happy hour, the latest fresh sheet or a special occasion. From filet mignon ($39/7 ounces) to its beloved gorgonzola fries ($14), Downriver does it all, and well.
"We're not located next to the mall or a movie theater. [Customers] come here to be here and to dine here, so we take it really seriously, making sure we give each guest who comes in an experience that is uniquely Spokane" in both food and customer service, Norris explains.
The restaurant is co-owned by Norris and Jonathan Sweatt, who co-founded the restaurant in 2003. Leading Downriver's culinary team is executive chef Tyler Gardner and sous chef Ian Milowic.
On Wednesdays, of course, the reason many regulars and newcomers alike stop by is the restaurant's popular "Chef's Burger of the Moment" night, recently rebranded as Burger Dome. The weekly special, available from 11 am to 9 pm in addition to daylong happy hour, features a limited-time beef patty creation for just $10, and a pint of beer to go with it for $3.
After Burger Dome day, Thursday marks the release of another new fresh sheet, with specials from the kitchen — usually fresh seafood, a superb-quality cut of beef or pork, or housemade pasta — available through Sunday night, or until they run out.
Recent Burger Dome iterations include classics topped with peppered bacon, cheddar, spicy fry sauce and pickles, to a version with blackberry molasses barbecue sauce, fried onions and garlic aioli. If restaurant staff are late posting the week's burger on Downriver's social media pages, Norris says they're likely to get a few phone calls.
On average, the promotion sees up to 250 burgers heading out the kitchen. Burger night's sales record so far is 306, Gardner says.
As with Downriver's signature burgers — the DRG Chipotle BBQ ($15) and Dr. G's Gourmet ($17) — the ground beef for Wednesday's feature is a blend of certified Angus chuck with filet mignon, short rib or other scraps left over from the restaurant's in-house butchering. Beef is locally sourced from Lone Crow Farms in Deer Park.
"It's the highest quality burger we can offer, and it's custom," Gardner notes, adding that the restaurant's top selling menu item is its DRG Chipotle BBQ burger.
"Our goal is to be approachable," Norris summarizes. "We definitely want to be a place where people can celebrate life's most important events. It all comes back to community. We want someone to get the same level of service when they come in for that $100 bottle of wine and filets as when they come in for $3 beer and a $10 burger." ♦
For more great upscale burgers, also try: Prohibition Gastropub, Durkin's Liquor Bar, Lodgepole (Moscow)