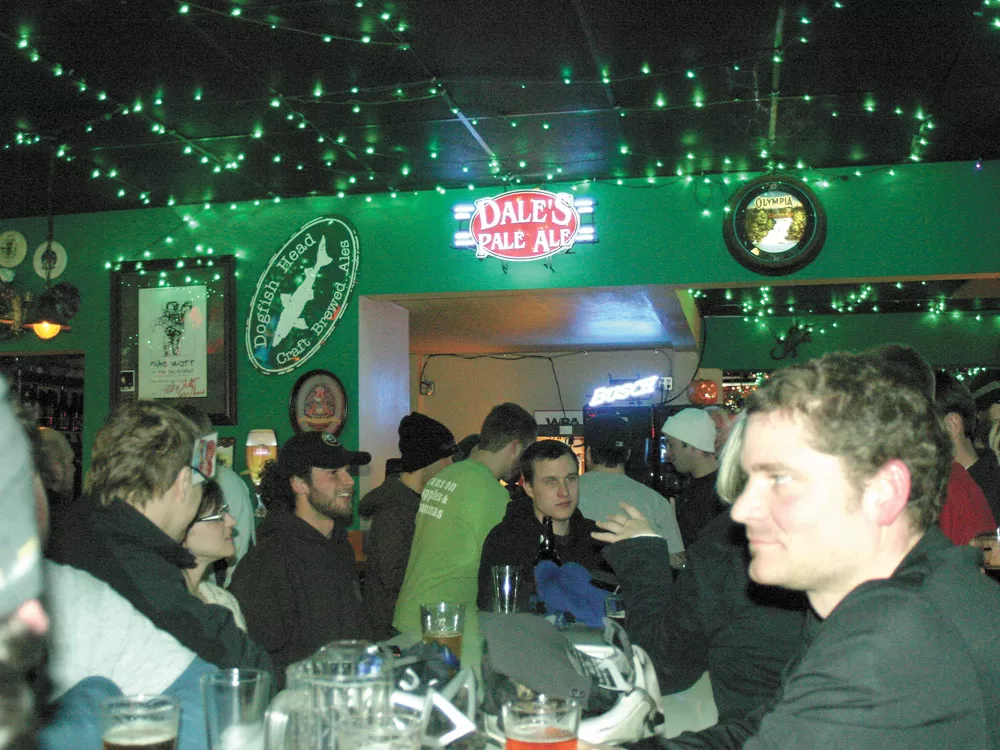 If Spokane is a dirty martini, the portion of downtown to the west of Monroe Street has all the right ingredients.

The area boasts art deco theaters, museums, 19th-century hotels, and fine dining. Walk five extra blocks and you'll find tequila bars, dives and a pizza parlor.

It's the ultimate drinker's paradise (there are 14 bars within walking distance) and a retreat for those into classical music and visual arts.

Watch the ballet in ball gowns and coattails or listen to Mozart being played by the Spokane Symphony at the Fox Theater (1001 W. Sprague Ave.). The architectural gem opened in 1931 and re-opened to the public in 2007. The theater hosts university orchestras, Venetian masquerade balls and more.

For a pre-Bach treat, head across the street, to Scratch Restaurant and Rain Lounge (1007 W. First Ave.), or Luxe Coffeehouse (1017 W. First Ave.), an elegant coffee, beer and wine bar.

"I want to see Spokane continue to revitalize and embrace this area," says Isaiah Crandall, co-owner of Luxe Coffeehouse. "Spokane has the potential to be such an awesome place."

Luxe features a hidden ballroom, private reading nooks, wingback chairs and ornate chandeliers cast against butter-yellow walls. On select nights, listen to live music and poetry readings.

"Ultimately, people just need to get their foot out the door," Crandall says. "This town is slow and steady, but Spokane always comes around."

Across the Monroe Street Bridge is a haven for sports buffs at the Sidebar and Grill (1011 W. Broadway Ave.) and Charley's Grill & Spirits (801 N. Monroe St.). Cheryl Rogers has been a Charley's regular for more than 12 years.

"I used to come every day," she says. "I like to compare Charley's to your friend's parent's rec room. You can just hang out here."

Be sure to check Charley's out on Saturdays around 9:30 pm, when they host karaoke. It gets wild. Actors from the Spokane Civic and Interplayers theaters frequent the bar and are known for singing fantastic show tunes and their spontaneous outbursts of jazz hands and choreographed dance routines.

"Charley's is sort of like a Cheers place," Rogers says. "But we're always looking for new names and faces."

South of the river and west of downtown, of course, is Browne's Addition a bohemian community all its own, full of Victorian mansions, hipster hangouts and biker bars.
Have a cocktail at The Elk Public House (1931 W. Pacific Ave.), or grab a beer and a slice at Pacific Avenue Pizza (2001 W. Pacific Ave.), but be sure to visit the Northwest Museum of Arts and Culture (2316 W. First Ave.). The museum's world-class art exhibits are open until 5 pm. Galleries are open until 8 pm on First Fridays and on second Fridays during BeGin, an event with live music, a bar, snacks and gallery viewing by donation.

For a drinking establishment off the radar, visit The Swamp Tavern (1904 W. Fifth Ave.). The tavern is illuminated by green twinkle lights, Christmas ornaments on the ceiling and a fire on the patio.

"We are more of a destination location, where people can go to avoid the downtown gauntlet," says Joe Kaler who owns the tavern with his parents. "We're on the other side of the tracks, so no one will even know you're here."

Although off the beaten path, the eccentric tavern epitomizes the sprawling nightlife west of Monroe Street.

"You think I'd be jealous of the other bars and their prime real-estate locations, but I love it here," Kaler says. "We cover the gamut: old people, bikers, bicyclists, hip people."
WHERE TO...
.. DRINK AND ENJOY TAXIDERMY
Nothing says classy like dead animals. Thanks to Scout (1001 W. First Ave.), downtown patrons can now enjoy a smattering of mounted deer heads while they eat. The lounge looks like a diary entry from the Lewis and Clark expedition. Maps hang from the ceiling, and the full bar and menu are both hardy. Think: chili, fish and chips, Old Rasputin Imperial Stout, and long pours of whiskey.
... DRINK FLAMING-HOT TEQUILA WHILE SAYING THE ROSARY
Don't be fooled by the crosses, Catholic saint candles and pictures of the Virgin Mary El Que (141 S. Cannon St.) is a tequila bar. The intimate brick bar in Browne's Addition is bursting with creepy religious decor, Mexican beer and unique bottles of liquor. Try their ghost-pepper-infused tequila.
... SPIN VINYL RECORDS LIKE IT'S 1965
Situated between train tracks and a bedrock foundation is Brooklyn Deli & Lounge (122 S. Monroe St.), a cozy joint that sits just below street level and serves a tasty array of pints on tap, Reuben sandwiches and giant pickles. Bring your vinyl for Turntable Tuesdays at 6 pm. DJ Dusty will play the entire side of the album whether it's Vampire Weekend or obscure sitar music.
... OVERHEAR A PLEA BARGAIN
The iconic Milford's Fish House (719 N. Monroe St.) has a luxurious life. The original tavern opened in 1911 and was turned into a cigar store, market and barbershop. The original cigar cases, an antique mahogany bar, and pin-up girls exude a dim, masculine atmosphere. As does its courthouse clientele of judges, public defenders and lawyers. "I'm sure a lot of sweet deals have been made here," says Jeremy the bartender.
BEGIN AND END YOUR NIGHT
Choosing the first and last stop of your night out is important, and Andy's Bar (1401 W. First Ave.) has the perfect combination of nightlife elements. Its extensive liquor selection, beer on tap, sleek modern design, pub grub and artsy/hip vibe make this place calm, cool and free of pretension. This isn't always easy to find. So take advantage of the cosmos aligning in one little corner bar. Because starting or ending here will ensure a good time.