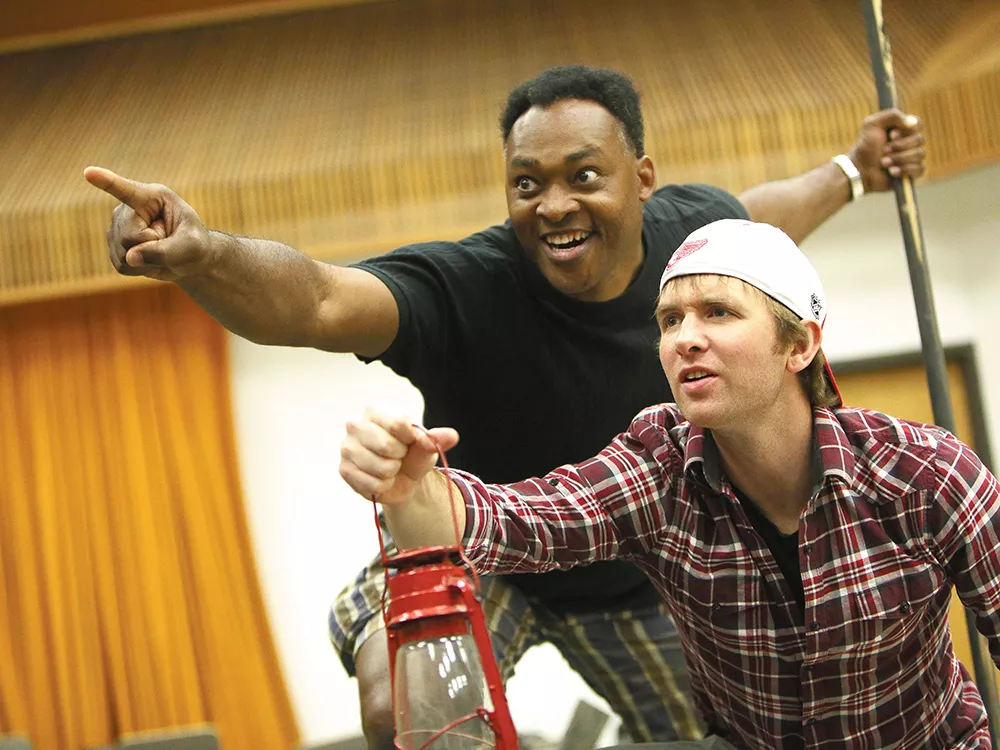 Most of the year, the offices of the Coeur d'Alene Summer Theatre hum along with five employees. But starting this month, that payroll heads north of 100. Michelle Mendez, a longtime part of CST in her first year as executive director, says that as usual, things are going crazy as the nonprofit theater company prepares for another season.
Many musicals require months of preparation and rehearsal, but given that CST uses actors and crew from all over the country who are coming off other productions, all of that is condensed into two weeks. The tunes are smoothed out, the sets built and the actors find their marks before opening to what have in recent years been full houses. CDA Summer Theatre is a professional theater company — a fact that Mendez says is sometimes overlooked in the Inland Northwest.
"Every spring we're essentially hiring a whole new company," says Mendez. "People don't always know that we have such a treasure locally."
Coeur d'Alene Summer Theater began in 1967 and has since produced a 12-week schedule of musicals on the campus of North Idaho College. With a sizable season ticket base, CST's three-month run brings in as many as 30,000 theatergoers over the course of the summer.
The company produces only musicals, four each season. This year, the slate consists of Big River, Mary Poppins, Romance Romance and 9 to 5 (see sidebar for details) and all of those shows feature casts plucked from both the local talent pool and larger cities. Much of this talent is scouted by artistic director Roger Welch, who heads to New York a couple times a year to check out actors, sometimes teaming with other small theaters to hold auditions for the season's upcoming musicals.
Seattle-based stage actor Matt Wade was part of a traveling production of Oklahoma when friends told him about the Coeur d'Alene Summer Theatre. In 2006, he joined the cast for A Chorus Line and returned for three additional seasons. This year, he's set up camp in Coeur d'Alene for the summer, appearing in all four musicals.
"It has to be one of the greatest regional theaters I've ever been in. The production values are tip-top," says Wade, who takes the stage next week in Big River as Tom Sawyer, a role he's hoped to snag since childhood. In fact, the musical's "Hand for the Hog" was the first song he ever performed in public.
"The stage itself is overwhelming, and you don't get that in most regional theaters," says Wade.
The stage and the productions' other trappings — which this year includes the equipment that enables Mary Poppins to take flight — require some serious funding. Each of this year's four musicals run at a budget of about $10,000 per night, says Mendez. And Mary Poppins doesn't fly for free. Sometimes, though, the theater can collaborate with other regional groups to lower these costs. The set for Big River, for example, was designed for a Seattle theater at a cost of $60,000, but CST was able to procure it for a fraction of that price. But with all of these costs in mind, Mendez nevertheless says the theater company prides itself on keeping prices within reach for the region.
"Theater is expensive. We are a nonprofit and with that status we get grants and donations. That helps, but our mission is to provide theater for everyone. We work hard to keep the price point available to everyone," says Mendez.
The goal — as it has been for more than 40 years — is to bring people to Coeur d'Alene to see high-quality musicals. So far, it looks like the formula is working.