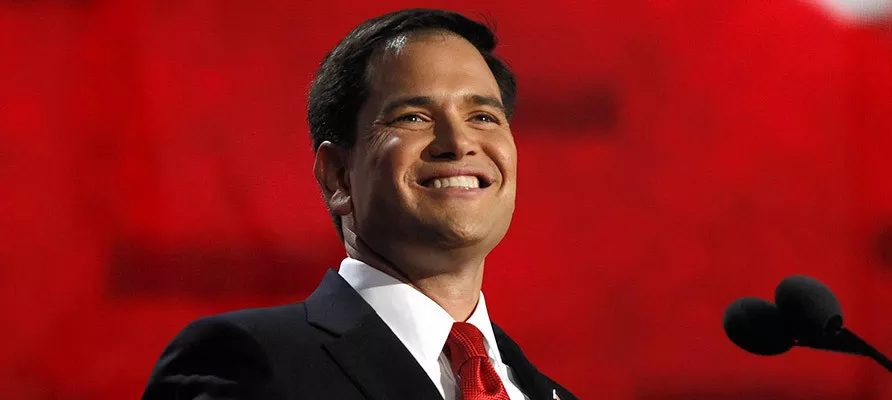 TRAGEDY OF ERRORS
Never has there been a story of more woe than the GOP and its Rubio. At one time, MARCO RUBIO seemed destined, as if by fate itself, to be the Republicans' heir apparent. He was young, deeply conservative, charismatic and Hispanic. And after dethroning his father figure Jeb Bush, party elders prophesied that surely Rubio would become the establishment's standard bearer and presidential nominee. Alas, his campaign has been star-crossed from the beginning. His failed attempt at immigration reform became a mark of shame. A single misstep at the debate before the New Hampshire contest allowed his once-minor rival JOHN KASICH to survive and keep nipping at Rubio's flanks, costing him state after state.
The outlook for Rubio now in the Florida primary on March 15 looks grim. Rubio had the best shot of capturing the crucial winner-take-all state, stopping DONALD TRUMP in his tracks. Yet in Florida, Sen. TED CRUZ has not unleased the dogs of war against Trump, but rather against the vulnerable Rubio, leaving Trump's victory all but assured.
In a way, it would be a fitting end to the Shakespearean tragedy of the Rubio campaign: stabbed in the back by an uncompromising senator on the Ides of March. (DANIEL WALTERS)
NORTHWEST STOPS
After watching most of the country weigh in, Democrats in Washington and Idaho are preparing to have their say in who the party nominates for president. Washington's Democratic Party will hold its caucus on March 26, and both former Secretary of State HILLARY CLINTON and Vermont Sen. BERNIE SANDERS are making a play for the 118 delegates at stake.
The Seattle Times reports that both campaigns have set up shop in the state and sent paid staffers to drum up support. In Spokane, the county Democratic Party has said they'll hold voter orientation sessions on the caucus process.
Although the Times reports that Sanders has drawn more "more individual donations from state supporters than all the other presidential candidates combined," Clinton has the backing of Washington state's entire Democratic congressional delegation.
Across the border, Idaho Democrats hold their caucus on March 22, allocating 27 delegates. Neither camp has invested as much in campaign infrastructure and, as of press time, neither candidate was scheduled to visit the Gem State. Not much polling has been done in the state, but a recently released poll found that Sanders leads Clinton 47 to 45 percent. (JAKE THOMAS)