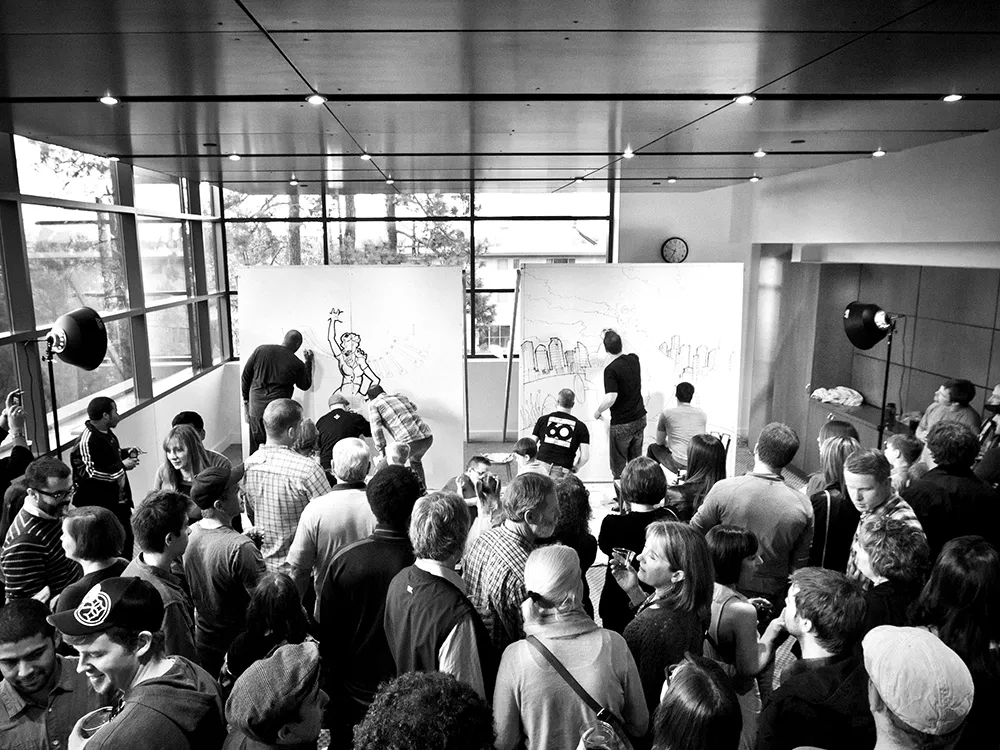 Artists bare their souls in their work. That's as true for a graffiti artist as it was for da Vinci. But rarely, if ever, do we see these artists actually creating their work.
Draw Off, a series of head-to-head live art battles hosted by Spokane-based advertising agency Seven2, brings that creative process into the spotlight, while tossing in some competitive spice for good measure. The rules are simple: two teams of three artists each take on an 8-by-8-foot board armed only with black pens or paint. They have two hours to create a piece incorporating a given theme. Spectators decide the winner, donating money to Second Harvest by placing it in their team of choice's jar.
The next Draw Off is slated for Saturday night during Elkfest in Browne's Addition. A team of local artists made up of Tiffany Patterson, Chris Dreyer and The Inlander's own Chris Bovey square off with Zach Grassi, Brandon DeLauney and Mitch Davis, all employees of Seven2.
"We've had a good mix of architects, tattoo artists, street artists, graphic designers, local agencies and art students participate so far," says Jesse Pierpoint, creative director at the agency. "It's always exciting to meet so many talented people, and I'm always surprised at what they can paint in two hours."
Things get competitive when the teams are coming down to their deadlines, but nobody has thrown a punch. At least not yet.
"No one has come to fisticuffs quite yet," he says, "but we have had some pretty talented and diverse people go head-to-head at these things."
Draw Off at Elkfest • Sat, June 8 from 6 pm to 8 pm • Pacific Avenue at the Elkfest stage