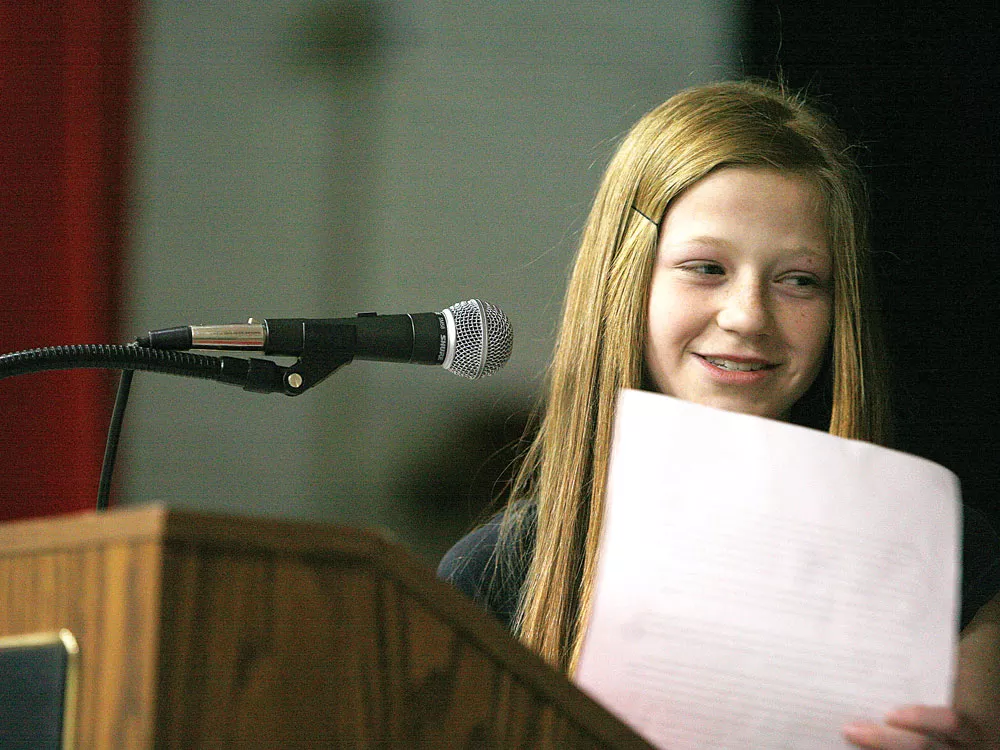 Rebekah Puryear sits on a bench in front of her whole school, clutching a sheet of paper.
As it fills for the annual Martin Luther King, Jr. assembly, the Adams Elementary gym transforms into the Tower of Babel, a quivering, shrieking tumble of kids ready for an afternoon snack.
This could be Rebekah's day.
She wrests her sweatshirt from her skin-and-bones frame and tosses it to the floor. A rainbow of jelly bracelets wriggles on her wrist. Her leg bounces.
She's one of three winners of the school's essay contest. The assignment: Write about a dream you have that could make the world better.
A blonde fourth-grader in a sparkly blue cardigan gives the first speech: "Stop fighting, taking drugs, having wars and littering."
A fifth-grader in a dress goes next: "We can all love."
Rebekah stands out, a jeans-and-T-shirt girl.
A strawberry redhead in a world of brown. A runner, a reader, a writer. She says she'll go to Whitworth one day.
At age 12, Rebekah says she knows that not every kid feels the strength inside that she feels. Not every kid sees strength like she sees: a big sister in the Navy, brothers who lay it all out on the wrestling mat. Not every mother says, "Any given day could be your day."
When her turn finally comes, Rebekah rises from the bench and tells this room of big blue and brown eyes not so much about MLK but about Dick Fosbury — the legendary high-jumper who created the "Fosbury Flop," the backward technique that revolutionized track and field.
When others jumped head-first, he leapt with his face to the sky.
"Before, he couldn't even jump the five-foot bar," Rebekah says.
The point, she tells her classmates, is doing it your own way.
And they cheer for her.