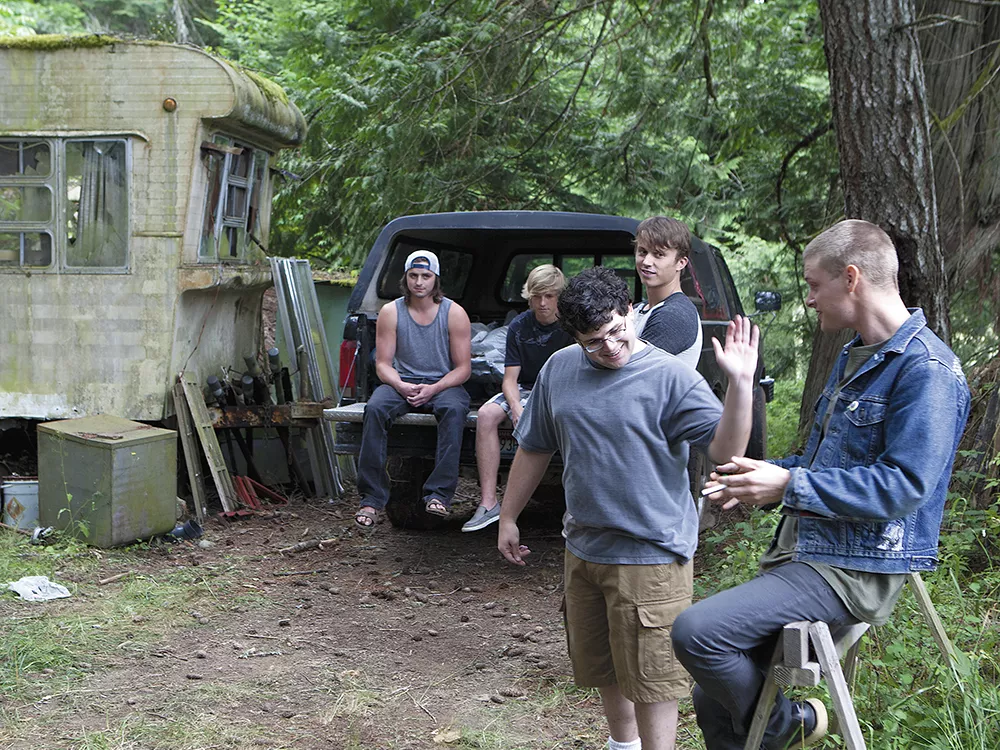 Weed! Murder! Hellboy! These are the elements of the first Inlander story to be told on the big screen. Kid Cannabis, featuring the stars of Hellboy and Footloose and ripped from these very pages, should appear in theaters sometime late this summer, and let me tell you, it is quite the morality tale.
No, not about the perils of competing drug smugglers in North Idaho, and the pitfall of one getting murdered by his own hired assassins, which were topics of the April 7, 2005, Inlander cover story "Dreaming in Green: How the Young Become Drug Lords."
No, this is a cautionary tale more along the lines of dreaming of green. Sure it's exciting when you can tell your friends Hollywood wants to make a movie out of one of your stories. Your friends immediately want to know two things: Are you rich? Who's playing you in the movie?
Answers: No. And mug-shot Nick Nolte. (Actually, the answer to both questions is 'No,' but I'd like to be prepared if they decide they need a journalist character.)
The movie has an interesting cast, ranging from Kenny Wormald of Footloose as smuggler Topher Clark, and Hellboy (and Sons of Anarchy) star Ron Perlman as a fictional drug financier.
Here's the backstory of how an Inlander piece gets to Hollywood:
I got fired for insubordination from a daily newspaper where, among other things, I had been covering the arrests and trials of young B.C. bud smugglers for a year or so.
I then turned to The Inlander to publish a crazy larger narrative about the denouement of young drug smugglers who gleefully amassed piles of cash until a Shakespearean murder began to unravel the whole scheme. This paid some bills, bought some groceries, eventually led to a full-time gig at The Inlander, but it did not set the world on fire. Or so it seemed.
However, the story was interesting enough to be poached by Rolling Stone, which did its own version half a year later, titled "Kid Cannabis: How a Chubby Pizza-Delivery Boy from Idaho Became a Drug Kingpin," and which caught the attention of HBO Films. As HBO was doing its homework to get a contract together to buy movie rights from the Rolling Stone writer, they found me. (Apparently, Hollywood does not consistently read The Inlander.)
Which led, by the end of 2005, to a surprise call from HBO Films seeking to buy the rights to the story ("exclusively, in perpetuity and throughout the universe," in actual contract language), and a chat with director John Stockwell.
I remember the first phone call with Stockwell, some seven years ago. He was at a playground somewhere around L.A. with his kids, pushing one of them on a swing. "Do you get to L.A. much?" he asked. I didn't say this aloud, but "Dude," I was thinking at the top of my lungs, "do you get to Rathdrum, Idaho, much?"
Stockwell and I spoke again by telephone in early December of 2012. He's in Puerto Rico filming his next movie, In The Blood, with Cam Gigandet. He's almost done with Kid Cannabis (shooting took place in August on Vancouver Island), he has his final edit and is now doing the sound and music editing.
There's no release date scheduled yet. "We're going to start screening it for distributors at the beginning of the year and that's when we'll figure out what our release strategy is. Our producer wanted to do a 4/20 release. I don't know if we can put that together or not, but that was a marketing aspiration."
All these years later, Stockwell offered a surprising — and entirely unsolicited — assessment of the Inlander story: "I'd obviously read the Rolling Stone article and that was useful, but I thought your reporting and your knowledge of the real players made a real difference. I love the idiosyncratic nature of it. What I mostly love are the details of the true story, which you chronicled so well."
The story was cinematic from the start, with personable young smugglers Nate Norman and Topher Clark describing comical scenes of tiptoeing past snoozing border agents in a game of what one Border Patrol supervisor admitted was "playing tag in the dark." Another young smuggler, Brendan Butler, felt he was getting undercut by this new gang and hired some California muscle to take them out. Such hubris, it seemed to me, that this son of a wealthy, sheltered Hayden family would see himself as a ruthless drug lord. It all seemed an act, because Butler never really seemed to want to kill anybody and was always delaying. Impatient, the hired muscle eventually lured Butler to a remote forest road — scoping out a place to dump bodies was the nature of this outing, and they left Butler's there, his throat slashed. But they forgot to take Butler's phone, and the information on it, when his body was discovered by a woodcutter a month later, turning the murder investigation into a huge federal drug bust that took everybody down.
Back in the giddy early days of the movie project, Stockwell may have gotten a budget as large as $15 million from HBO to shoot. Even my scrap of that as the writer of the base material would have been larger than my annual Inlander salary. Everything plummeted in the recession. People with millions of dollars to invest in movies became increasingly scarce.
"Even to have made this movie for $15 million with no names and drug content and it not being based on a comic book or a Tolkien novel … that's pretty difficult," Stockwell says. "We made it for more in the $2.5 million range. I like the fact that it's not slick and that it's not homogenized and that it has a more raw, rough-and-tumble feel."
I asked Stockwell why he stuck with Kid Cannabis all these years, after HBO and so many other backers and potential investors bailed.
"I think the story has a crazy Shakespearean component, but it also has a sort of Superbad goofiness to it, which I really embrace," he says.
There are some changes to the story.
"It's not Lincoln, you know what I mean? It's not history that's been that well chronicled or burned into peoples' memories," says Stockwell. "But honestly, that being said, I think we stayed very close to the facts of the story. We shot at a real grow op. The fake weed we had, at least in the closeups, looked not great, so we used real. Some actors chose to smoke, others didn't, so we adjusted according to need. Authenticity? Yeah, it made a big difference."
According to my writer friend, this has been an authentic Hollywood experience: Many different people are attached to the project, then they go away. Excitement rises, then ebbs. Years pass. In fact, this writer's way-back advice about doing the anti-giddiness math was to be sure and divide any eventual payout by how long I'd waited for it. In this case it's a half-what-was-promised-in-a-better-economy paycheck, and seven years. Not so giddy a sum.
Still, I think it's hilarious that I am in the IMDb database. And I can't wait to dive into my next Hollywood project: Hair of the Dog: The Nick Nolte Story.