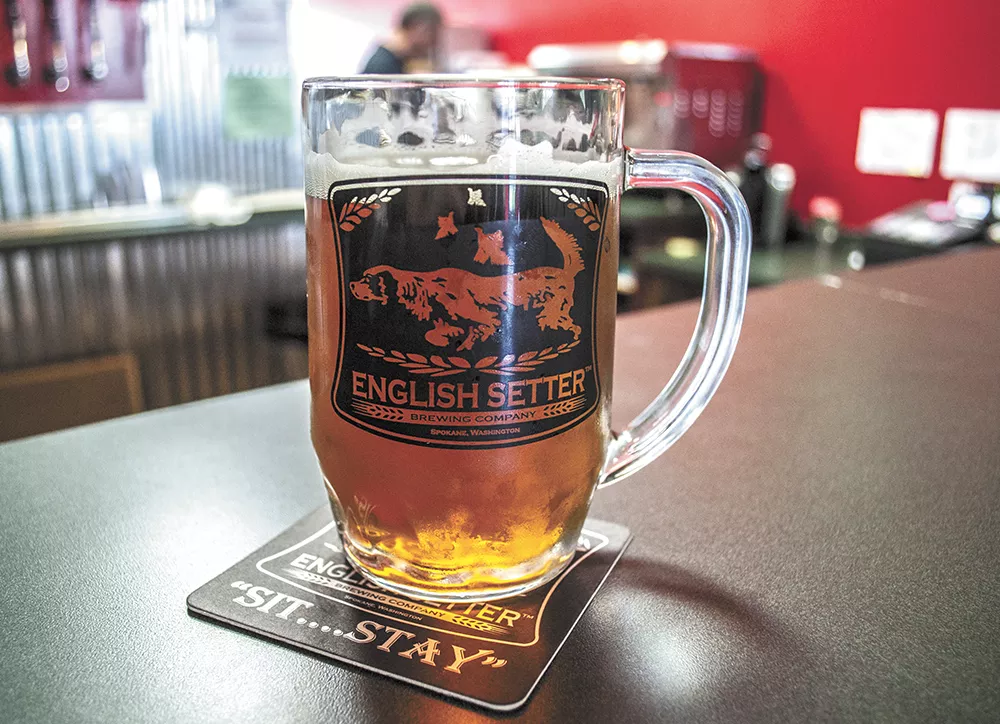 Hard-working hunting dogs grace photos and paintings along the walls of the spacious and high-ceilinged English Setter Brewing taproom in Spokane Valley. Rotating beers take their names from dog and hunting references like the On Point Pale or Over-Under IPA. Popcorn is served in metal doggie dishes.
But English Setter owner and brewer Jeff Bendio notes with great disappointment that the health department does not allow actual dogs in the brewery. Man's best friend can't come out drinking.
"I wish they were," he says.
Bendio says English Setter, like many breweries, grew out of a passion for brewing and a desire to share the tasty rewards with more than just a small circle of friends. The brewery offers light-bodied ales with relatively low alcohol or bitterness. Most offerings, including the standout Red Setter and Wild Flush IPA, finish clean without any sharp edges or grit.
Opened earlier this year, the brewery has at times struggled to keep up with demand, Bendio says, often switching out its nine taps to introduce new seasonal offerings. He says he's adding two new fermenters to help ramp up his output.
Unlike many area breweries, English Setter also boasts a full menu of classic pub fare — sandwiches, fries and flatbreads. Bendio says the kitchen uses a hot-air cooker instead of a traditional deep fryer, getting things crispy without the grease.
The taproom, which is 21 and older, also offers growlers and 2.5-gallon "pigs." Bendio explains that the pot-bellied dispensers seal out air and trap carbonation, keeping beer crisp for several months, unlike growlers which often go flat within days.
The brewery also opened a new patio in June. On Saturday evenings, it hosts live acoustic music from 6-9 pm. Bendio says music ranges from classic '50s hits to contemporary tunes.
"It's just laid-back," he says. ♦
English Setter Brewing • 15310 E. Marietta Ave., #4, Spokane Valley • Open Tue-Wed, 11 am-8 pm; Thu-Fri, 11 am-9 pm; Sat, 2-9 pm • englishsetterbrewing.com • 413-3663