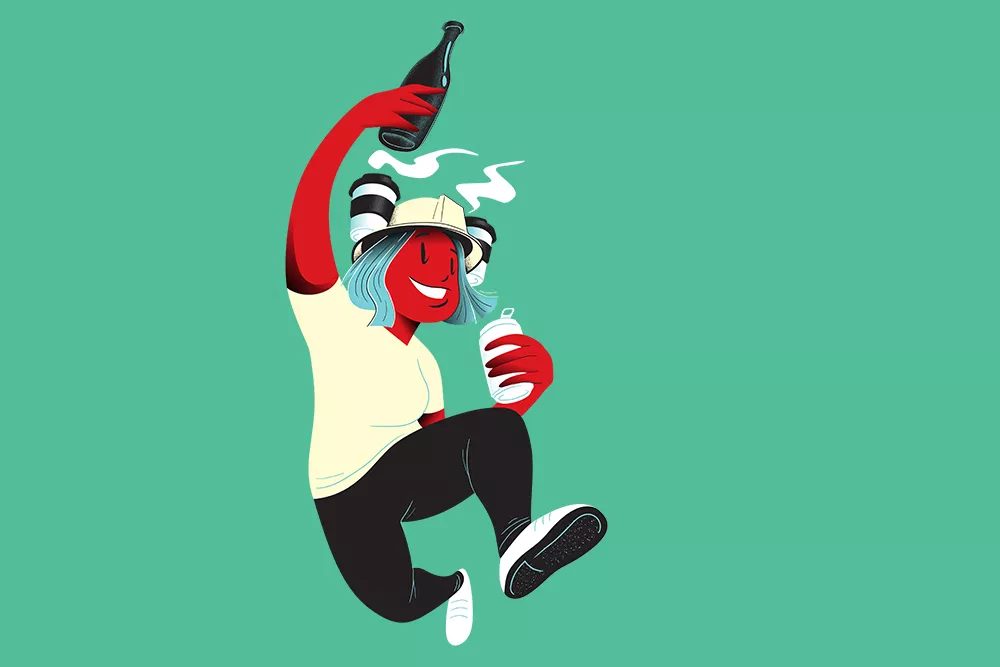 Best Local Winery
ARBOR CREST WINE CELLARS
A great wine is as much about context as flavor. So for a moment, set aside the fine wine and take a gander at the winery. When my parents took me to the Arbor Crest Winery as a kid, I wasn't allowed to sample the latest Malbecs, of course, but I thought to myself: "This just might be the fanciest place in the world." Perched on Spokane Valley cliffside, 450 feet above the winding river, the Cliff House is a three-story mansion that features a giant-size checkerboard, like some sort of queen would play with her servants. It's a great place to get married, and an even better place to get a wee bit tipsy. (DW)
2nd PLACE: Barrister Winery; 3rd PLACE: Maryhill Winery; NORTH IDAHO'S BEST: Coeur d'Alene Cellars
---
Best Wine Tasting Room
MARYHILL WINERY
The first thing you notice when you walk into Kendall Yards' Maryhill Winery tasting room is the view — a sprawling patio overlooking downtown Spokane's gorgeous river gorge. The second thing you notice are three displays littered with more wine-competition medals than a Texas football coach's trophy case. The third thing you notice, if you're not already concentrating on drinking their award-winning Malbecs and Albariños, might be the furniture and wine racks, most of which is handcrafted by winery owner Craig Leuthold. (DW)
2nd PLACE: Barrister Winery; 3rd PLACE: Arbor Crest Wine Cellars; NORTH IDAHO'S BEST: Coeur d'Alene Cellars
---
Best Craft Cocktails
BON BON
Ten years after opening as one of Spokane's first craft cocktail bars in the modern revival, Bon Bon is still going strong. The tiny bar tucked in the front of the Garland Theater's historic building is the perfect spot to grab a seasonal drink before or after a movie — staff regularly debut fun movie-themed cocktail menus for the theater's Tuesday night rerun series — or any other time. Bon Bon also boasts one of the best happy hours in the region (Mon-Thu from 4-7 pm, Fri-Sat from 10 pm-close, all day Sunday), with $5 featured cocktails. (CS)
2nd PLACE: Hogwash Whiskey Den; 3rd PLACE: Durkin's Liquor Bar; NORTH IDAHO'S BEST: 315 Cuisine, Coeur d'Alene
---
Best Local Brewery
NO-LI BREWHOUSE
No-Li Brewhouse continues to raise the bar every year. The brewery recently won the People's Choice Award at the Washington Winter Beer Festival in Seattle. It launched a small-batch, experimental brewing series with great success. And its contributions to the community don't stop with beer. In the past year, No-Li has helped raise money for Ignite Basketball, Odyssey Youth Movement, St. Margaret's Shelter and several other local organizations. (DH)
2nd PLACE: Post Falls Brewing; 3rd PLACE: Iron Goat Brewing
---
Best Local Cidery
ONE TREE HARD CIDER
Hard cider starts with apples, but it certainly doesn't end there for One Tree. The cidery has become a local favorite known for its core lineup of flavors that are all both sweet and crisp. It also boasts an impressive seasonal rotation of ciders — like last years' Strawberry Rosé and Peach Tea — and a downtown cider house serving creations from all over the region. (DH)
2nd PLACE: Trailbreaker Cider; 3rd PLACE: Liberty Ciderworks; NORTH IDAHO'S BEST: North Idaho Cider, Coeur d'Alene
---
Best New Brewery (Opened in 2019-20)
BRICK WEST BREWING
Brick West Brewing opened just two months ago in downtown's west end, yet it's quickly made a name for itself throughout the Inland Northwest. A project of owners Matt Goodwin and Jordan Tampien, the popular taproom features 13 beers on tap and a small kitchen that serves gourmet hot dogs. Goodwin and Tampien have built quite the team backed by head brewer Sam Milne, formerly of Kulshan Brewing in Bellingham, and general manager Brian Carpenter, a veteran in the local beer scene. (DH)
2nd PLACE: For the Love of God Brewing; 3rd PLACE: Lumberbeard Brewing; NORTH IDAHO'S BEST: Lone Mountain Farms, Athol
---
Best Local Distillery
DRY FLY DISTILLING
Spokane's own Dry Fly Distilling has it all: bourbon, whiskey, vodka, gin. If you're into craft liquor and distilleries, then this local distillery has something for you. Nestled near Gonzaga University and right off of the Spokane River, swing by their tasting room to hang out and sample liquors, craft cocktails, or buy spirits in bulk. (JK)
2nd PLACE: Warrior Liquor; 3rd PLACE: Up North Distillery; NORTH IDAHO'S BEST: Bardenay Distillery
---
Best Margarita
EL QUE
Browne's Addition gets sleepy pretty early most nights, but El Que does its best to keep the neighborhood's lights on late. But regardless of the time, the tiny taqueria is always a destination point for a killer margarita. Go with an old reliable — on Wednesdays, a standard marg with their well tequila is only $5 — or consider branching out with a beet-infused or spicy serrano tequila. (NW)
2nd PLACE: Borracho Tacos & Tequileria; 3rd PLACE: Cochinito Taqueria; NORTH IDAHO'S BEST: Casa Lopez, Moscow
---
Best Single-Location Coffee Shop
ATTICUS
Mosey down to this little shop that is filled with all the class and taste of Atticus Finch himself. Inspired by the classic novel To Kill a Mockingbird, this classic coffee shop is a staple for coffee lovers. Located in the heart of downtown Spokane and serving as both a coffee spot and gift store, this shop is a must see and taste for all. (RU)
2nd PLACE: Vessel Coffee; 3rd PLACE: Revel 77; NORTH IDAHO'S BEST: Vault Coffee, Coeur d'Alene
---
Best Local Lager
WHISTLE PUNK BREWING HELLES

As trends continue to push more adjuncts into our beers, it's nice to take a break from it all and enjoy a refreshingly crisp lager to reset your palate. That's when I head to Whistle Punk's downtown tavern and order a couple pints of the Helles Lager. The German-style beer is hopped with Hallertauer Mittelfrüh and boasts a near-perfect malt balance.
If lagers just aren't your thing, this nanobrewery excels in trendy styles as well. I'd suggest the Key Lime Pie kettle sour with vanilla, lactose and cinnamon or the Citra Sabro hazy IPA. (DEREK HARRISON)
---
Best Spot to Discover Yer Inner Texan
LIL SUMTHIN' SALOON

If you're fixin' to get yourself a drink, I'd suggest the newly opened Lil Sumthin' Saloon. Some of the house special libations include the Jolene, Golden Pony and Bless Your Heart — peach-infused whiskey with lime juice.
The good times don't stop there. I'm talkin' free pinball, y'all. Daily happy hour until 7 pm. A michelada and Bloody Mary bar with bingo every Sunday. Heck, they even have free line dancing on special nights. (DEREK HARRISON)