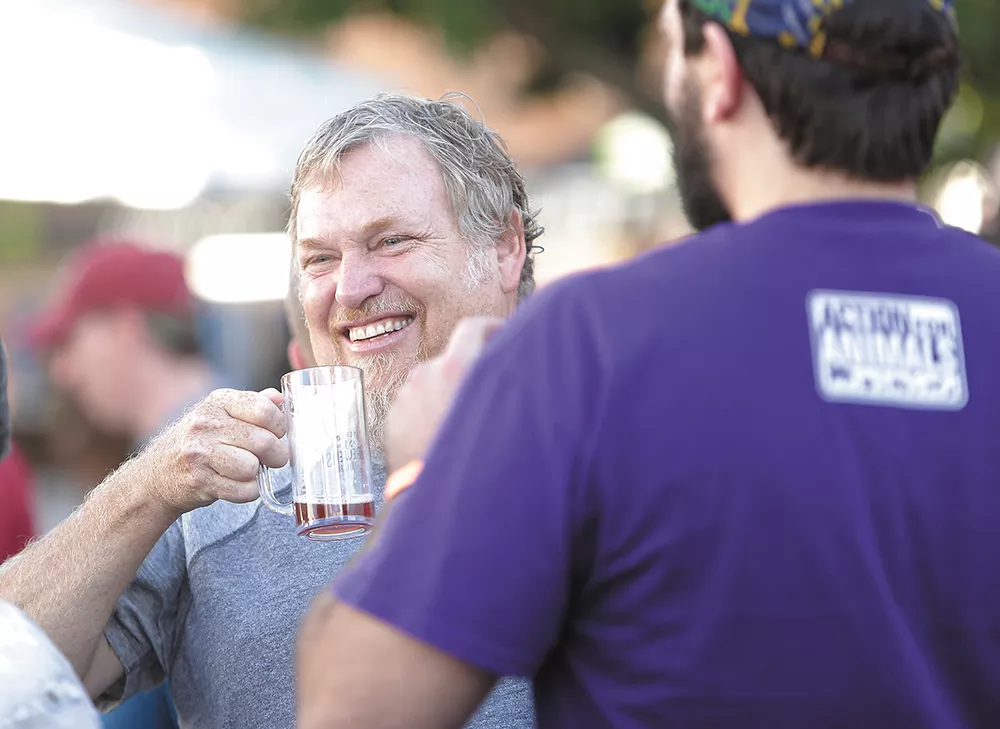 FOR STARTERS
Bird & Beer
Food and beer pairings can be quite the experience, elevating both the provided beer and food as well as creating a great opportunity for socializing. Chef Adam Hegsted's Fried Chicken & Local Beer nights aim to do just that, while also shaking up the traditional food-and-beer-pairing format.
Held the second Wednesday of every month at the Yards Bruncheon in Kendall Yards, each event focuses on providing a selection of beers from a featured local brewery and pairing them with comfort food: mashed potatoes, roasted corn, coleslaw, and the star of the food lineup — buttermilk fried chicken. To amplify the event's social aspect, all the food is served family style, encouraging conversation and sharing. The casual atmosphere makes talking about the beer and the food less of a rigid agenda and more of an laid-back discussion.
The dinners begin at 6 pm and tickets are $35 per person, including tax and tip. Call 443-4410 to make reservations and prepare to be licking your fingers.
Booze-Inspired Visions
Summer is a great time to expand your horizons and try something new, but we can get anxious when stepping outside of our comfort zones. The good news is Pinot's Palette offers the opportunity to try something new — taking an art class while also providing a place to drink and socialize — which can definitely help with those silly inhibitions.
Pinot's Palette is a venue that aims to introduce people to the art of painting while also providing an atmosphere that encourages mingling and casual drinking. Classes are geared toward individuals, couples and even groups who are looking to connect in a different locale, and maybe play with a little paint while they sip their libations.
Multiple classes are held each week and weekend, categorized by the image you'll paint while enjoying a glass or three of your favorite wine or beer. Pinot's Palette even offers special events, like Date Night sessions and even all-ages painting sessions for little ones (without wine and beer). The price of each session ranges from $35 to $45, depending on whether it's a two-, two and a half-, or three-hour painting class. And each class includes a 16-by-20-inch cotton canvas, paint and brushes, an apron that is both paint- and wine-resistant, and step-by-step instructions provided by a local artist. Of course, wine and beer are available for purchase to achieve the full experience.
Visit pinotspalette.com/spokane/events to peruse Pinot's events calendar and sign up for a class at the Spokane location, or pinotspalette.com/cda to see what's happening at the Pinot's Palette in Coeur d'Alene. Consider hanging your newly painted masterpiece above your wine rack.
Party Pedal to the Metal
If you're looking to add a little flair and fun to your next bachelor party, pub crawl, or office retreat, the Spokane Party Trolley might be a great way to roll. This pedal-powered revelry vehicle can carry up to 16 passengers plus the trolley guide, and can take your group on a drinking tour of a few of your favorite downtown watering holes.
It may not be the fastest ride on the street, but the Party Trolley is a great way to get in some exercise and fresh air while you bar-hop. While the trolley is propelled by the legwork of its 10 pedaling seats, there are also five "slacker" seats for those who aren't up for the cardio, or who have become too uncoordinated to pedal. (A minimum of eight pedalers are required to get the trolley rolling.) Pub crawls are a popular choice for most participants, but the Spokane Party Trolley also offers a variety of other rides, including sightseeing tours, local winery or brewery tours and even themed parties.
The Spokane Party Trolley offers two main options for rides: private two-hour group rides for eight to 16 people, with a recommended two or three stops ($320 Sunday-Thursday/$360 Friday & Saturday), or a preset pub crawl social mixer for single passenger sign-ups ($30/seat, eight passenger minimum). Hit up spokanepartytrolley.com to view pricing, route and booking information. You may also want to get in some leg stretches before pedaling.
THE NEXT LEVEL
Festival of Suds
Back again for its second year, the Spokane Brewers Festival takes place Aug. 4 & 5 at the Spokane Arena. This outdoor craft beer fest focuses on breweries from the Inland Northwest, with more than 30 breweries (and cideries) from Eastern Washington and North Idaho scheduled to pour.
Tickets for the festival are $25 in advance and $30 day-of. Tickets include full admission for the entire weekend, a souvenir clear plastic mug and 13 drink tokens, each good for a 2-ounce pour. Thirsty festival-goers can get full 10-ounce pours for five tokens each; additional tokens can be purchased for $1.
Along with bringing in tasty local suds, the Spokane Brewers Festival has partnered with Feeding Washington, a statewide hunger relief organization that brings healthy food to food banks all over the state. A portion of the festival's proceeds will benefit the organization.
The festival is also a family-friendly event. For youngsters and designated drivers, a River City Root Beer Garden will offer complimentary handcrafted root beer. The festival will also present live music, adding another level of entertainment to your beer drinking experience.
The festival runs Friday, Aug. 4 from 4-8 pm and Saturday, Aug. 5 from 11 am-8 pm. Tickets and token sales close at 7:30 pm each night. Check out spokanebrewfest.com for a list of participating breweries and more festival details.
Wine Knowledge 101
When enjoying wine with friends, do you suddenly find yourself feeling anxious when words like "terroir" and "Sangiovese" are brought up in conversation? Do you struggle to tell the difference between a Merlot and a Malbec? Have you been caught secretly highlighting the pages of Wine for Dummies? The world of wine is vast, and can be very intimidating for those wanting to learn more about wine and the industry and culture that surrounds it. Fear not, because Beverly's Restaurant in Coeur d'Alene has your back.
Sip of Beverly's is an introductory wine class and tasting event hosted by Beverly's wine sommelier Trevor Treller. The class also includes appetizers along with the provided wine, which can also be purchased for less than retail price after the class. Questions and interaction from the attendees are encouraged, so you can ask, "What's a claret?" without fear of judgment.
Classes, held on the first Saturday of every month, are $25 per person. Call 208-765-4000 for reservations and more information. Classes tend to fill up quickly, so get your spot now and show off your newly acquired knowledge of wine at your next gathering.
In Vino Veritas
Let the beer nerds have their brewfests: Spokane wine lovers have their own jubilee. Vintage Spokane is a summer wine and food event featuring more than 50 regional wineries and gourmet bites from participating local restaurants.
The participating wineries at Vintage Spokane will pour samples of some of their product, as well as offering bottles for purchase. Aong with the wine and food, other vendors will be present, including a cocktail bar by Demitri's Gourmet Mixes, where you'll be able to sample custom cocktails made with locally crafted spirits.
Vintage Spokane will be at the Davenport Grand on Sunday, July 23 from 5-8 pm. (4-8 pm for VIPs). Tickets are $45 for general admission, $60 for VIPs, and ticket prices will increase $5 after July 9. Visit vintagespokane.com for a list of participating wineries and more information.
Learn to Homebrew
Inland Northwest beer lovers are very fortunate to enjoy so many craft breweries in the region brewing great beer. However, if you still can't satisfy your needs with local beer, or you're just looking to learn more about the brewing process, there's another option: brew your own.
Homebrewing has become a popular hobby in the U.S. over the last couple of decades in the wake of the commercial craft beer explosion. Compared bottle-to-bottle, a homemade batch of beer is significantly cheaper than a commercial brew, and whipping up a batch of beer at home can be a fun social event for friends and family. Now, beer lovers looking to dive into making their own beer at home have a wealth of resources available to learn the craft. When it comes to education, there are dozens of books, magazines, podcast, and YouTube channels dedicated to homebrewing, along with local homebrew clubs and homebrew supply stores.
Peter McArthur, owner of NuHome Brew & Bottles in Spokane Valley, has some basic advice for guiding first-time homebrewers into making their first batch of beer. "I tell everyone to jump into it. The lingo can be intimidating, but it makes a lot more sense to people once they've gone through the motions."
Many homebrew supply stores like NuHome offer starter kits that include everything you need to jump into the hobby, including the ingredients to make your first batch of suds. Once you get a handle on the process, your creativity knows no bounds; you can finally brew that batch of chipotle pumpkin mint stout you've been dreaming of. You may still prefer your neighborhood brewery's beer over your own, but at least you can say it's yours.♦