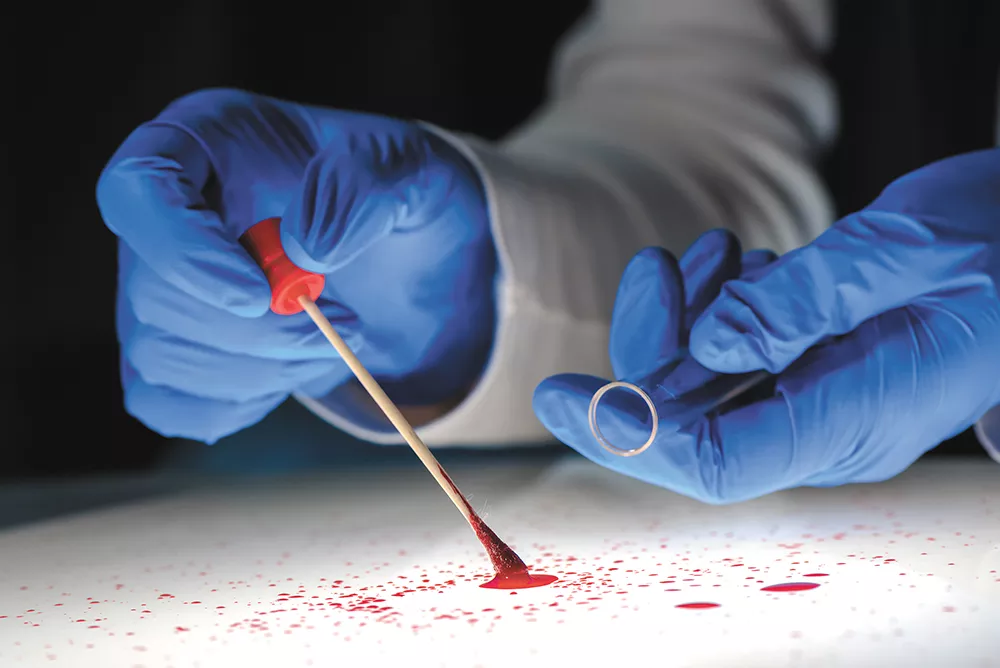 When she was first elected prosecuting attorney of Columbia County, Washington, 11 years ago, Rea Culwell also got the gig of county coroner — whether she wanted it or not.
Trained as a lawyer, not a medical professional, she was tasked with investigating unattended and unexpected deaths in the small southeast Washington county of about 4,000 people. Newly elected, Culwell ended up receiving four hours of coroner training, where experts spoke about things like blood spatter and basic death investigation, she says.
"Halfway through, I raise my hand and go, 'What do you do when there's a body?'" Culwell says. "'Do you touch it? Take the wallet?' I really had no idea."
In Washington state, the 13 counties with fewer than 40,000 residents (plus, Clallam County) don't elect coroners to do the job. Instead, state law lumps the roles of prosecutor and coroner together.
Those counties make up part of a patchwork of death investigation systems across the state. Nineteen counties have elected coroners who aren't required to have a medical background either, while six counties, including Spokane, use trained forensic pathologists under a medical examiner system who can perform autopsies and determine cause and manner of death themselves. No system is perfect — the state Department of Health is currently investigating the Spokane County medical examiners after grieving families complained about their decisions — but in the state's smaller outposts, officials like Culwell may walk in with little to no experience.
Culwell, like other new coroners, would end up learning the basics of death investigation on the fly. In less than a day she was told how to take eye fluid, urine, and heart blood samples.
"That was done during the basic training, showing this is the best place to put the needle, or to get body temperature," she says. "The eye fluid, once you die, that is preserved, it's not degrading other than it dehydrates. That's a great place to get if someone is drunk."
Wanting to tackle the role as best she could, Culwell read a basic death investigation manual "that's really old, but it's helpful." She signed up for extra courses. A few years in, she traveled to New York City's medical examiner's office for a weeklong training in the largest office in the country.
And of course, there was learning on the job.
For example, she says, many men feel like they have to go to the bathroom when they're having a heart attack, so a lot of them are found on the toilet.
And there are a lot of bizarre scenarios. One case looked like the bloodiest scene you could imagine, she says, with blood all over the bathroom and body, but no apparent wounds on the man who was found. Coroners with more experience who were consulted on the case said heavy drinking could lead to that.
"It turns out if you drink so much, you basically burn a hole in your esophagus," Culwell says.
Under both prosecutor/coroner and elected coroner systems, officials may help with death investigation at the scene, but they hire forensic pathologists to actually perform the autopsies and determine the cause of death.
Where things could get tricky for small counties is when a death appears to be linked with a crime — the prosecutor has one set of rules and thinking to follow, which isn't necessarily the same approach that a coroner takes.
As coroner, Culwell says, "You can go in and poke around all you want."
But as prosecutor, she makes sure to follow legal procedures to get a search warrant to enter the scene, and she lets police or the state patrol handle the death investigation to avoid a conflict of interest.
Conceivably, if someone were both ruling on the manner of death and going after criminal charges as a prosecutor, they could shade the way the evidence is viewed in court.
Avoiding the potential conflict of interest is common, says Tim Davidson, president of the Washington Association of Coroners and Medical Examiners (WACME), and Cowlitz County coroner.
"It's something on those guys' minds all the time," Davidson says. "'Is this going to be a conflict? Is this something that's going to come back and bite me?'"
Those offices work around it, usually having law enforcement act as investigators, or asking other counties to come assist.
A few years ago, Davidson's office and the Cowlitz County Sheriff's Office helped neighboring Wahkiakum County's prosecutor/coroner avoid a conflict of interest when their sheriff died.
"That makes the prosecutor also the sheriff until one's appointed," Davidson says. "Because of how small Wahkiakum is, my office did the death investigation, and Cowlitz did law enforcement, so the prosecutor didn't have to worry about that."
WACME also offers training to new coroners, to supplement the state's broader review of the legal medical system, Davidson says.
Every year or two, the association holds a basic death investigation course that is 80 hours long, and next year will double to 160 hours. They hope to double that again to 320 hours a few years after that, Davidson says.
The association has not pushed the legislature to change the prosecutor/coroner system on the state level, in part because there aren't the means to do so, Davidson says.
"We don't have the resources in this state to go to an ME system," Davidson says.
The cost to switch could be prohibitive, and there just aren't enough forensic pathologists to cover every county, he says.
Right now, several offices across the state are set up as regional hubs, where small counties can get their results quickly, he explains. At his Cowlitz office, he contracts with two pathologists (one is a backup) and takes cases from at least two neighboring counties.
Spokane County's medical examiners handle cases for at least 11 counties in Eastern Washington and North Idaho.
Neither system is better than the other, Davidson says. Both coroners and medical examiners use forensic pathologists and death investigators, and basically conduct the same job, he says.
If the state were to go to a medical examiner-only system, as organizations such as the National Association of Medical Examiners have pushed for on a national level, you'd need more pathologists and a different system of regional offices, Davidson says.
"But then you've got to look at, are the investigations and cases going to be investigated at the same level as they are now?" Davidson asks. "Here in Cowlitz, we respond to every home death that occurs. In the larger counties, that does not happen. So is the depth of the death investigation going to be the same if you switch to having regional offices that take care of multiple counties?"
In small Columbia County, Culwell can go months without having a case. In that sense, even though she's more than a decade into the job, she's not sure she has all the skills needed.
On the other hand, when she does get a case, she's able to really dig into the research involved.
"When I first got the job I said, 'You guys are going to hate me because I don't want to be coroner, I think we need a statewide system,'" Culwell says. "My attitude on that has completely changed."
She can go out to a scene at 2 in the morning, dig up the weather on the day someone died.
"I can go out and spend hours with a family to explain why we don't do an autopsy," Culwell says. "I don't know if a statewide group would do that."
When she gets a case, whether there's an autopsy needed or not, she tries to answer as many questions as she can for the family.
One man died in his car on a freezing night, even though it seemed like he would have been able to walk somewhere for help. Culwell says she had the car's mechanics checked, and contacted OnStar to see where things went wrong.
"I don't know if other coroners do that type of work, but I want to cross all the t's," Culwell says. "I just don't want somebody coming back five years later saying, 'Why didn't you do that or this?' I try not to leave any stone unturned." ♦