It would be unusual for a company like GreenCupboards, an e-commerce venture specializing in environmentally conscious consumer products, not to be located in a space designed to minimize its environmental footprint. And the young, Spokane-based company is aptly headquartered in one of the city's most innovative repurposed spaces — the McKinstry-owned, historic Spokane & Inland Empire Railroad (SIERR) Building on East Spokane Falls Blvd.
Pulling open the glass doors of GreenCupboards' offices is akin to stepping inside a massive university study hall, or what one might envision the headquarters of Facebook or Google are like. There are no cubicles, no interior walls. The mostly youngish employees are seated at plain white tables, configured into U-shaped sections around the perimeter and in the middle of the spacious, open, high-ceilinged room, abuzz with the sound of keyboards clicking and voices talking, laughing and taking phone calls.
Built in 1907, the 68,000-square-foot brick warehouse originally served as the city of Spokane's electric railroad car repair and storage depot, but the historic structure now is one of a handful of LEED Gold-certified (one of the highest ratings for a building project granted by the U.S. Green Building Council) buildings in the area after being renovated a few years ago. Last August, a large space inside the building's front became the headquarters of GreenCupboards — an online retail startup founded in 2008 by two Gonzaga University graduates and their professor after their idea for the venture won a business plan competition.
Despite what to an outsider looks like a loud, chaotic workspace, GreenCupboards' director of marketing Dan Peck says the space's open layout allows teams of employees working on various projects to easily communicate with one another and with other departments' teams, a trend becoming more common around the country. The flexibility of not having individually designated cubicles also allows the more than 70-person staff to easily move around as projects are begun and completed. Not even GreenCupboards' co-founder and CEO Josh Neblett has a private office, Peck mentions.
"We feel more like a team and avoid things like people feeling like there are closed-off doors and meetings, and it helps contribute to our core values of communicating transparently to suppliers and customers," he says.
In the event that GreenCupboards' employees need to hold a private meeting or just want to get away from the busy buzz of the office, the building's center section, outside of any tenant offices, contains several community conference rooms — with names recalling the building's heyday, like Roundhouse 1 and 2 — that can be reserved online when needed. The pattern on the carpet between the community conference rooms features two parallel gray lines about three feet apart that run from the front to the back of the building, a reminder that railroad tracks once ran through it.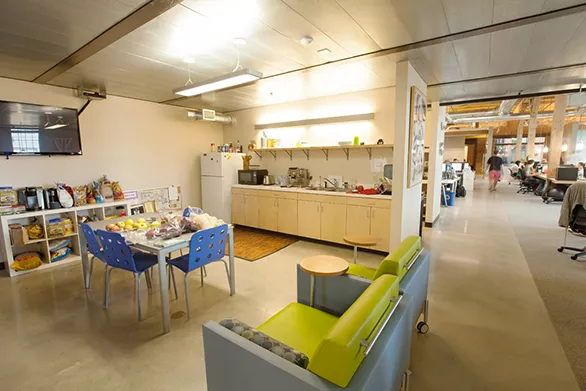 All photos by Young Kwak.