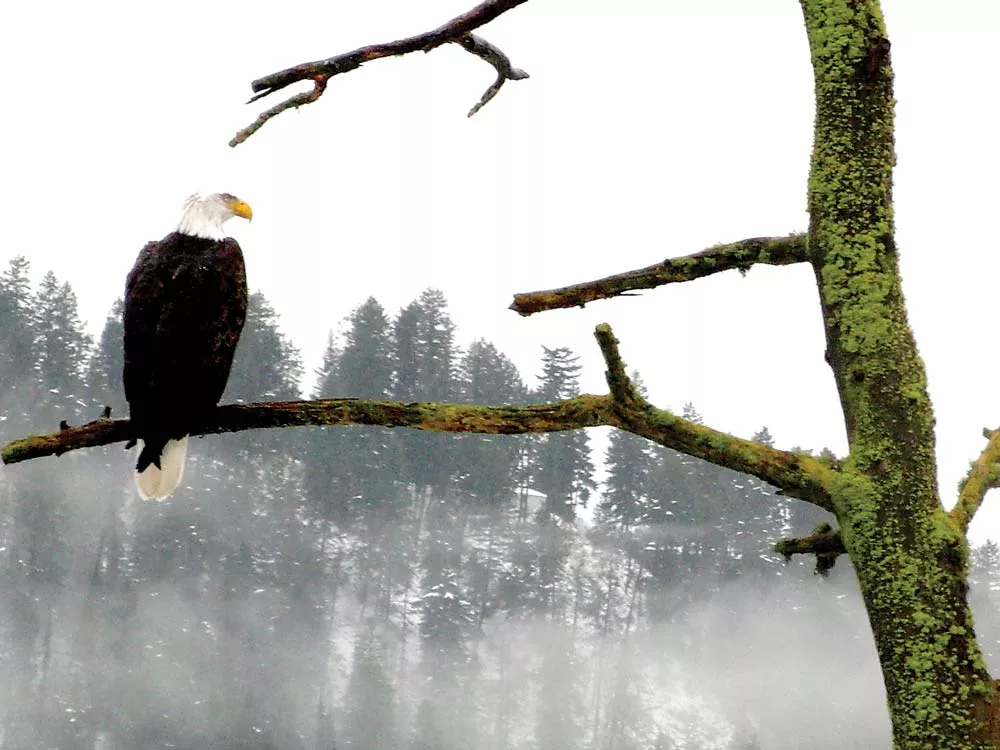 This year has been a little mysterious. Bald eagles have come to Lake Coeur d'Alene in greater numbers than ever before. At the peak, biologists counted 254 eagles — compared to the previous high of 156 — and they are still here later than usual.
It's caused a lot of rubbernecking along the highway. "There are almost no turnouts, so people stop in the middle of the road and get out and try and take a photo," says Carrie Hugo, a wildlife biologist with the federal Bureau of Land Management. "The locals get irritated and honk and flip them off. We've had the [Idaho State Police] come out."
There are far more kokanee in the lake this year than there have been since flood control in 1996-97 flushed nearly an entire generation of fry over the Post Falls Dam and into oblivion.
More fish means more eagles. It makes sense, except these birds nest throughout interior British Columbia and migrate south when their lakes freeze. How do they know? Is there a hotline?
"We are looking at almost five million kokanee, total population," says Jim Fredricks, a fisheries biologist with Idaho Fish and Game.
Half a million of those are spawners — the kokanee at the end of their 3- or 4-year life cycle that reproduce and die. Just a few years ago, the number of spawners was less than 50,000.
The kokanee are artificial in a sense, introduced to the lake in 1938 for sport. Eagles, funneled this way by the Purcell Trench (the valley between the Selkirk/Purcell and Cabinet mountains) have undoubtedly passed this way for millennia but had no reason to linger.
There were fewer than 40 eagles when the count began in 1975. "The eagles are like a cleanup crew," says Fish and Game biologist Beth Paragamian. "They will take kokanee to a tree and eat their favorite part and drop the rest on the ground. You see ravens hanging around, and I'm sure foxes and coyotes. Also, when the fish decay, their bodies help supply nutrients to the soil for plant life.
"This is one of those cogs in the wheel of life … [and it] benefits a long chain of plants and animals," Paragamian says.
And it draws an increasing number of curious humans. Hugo, who staffs official eagle-watching stations, gets random questions from the viewing public. Do the fish like to fly? "With six talons piercing their internal organs? Probably not," she says.
"I always think about how we mess with things and how we often screw it up," Hugo says. "Here, we introduced a species for our own recreation … and we get eagles as a great bonus."
Go Eagles!