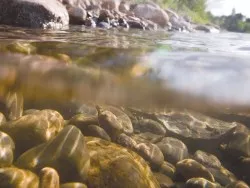 The state Department of Ecology last week put the kibosh on a bill that would have allowed dischargers to trade or bank for credits on reducing their pollution of waterways by doing cleanup projects somewhere else in a watershed.
The bill, in its current language, breaks state and federal water quality law, Ecology's water quality program manager, Kelly Susewind, told members of the House Agriculture and Natural Resources committee during a hearing on HB2559 last Friday.
But then the surprise came when Susewind said Ecology has for years been seeking an opportunity to run a pollution offset program and that the Spokane River this year is a great place to start.
"We are about to issue a TMDL [cleanup plan] for the Spokane River and we expect trading to be a major component of making that work," Susewind told the committee.
This particular TMDL — to reduce the amount of phosphorus in the river — has fallen off the rails several times already. The latest incarnation is ready to be sent to the federal Environmental Protection Agency for review in a matter of weeks.
It was a bit of a stunner. Even Spokane Riverkeeper Rick Eichstaedt and attorney Mike Chappell of the Gonzaga Environmental Law Clinic say they hadn't heard about it.
How, they wondered, would the program work? And will it, they worry, allow dischargers off the hook for reducing pollution at their various plants by claiming credits for improved quality elsewhere?
"I don't think any of us are against ideas or coming up with solutions, but the issue we have is: Would this be in lieu of complying with federal and state [cleanup] technology and water-quality standards?" Chappell asks.
"Trading has been tried other places — most notably in Chesapeake Bay — and it's not working," Eichstaedt says, citing a 23-year program run by EPA that has failed to show improvements there.
Susewind tells The Inlander that he agrees there are plenty of details to be worked out. The law is clear, he says, that dischargers must first drive to reduce their own phosphorus levels.
"Our intent is that we make sure point-source dischargers do the best they can," he says. "If they convince us they are doing everything they can do and still can't meet their target, you can look elsewhere."
"It's going to require a little out-of-the-box thinking," adds David Moore, the Ecology staffer guiding the Spokane River cleanup plan to completion.
Doug Krapas of Inland Empire Paper uses the same phrase. The Cowles-owned paper mill will be allowed to discharge 1.3 pounds of phosphorus daily into the river under its new permit.
Despite aggressive measures — spending tens of millions of dollars on cutting-edge treatment processes — IEP can only get as low as 2.3 pounds of phosphorus, Krapas says.
How to cover the last pound? "We have been talking about this almost since Day One. … We are going to have to bring out the novel approaches to meet the most stringent of standards," Krapas says.
Ecology spokeswoman Jani Gilbert says any trading program would not begin until a river advisory board is created via the new cleanup plan, something that won't happen till later this year.
Meanwhile, the house pollutant-trading bill will be allowed to die, says Paula Raywalt, legislative aide for the proposal's prime sponsor, Rep. Deb Eddy, D-Auburn- Issaquah.
On another front, SB6289 to restrict phosphorus in lawn fertilizers appears primed for passage. A similar restriction in Ann Arbor, Michigan, reduced phosphorus in the Huron River by an average of 28 percent after two years of monitoring. The main sponsor of the bill here, Sen. Craig Pridemore, D-Vancouver, says, "I'm hoping we can find common ground [with a fertilizer manufacturer], but if not, the bill is adequate as it is. The point is to get phosphorus out of the rivers."