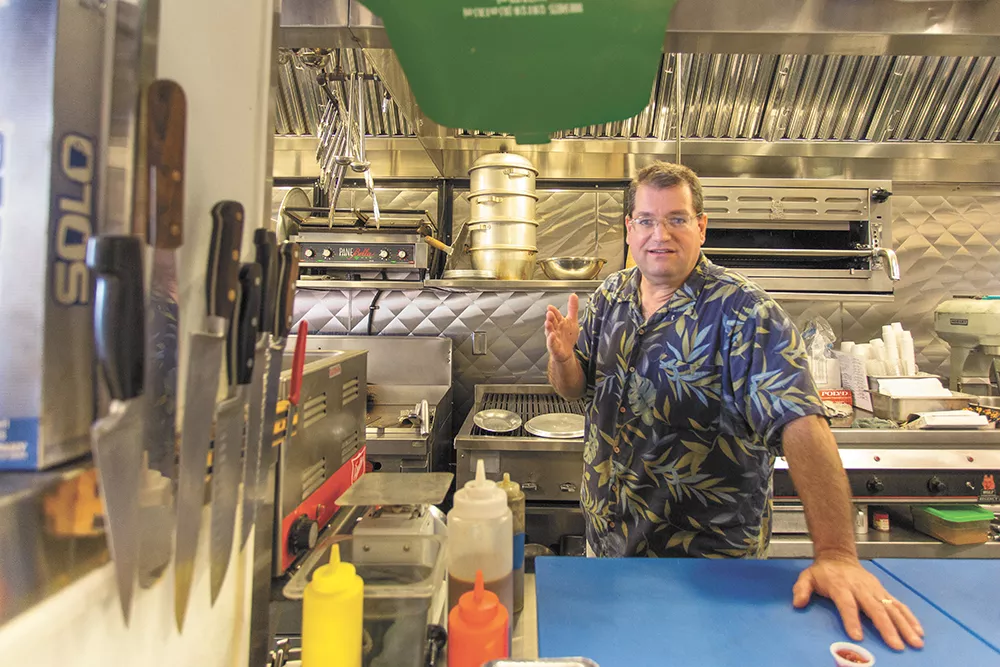 Aaron Steinberg walks back and forth behind the counter, swishing meatballs around a pan for a meatball parmesan sandwich, tossing fresh-made fries and flinging out his knowledge of our nation's regional cuisines — describing sandwiches in Chicago, Italian-style heroes in New York delis and alligator-stuffed po' boys in New Orleans.
Steinberg, from Brooklyn, has always been involved in food. He worked as a chef at country clubs on the East Coast, then moved to Spokane 16 years ago with his wife and started Herbs & More, an herb shop at 9331 N. Division St. near the North Division Y. Two months ago, in the same spot alongside the herbs, he opened Marina's New York Deli.
"Everything here is East Coast style," says Steinberg.
It's a combination of Italian dishes you can get in restaurants and an East Coast sandwich shop representing a jumble of food cultures. There are Greek gyros ($7.95), Philly cheesesteak ($8.25), chicken cacciatore ($7.95), Reubens ($7.95) and Polish sausage ($8.25), to name a few.
All of the meats — corned beef, pastrami, roast pork, Italian beef — are made in-house, marinated for days or weeks at a time. Steinberg, the only one who works at the shop, makes all the sauces, like the au jus and his Brooklyn-style marinara.
After 15 minutes (a wait well worth it) Steinberg slides a heaping carry-out box over the slender steel counter, the only seating in the deli. The meatball parmesan sandwich ($7.25) is dripping with melted mozzarella, smothered in chunky marinara and stuffed with delicious meatballs.
Alongside are fresh, seasoned French fries, a deli slaw made with pineapple in true Long Island fashion, a Jewish half-sour pickle and Steinberg's own idea for a few sweet bites at the end: a cornbread muffin with a citrusy cranberry sauce. All four sides are included with each sandwich.
Between the food, the narrow, minimalist space with a full view of the kitchen and Steinberg's confident culinary air, you get the feeling of discovering one of those big-city, hidden-gem eateries featured on cable food shows, but if you look out the door, you're reminded that you're on Division Street. ♦
Marina's New York Deli • 9331 N. Division • Open Mon-Fri, 11 am-6:30 pm; Sat, 11 am-3:30 pm • 464-0811• respectgrass.wix.com/marina-ny-deli