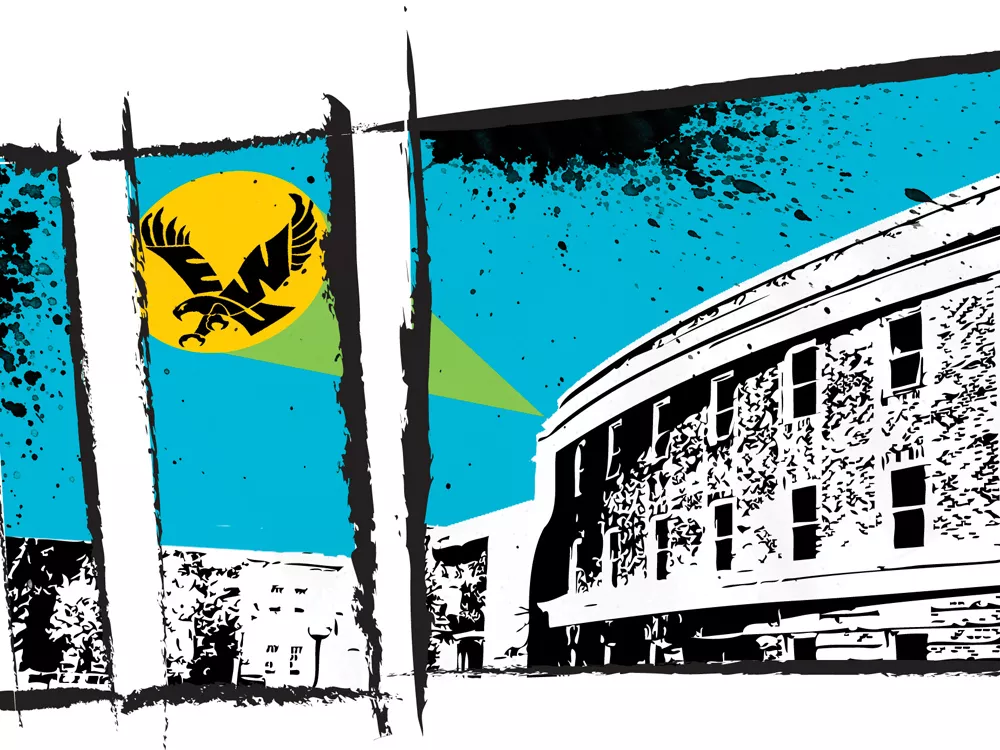 The field glows a bright red, like some psycho soaked the whole thing in the blood of the Kool-Aid man. An eagle lets cry an ear-piercing shriek from above — an omen, surely. From the Pence Union Building, pounded out of the iconic red piano, wafts a single discordant note.
Something is about to start. Something big.
WITH POWERS COMBINED
Kappa! Gamma! Beta! Sigma! Delta! UNITE! EWU is the only regional university with an organized Greek system, so consider the camaraderie of a sorority/fraternity. In the time it takes to microwave Top Ramen, you'll have 15 new BFFS.
MORE BANG FOR OUR BOOK-BUYING BUCK
A tad frugal? You're off to a great start by going to Eastern. Sweeten the deal and buy your books — and other college necessities like The Naked Roommate's First Year Survival Workbook — from Tree of Knowledge Bookstore on First Street. And Cheney isn't so remote that it doesn't have a Dollar Store or Ben Franklin's.
GRAPPLING HOOKS
The 117,699 square-foot University Recreation Center is the campus lair (student membership costs $25 a month). If you're too chicken to talk to your crush while climbing next to her on the 30-foot rock wall, stage a collision at the skating rink. And check out EWU's intramural sports or Epic Adventures program for mega-outdoor action, like whitewater rafting and backpacking trips.
SANCTUARIES OF SENTIENCE
Cheney has a galactic-sized National Wildlife Refuge for a backyard. A famous trumpeter swan named Solo dwells there. The Columbia Plateau Trail, Kepple Peninsula Interpretive Trail and Fish Lake are simple (and free!) breathtaking escapes from the confines of your dormitory or cranky roommate who won't stop bitching about hangovers.
IT'S A BIRD, IT'S A PLANE, IT'S — THE OPPOSITE SEX!
Legal Eagles can shake their tail feathers at The Basement, or just kick it at the Eagles Pub on Tuesday and Friday nights for trivia. But what 18-year-old gives a crap about that? The big deal on campus this year is the new, dapper-looking red-turfed football field. Quality tailgating should be happening here in the fall. But keep in mind: Cheney fuzz fling MIPs like Spiderman spews web.
MESS HALL FOR HEROES
Satiate your post-workout cravings by stopping at the Roost (inside the URC) for a roasted repper garden burger ($6.99) or chicken pesto Goalie Melt on grilled foccacia for $6.99. It's both dinner and entertainment. Eat while you watch skaters spin gracefully — or eat shit — on the ice below. For the most essential student libation (OK, tied for first with Natty Ice) Thomas Hammer Coffee (inside the Pence Union Building) holds its own against Starbucks. If you're a caffeine junkie, just plan ahead and live in Brewster Hall, which has its very own Tully's.
RECHARGING STATIONS
Rosa's Pizza is the spot to bowl and people-watch. Their cheesy bread (generously dunked in that delicious house ranch) is legendary. For off-campus refueling, students frequent the 24-hour Zips (with free Wi-Fi), a stylish wiener nook called Loco Dogz (who accepts student flex cards) and an epic south-of-the-border hole-in-the-wall, Corona Village.
MOTHERSHIP MICRO-WORLDS
A subterranean den inside the PUB called the Cyber Café is the place to nerd out, shoot pool or play arcade games for an hour or seven. The JFK Library has private rooms, and silence is respected in the PUB's upstairs lounge, where you can cozy up to the fireplace or sprawl out on a couch.
SUMMON ALLIES HERE
Upcoming social activities include Rec-splosion on Sept. 19, a toga party on Sept. 20, a Reggae jam on Sept. 30 and Swoopstock (homecoming!) Oct. 18.
POWER UP HERE
If you're one of those guys whose entire body consists of a stomach, go to Gatos Pizza (downtown Cheney) or Tawanka Commons (on campus), where you pay a flat rate for all you can eat. If you're wandering around downtown, Cabin Fever Antiques and Cheney Thrift Store are cool spots to browse.
FORTRESSES OF SOLITUDE: Listen to the calming waters of a basalt fountain while you recharge your mental powers at the soon-to-be-opened Reid Meditation Garden, near the historic Cheney Normal School Heritage Center one-room schoolhouse.
SECRET PARKING LOCATION
Park in Safeway's lot, then catch the bus and get dropped off on campus.