W
hen we originally created a temporary searchable spreadsheet
listing area restaurants offering takeout while pandemic-related restrictions remain in place, no one knew how long the closures would last. A few weeks? A month?
Yet, here we are. A month and a half after dine-in service was banned (on March 16) in Washington state, diners are now looking at around another month or more until they can sit back and relax, in person, at favorite local eateries.
Currently, Washington state restaurants are banned from offering dine-in service through at least May 25, which is the earliest date we could see restaurants reopen at under 50 percent capacity, with table sizes capped at five customers. This decision hinges on what statewide health data can tell us at that point in time.
Idaho, meanwhile, has announced a plan to allow its restaurants to reopen by May 16 if certain guidelines are met.
Since we're in this for the long haul, the
Inlander
reworked information shared by local restaurants and food businesses directly into our website. This creates a more robust source of information for users to not only find operating hours and services offered, but links that information with the
Inlander
's
photos, past coverage and other relevant data in our system.
As of today, we're retiring that spreadsheet and instead directing users, using the same URL —
Inlander.com/takeoutguide
— to our website's
restaurant directory
.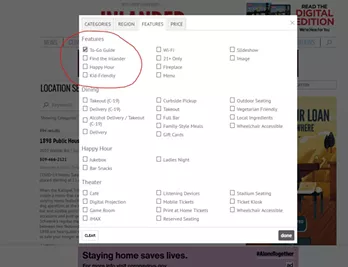 You can still search by area, cuisine and other keywords. For each location that is offering takeout, you'll see a "COVID-19 Notes" section at the top of the entry with details on current operating hours, specials and more.
For users arriving to this resource via other channels, set the page sort filter, under the "Features" tab, to "To-Go Guide" as shown in this screen grab at right. You'll also see other filter keywords, several of which we created just for the COVID-19 crisis, including alcohol delivery and takeout (a temporary offering for most establishments), and locations offering family-style meals and gift cards.
On the restaurants' side, information can still be regularly updated as needed.
If, for some reason, a business is not currently in our system, a new feature allows users to
submit that information
directly to us, as well as input updates to existing locations. (Restaurant owners and managers can click an "Update Location" button located at the top right of each restaurant's profile page; see example at right.)
Updates and questions can also be sent directly to us by email, to
food@inlander.com
.