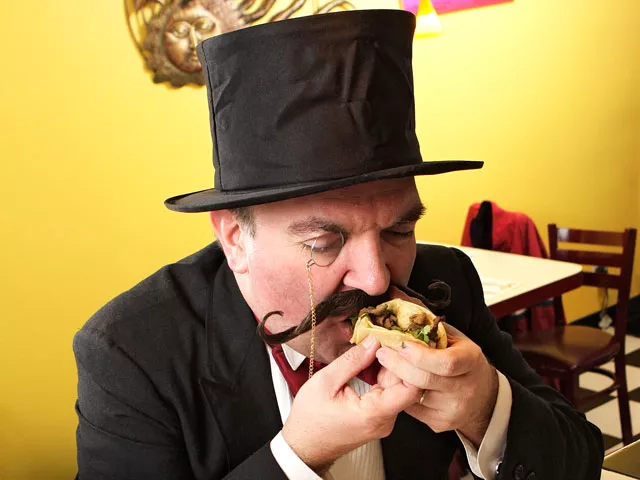 ANDY'S BAR
1401 W. First Ave. • 474-1424 • Dinner, Mon-Sun
Located in the historic Grand Coulee building, Andy's has an artsy/retro atmosphere void of pretense. With aesthetic design elements, romantic lighting, an intimate layout and street-side views of older buildings, this likeable little bar channels a scene from an Edward Hopper painting. The fare is sophisticated, comforting, unique and impressively varied. (BT) TRY Red Hook Ale battered shrimp ($7.25), Andy's Burger ($8.50), Chicken Cordon Bleu Nibbles ($8.25)
ATILANO'S
725 W. Third Ave. • 838-7677 • Breakfast, Lunch, Dinner daily
Spokane foodies have been split on Atilano's since its January 2009 opening. Are their burritos the closest thing Spokane has to San Diego? Or tasteless gut bombs? We're in the former camp. Yes, they're probably heavy on the lard, but their $4 burritos will fill you up all day, and they're damn good. (JS) TRY California burrito, with potatoes, cheese and steak ($4.50)
ATTICUS
222 N. Howard St. • 747-0336 • Breakfast, Lunch daily
Because everything Andy and Kris Dinnison touch seems to turn to gold, it's not much of a surprise that their newest funplex, Atticus, is a complete slam dunk. Coffee drinks are delicious. There's a fantastic selection of loose teas (try "Evening in Missoula"). And the sandwiches — dear GOD the sandwiches! — are fantastic, traditional combinations of French flavors. All in a tasteful, cozy To Kill a Mockingbird setting. (LS) TRY Brie and butter baguette sandwich ($4.50), Roasted red pepper and goat cheese baguette sandwich ($4)
BAEK CHUN SUSHIYAMA
1321 W. Third Ave. • 624-5553 • Lunch, Dinner, Thur-Tue
How exactly Charlie Yamamoto transformed this old Arctic Circle into a calm sushi joint will always be a mystery: Enter the door from the bustle of Third Avenue and — just like that — a fish-filled aquarium and paper window blinds calm the soul. For a cheap full meal, the sushi's out. But the bulgoki, yakisoba, udon, bibimbop and donburi all fit the bill. (ND) TRY Tofu Bibimbop ($9), Pork Katsu Donburi ($9)
CAFÉ D'ZAAR
2316 W. First Ave. (in the MAC) • 363-5343 • Lunch, Wed-Sat • www.dzaar.com
The floor-to-ceiling windows and spare modernist vibe make this about the most attractive museum café we've ever eaten at. And the food, Mediterranean with what owner Victor Azar calls "fusion elements," is a revelation. Its hours of operation are limited, but do yourself a favor and make the trip. (LB) TRY Lebanese burrito ($6.75), Chicken feta pizza ($6.50; without chicken, $4.75)
CRAZY G'S
821 N. Division St. • 315-8943 •Lunch, Dinner, Mon-Sat • crazygs.com
In-N-Out appeal, Red Robin quality: Crazy G's is a hotspot for burgers, Phillys and dogs extraordinaire. Savor a delicious plethora of specialty toppings like bacon, sautéed mushrooms, caramelized onions, crazy sauce and more, paired with onion tanglers, a handmade shake or cold beer. The interior is clean and modern, playing to local taste with nostalgic posters of old Spokane. (BT) TRY The Certifiable Crazy ($6.45; combo $8.45)
DAILY GRIND
421 W. Riverside Ave. • 448-1281 • Breakfast, Lunch, Mon-Fri
The friendly staff and tasty food at this tucked-away spot make it a staple for downtown worker bees. The sandwiches, salads and perfectly flaky scones are worth the trek up to the Skywalk level of the Paulsen Center. Eat there, or grab your to-go order and dine al desko. (SH) TRY Chicken pesto panini ($5), Veggie sandwich ($5)
DOLCE
221 N. Divsion • 747-5634 • Dinner, Mon-Sat
Dolce is a classier breath of fresh air, sandwiched between two mainstream college bars. The massive window s, old hardwood floors and rustic, café-like interior create a patisserie/coffee lounge aura, with libation choices of espresso, good wine, great draft beers and a full bar. Nightclub commodities (dance floor, live music, DJs) are sweetened with a fabulous menu, consisting of all-American bistro cuisine. (BT) TRY Godfather ($8.49), Buffalo chicken wrap ($7)
EL QUE
141 S. Cannon St. • 624-5412 • Dinner daily • wedonthaveone.com
The people who brought you the Elk (and three other gastro-pubs) have turned Browne's Addition's former Cabin Coffee into a tiny taco and tequila lab, with an emphasis on mixing small plates ($3 tacos, quesadillas, roasted pumpkin seeds) and interesting — often tequila-based — cocktails. (Seriously, there are almost fewer seats here than there are tequila options, including infusions like beet and sage with raisin.) (JS) TRY Banana leaf wrapped tamale ($6)
EUROPA PIZZARIA
125 S Wall St. • 455-4051 • Lunch, Dinner daily • europapizzaria.com
There's nothing much better than home-style breads for sandwiches, unless it's handmade pizzas and calzones, or soups, salads… and don't get me started on the desserts made by the in-house pastry chef. A selection of vegetarian and gluten-free items adds depth to the menu. Come for the food, but savor the rich warm tones and inviting mood of this European-styled building with its brick walls and exposed beam ceilings. (MCP) TRY Hot vegetarian sandwich ($9.25 whole/$6.75 half), anything off the $5 lunch menu
FAR WEST BILLIARDS
1001 W. First Ave. • 455-3429 • Dinner, Mon-Sun • farwestbilliards.com
The large open space, cowhide couches and Art Deco face make this bar and restaurant a great stopping place for downtown trysts. The American fare with gourmet accents will satisfy veggies and omnivores alike. If the food doesn't keep you, the beer, pool tables and Lord of the Rings pinball will. (JB) TRY Falafel Witch ($6.75), Yogi's Delight ($7.75)
FRANKIE DOODLE'S
30 E. Third Ave. • 747-9267 • Breakfast, Lunch, Dinner, daily
There's no explaining the life-sized fiberglass albino deer in the front window. (We asked.) Choose a booth, a table, or sit at the long counter — there's a reason this downtown eatery has been going strong for 35 years; the hours are long, the food is simple tasty fare, and the prices are right for any budget. (MCP) TRY Mini Breakfast ($4.95, add a carafe of coffee for $1.50), All Time Favorite dinner ($8.50)
FUSION JUICE
103 S. Howard St. • 624-4263 • Lunch • fusionjuice-spokane.com
A full-service deli with salads, sandwiches, paninis, baked goods from Sweetwater Bakery and more; this tiny little juice bar packs a powerful punch with the amazing quality of ingredients in its drinks. Compare their fresh-squeezed orange juice to breakfast-great Old European's any day. Free boost with any of the Power Blendz. (TLM) TRY Monster Mash: Monster Energy Drink ($6.95)
GLOBE BAR AND GRILLE
204 N. Division • 744-0438 • Lunch, Dinner daily; Breakfast, Sat-Sun • globebarandgrille.com
This the type of bar where people actually come for the food and stay for a drink. The lengthy menu will please vegetarians and meat eaters alike. But if you can't decide on the food, choose from their list of single malt scotch and enjoy the bar's old-time photos of Spokane. (JB) TRY Breakfast sandwich ($6), Buffalo chicken ($10)
HEROES AND LEGENDS
825 W. Riverside Ave. • 747-2085 • Lunch, dinner daily • spokanelegends.com
The heroes are the athletes playing on the big screen TV. The legend, however, is the sports bar's buffalo wings. Heroes and Legends is the best sort of bar, the sort with 34 flat screen monitors and two 10-foot HD projection screens. They may even get ESPN. (DW) TRY 10-piece chicken wings ($8), Heroes & Legends Burger ($8.25)
HILLS' RESTAURANT AND LOUNGE
401 W. Main Ave. • 747-3946 • Lunch, Dinner, Tue-Sat; Dinner, Sun
The décor is simple and unremarkable — Pottery Barn-color walls, exposed brick and dark wood tables — but while the food is often simple, it's prepared with such care and fresh ingredients that we can't stop thinking about it. It's a cozy place for a quiet lunch or dinner. Almost never a wait. (JF) TRY Philly cheese steak ($8), Reuben ($8)
O'DOHERTY'S IRISH GRILLE
525 W. Spokane Falls Blvd. • 747-0322 • Lunch, Dinner daily • odohertyspub.com
Gather, chat and make new friends over a pint of Guinness. Everyday is St. Patrick's Day, but if you forget, there's a countdown above the bar. Sing a song and put a dollar on the wall with your name on it — now you're officially part of the O' Doherty's family. (JM) TRY Shepherd's bread ($3), Guinness fish and chips ($7, a dollar off on Fridays).
PIZZA RITA
808 W. Main Ave. (River Park Square) • 456-6355 • Lunch, Dinner daily
Serious pizza connoisseurs often groan and clutch their stomachs at the mention of Pizza Rita, but we confess we make regular pilgrimages to this shrine of cheese grease and thick, spongy crust. Though it can be hard to palate if it's been under the lamp too long, it hits the spot when it's fresh out of the oven. (JS) TRY Whatever slices they have handy ($2.50)
ROCKY ROCOCO PIZZA & PASTA
520 W. Main Ave. • 747-1000 • rockyrococo.com
Sure their deep-dish pan pizza has really thick crust and mega-tasty ingredients, but it's the salad bar at this hot spot that gives me jitters of excitement. Pastas, soups, nachos and some of the best dressings around — trip after trip, fill up on the best downtown all-you-can-eat grubbins. (TLM) TRY All-you-can-eat salad with half-order of breadsticks ($7.59),
SOULFUL SOUPS & SPIRITS
117 N. Howard St. • 459-1190 • Lunch, Dinner, Mon-Sat • www.soulfulsoups.com
Recently remodeled, this bold-red bistro and bar is a double-hitter with creative soups and salads during the day and local wines and spirits at night. The eclectic evening menu offers "small social bites," including spanokopita and sliders. Everything's half-off after 6 pm on Mondays. (KH) TRY Seth's Mac'n Cheese Soup with beer bread ($6.75 lunch), Bratwurst sliders (3 for $10 after 6 pm)
TACOS TUMBRAS
1325 W. Second Ave. • 456-8226 • Lunch, dinner daily
Formerly housed in trailers on North Division and East Sprague, Tacos Tumbras (which translates to something like "your everyday tacos") now resides in an old tavern between Browne's and the core. Inside, it's festive with an open kitchen to watch all the sizzlin' action. Very authentic: tortas, huaraches, sopes, you name it, all delicious. (LB) TRY Any of various small tacos, from tongue to Walla Walla sweet onion ($1.25-$1.65)
ZOLA
22 W. Main Ave. • 624-2416 • Dinner, Mon-Sun • www.zolaspokane.com
A trendy evening spot, furnished with recycled material including the hull of a boat and rescued carnival rides, Zola's is a great place for impressing artsy types. Zola's is more bar and music venue than a dinner joint, but the food served isn't your average bar slop. (CJ) TRY Crab and artichoke dip ($11, share it), Mini kobe burgers ($10 for three)
---
Writers
Carrie Scozzaro | Carey Jackson | Jordy Byrd | Kirsten Harrington | Joel Smith | Tammy Marshall | Tiffany Harms | M.C. Paul | Blair Tellers | Daniel Walters | Nicholas Deshais | Chris Dreyer | Leah Sottile | Kevin Taylor | Kevin Finch | Tracy Yeager | Sarah Hauge | Jessica McCabe