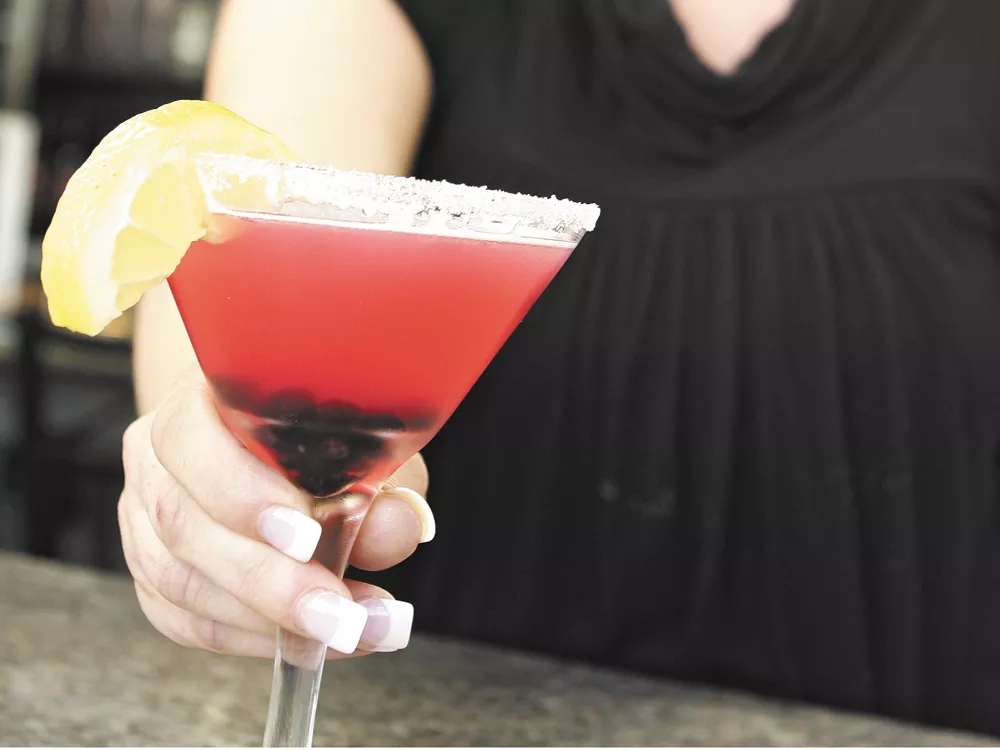 T
wigs Bistro and Martini Bar,
now with five locations (River Park Square; South Hill at 4320 S. Regal; Spokane Valley Mall; Wandermere at 401 E. Farwell; Tri Cities) is known for fine dining in a fun and relaxed atmosphere with a wait-staff focused on the needs of patrons, but the restaurant is also home to one of the best deals in town.
Each of the locations offers daily happy hours of their high-quality cuisine and libations from 3 pm - 6 pm and again from 9 pm until close. My guest and I shared orders of Kahlua pork tacos ($6) and signature fries ($5) served with a gorgonzola cream sauce ($3). Each taco was filled with braised pulled pork, and the plate came with a side of crunchy coleslaw to add to the tacos, giving us some interactivity and control over the flavors of our food. The fries are spectacular—crisp but not overcooked, neither greasy nor soggy, and seasoned smartly with rice wine vinegar, cayenne pepper, basil, black pepper and a goodly amount of salt. Opt for the cheese sauce and leave pleased that you did.
For those looking to imbibe, try out the classic mojito ($5) or the refreshing pomegranate margarita ($5). They are dangerously delicious and ideal for these summer days and nights.
As if you needed more than the fantastic food, train-car intimacy and affable staff as reasons for getting your grub on at Frank's Diner (1516 W. 2nd Ave), here's another: a wallet-friendly happy hour, Monday through Friday from 3 pm - 5 pm. Go for the meatloaf Benedict ($6), which consists of grilled meatloaf and a poached egg served on a buttermilk biscuit, covered in rich brown gravy, with hash browns or fruit on the side. Be wild and wash it down with a milkshake ($1 off) or, if you're of age, a microbrew ($3).
Sushi Maru (808 W Main Ave #105) doesn't have a happy hour so much as a happy half-hour. During the final 30 minutes of business, all plates already prepared and revolving around the room on a conveyor belt are half off ($0.75-$2.25). There is one catch: Patrons need to take the food to go. Sushi Maru closes at 9:30 pm Monday through Thursday, 10 pm on Friday and Saturday and 9 pm on Sundays. Based on my experience, some seared salmon nigiri and rainbow rolls at home can border on Zen.