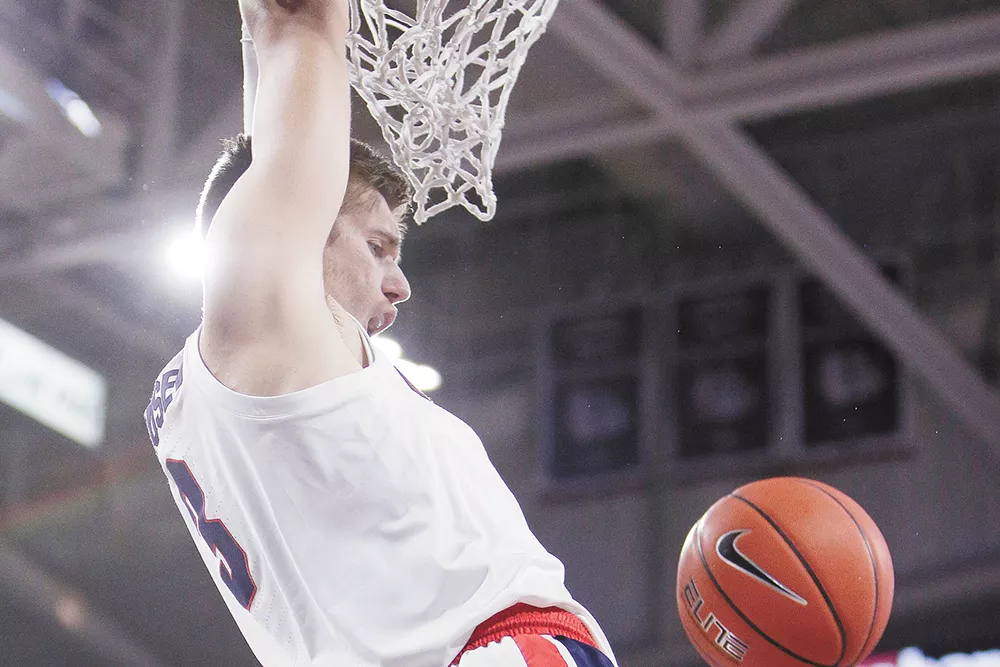 DEC. 5: HARRIET BROWN
A most excellent way to take a night off from the Christmas spirit while keeping your soul intact is this free gig by R&B up-and-comer Harriet Brown. He's a Bay Area native now tearing up the Los Angeles funk scene with a sound rooted in classic soul while still incorporating plenty of modern sonic elements. He's a one-man gang, writing, producing and recording all his own stuff, and the songs on his second album, Mall of Fortune, are full of sexy, funky fun. Lucky You Lounge, free, 8 pm, luckyyoulounge.com
DEC. 6: FIRST FRIDAY SPOKANE
Yes, many of the galleries and other art-supporting places taking part in Spokane's monthly art stroll will lean right into the holiday season. But not all of them will. And for you, the strolling art lover, there are ample opportunities simply to soak in some incredible visual wonders from local artists, sip a glass of wine or two, and embrace a night downtown among the holiday revelers. Various locations, free, 5 pm, downtownspokane.org/first-friday
DEC. 13: MOVING IN STEREO, STONE IN LOVE
Have I ever seen Cars tribute band Moving In Stereo? I have not. Does that mean I won't be on hand to see the Cleveland-based crew play Spokane? No it doesn't. Such is my love for the New Wave killers with a deep catalog of hits like "Let The Good Times Roll," "You Might Think" and "Just What I Needed" that I will happily go dance to their music. Given the fact Cars leader Ric Ocasek died this year, I can't think of a more fitting memorial. Although I can imagine he might not be thrilled to know the fake Cars are sharing a bill with a fake Journey, Stone In Love, who joins Moving In Stereo for this show. Knitting Factory, $20, 8 pm, sp.knittingfactory.com
DEC. 15: QUEENSRŸCHE
A mere two months after the band's original singer came through town, Queensrÿche arrives for a show in Airway Heights to show they're not simply a retro band but one still creating powerful new music with singer Todd La Torre. The band's latest album, The Verdict, arrived this year boasting more of a thrashy vibe than the prog-metal the band was known for back in the '80s. Rest assured, they'll be playing the hits from Operation: Mindcrime and Empire, too — there's no way Queensrÿche leaves a stage without playing "Silent Lucidity," right? Northern Quest Resort & Casino, $39-$59, 7:30 pm, northernquest.com
DEC. 18: GONZAGA VS. NORTH CAROLINA
You might be one of the lucky 6,000 people who gets to jam the Kennel for what is arguably the biggest home game in the history of Gonzaga hoops, and if that's true, congrats! The rest of us will have to hover around a television set at 6 pm that Wednesday to witness North Carolina, one of the most-storied college basketball programs in the country, visit Spokane for what could be a showdown among Top 10 teams. Sure, you could watch at home, but it will be a lot more fun to join Spokane's basketball fans at the bars across town when the showdown between the Bulldogs and the Tarheels goes down. Better yet, bundle up and hit the free Watch Party at the Pavilion. 6 pm, airing on ESPN2.
DEC. 19: LILAC CITY LIVE!
Spokane's award-winning live talk show probably won't totally ignore the holidays. Host Ryan Tucker and his co-conspirators seem far too festive for that. But you can bet whatever the Lilac City Live! crew delivers at its December episode at the Downtown Spokane Library won't fall into any traditional realm of Santa shenanigans. Show up early to join in on the Cocktail Hour Crafting at 7 pm before the show kicks off at 8 pm with live music, comedy and more. Downtown Spokane Library, free, 8 pm, spokanelibrary.org.
DEC. 26-28: DAN CUMMINS
If you've yet to get into Spokane native Dan Cummins' comedy, why not make a late-year resolution to fix that right now? Consider the four shows he's doing over three days right after Christmas an ample opportunity. He's the popular host of the Timesuck podcast that delves into all manner of weird history — from serial killers to Scientology — and Cummins' curiosity lends himself to some stellar stand-up, too. These shows are part of his "Happy Murder Tour," so if your sensibilities are at all delicate, he might not be for you. But you'll have to go to find out for sure. Spokane Comedy Club, $18-$35, Dec. 26-27 at 7:30 pm; Dec. 28 at 7:30 pm and 10 pm, spokanecomedyclub.com
DEC. 27-28: MIDLAND
This neo-traditional Texas trio is having one hell of a year thanks to the success of their Let It Roll album, their sophomore release this summer that hit No. 1 on Billboard's country album chart. Steeped in killer harmonies, Midland's songs are reminiscent of everything from George Strait to the Eagles, and their sound has clearly struck a chord just two albums into their career. In 2018 they were named New Vocal Duo or Group of the Year at the Academy of Country Music Awards, and they haven't slowed down since. Lucky for the Inland Northwest country fans, they're here for two shows. Coeur d'Alene Casino, $95-$125, 7 pm, cdacasino.com ♦