W
illiam Mitchell, a 72-year-old inmate at Spokane County Jail
, has been locked up at the facility since early 2017 when he was booked on charges of first degree robbery and second degree assault. His case still hasn't gone to trial, his past three public defenders have quit their jobs, and some are saying it's indicative of troubles with turnover in the Spokane County Public Defender's Office.
"A
re they trying to work with the prosecution against me or something?" Mitchell says of the Public Defender's Office during an interview at the Spokane County Jail. "I know it shouldn't be this hard."

Mitchell is accused of serving as a getaway driver for an accomplice, Joseph O. Burnett, who robbed customers at a local Walmart, taking their $148 drone they'd just bought, according to court records. He's also accused of driving into a victim as they pulled away from the scene. Medics who arrived on scene reported that the victim did not have any broken bones or apparent injuries aside from potential bruising.
Mitchell was first arraigned on Feb. 7, 2017, and pleaded not guilty, according to court records. He claims that he didn't know Burnett was going to steal the drone and panicked in the driver's seat when he yelled at him to leave the scene.
Burnett eventually pleaded to second-degree theft and second-degree robbery and was sentenced to over five years in May 2018. But in Mitchell's case, prosecutors are also charging him under the three strikes laws, meaning that he could face a lifetime in prison if convicted.
His case has stalled since then. Over the course of the 30 months that he's been incarcerated with a $100,000 bond, three consecutive public defenders assigned to his case all quit their jobs at the Public Defender's Office. The fourth, 28-year-old Heather Weir, is also leaving.
Mitchell says that he's had little correspondence from his previous attorneys and that little work has been done on his case — such as interviewing witnesses — despite his efforts to get attention through numerous handwritten letters to the court expressing his concerns.
"
I can't ever get in touch with them. They never answer my requests for correspondence. None of my motions were made, nothing," Mitchell says of his past public defenders. "Every time I'm getting ready to go to court, I haven't been able to get in contact with my public defense. Finally, when I'm going to court, they're like, 'Oh, he hasn't got any representation.'"

At this point, he's considering pleading guilty given how long he's been locked up — if the prosecutors offer him a deal — even though he maintains his innocence.
"I'll plead guilty to it," Mitchell says. "That's how bad it has gotten."
Between August 2017 and August 2018, the average length of stay for inmates held in Spokane County Detention Services facilities hovered between 16 and 21 days, according to county data. Mitchell's over two years behind bars dwarfs these figures in comparison.
Weir, his current attorney who is leaving at the end of this month to take a public defense job in Billings, Montana, filed a motion on July 22 requesting that the court appoint Mitchell an attorney not from the Public Defender's Office. In it, she alleges that the Spokane County Public Defender's Office "engaged in government misconduct" in how it handled Mitchell's case, citing the multiple attorney reassignments, a lack of serious defense work on his case, and the continual delaying of his trial; his case was continued 21 times.
"Up until the time Mr. Mitchell's case was reassigned to Ms. Weir, no interviews had been conducted by previous defense counsel, the surveillance tapes from the Walmart store had not been collected, and Mr. Mitchell's case sat on a desk without any significant work put in," Weir writes. "No substantive investigation has occurred on this matter and Mr. Mitchell remains in custody."
"The Spokane County Public Defender's Office is the direct cause of Mr. Mitchell's 30-month wait in jail," Weir goes on to write.
In the motion, Weir attributes Mitchell's predicament — and
"many other indigent defendants"
represented by the county — to a "revolving door" of attorneys at the Public Defender's Office due to chronic mismanagement and increasing caseloads. She alleges that since 2017, at least 25 attorneys have left the office, and that the results constitute a "systematic breakdown" of the department. Weir's estimate appears to be an undercount: 31 public defenders have quit since 2017, according to county data. That figure doesn't include early retirements.
"The gross mismanagement of the Spokane County Public Defender's Office has led to an exodus of attorneys, affecting caseload standards and violating Mr. Mitchell's right to speedy trial," Weir writes.
R
eached by phone, Weir says that high caseloads
, a lack of support from management, and inadequate staffing — such as limited investigators to assist defense attorneys — have contributed to excessive turnover. As to her departure from the county, she says it's because she has a "
different philosophy about how indigent defense should work," citing inadequate training, mentorship, and institutional support for attorneys. (She joined the office in 2017 after working for Clallam County as a public defender.)

"Turnover has been a big problem," Weir says.

Currently, the office has roughly 60 attorneys on staff, six supporting investigators and eight paralegals. Caseload standards dictated by the state Supreme Court hold that public defenders work no more than 150 felony cases per year. But at numerous points last year, Tom Krzyminski, director of the Public Defender's Office, stopped assigning felony cases to his attorneys because county prosecutors were filing more cases than his office could handle.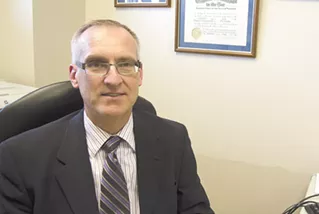 Krzyminski previously told the Inlander that he lobbied the Spokane County Board of Commissioners to fund four additional attorneys in the 2019 budget, but ultimately only received money for two more attorneys who were hired last summer temporarily. Meanwhile, the Spokane County Prosecuting Attorney's Office has 71 attorneys, 52 paralegals and office assistants, two investigators, and seven victim witness managers.


Rik Wallis, a former longtime attorney at the Spokane County Public Defender's Office who quit in 2017 and took a job at the city Public Defender's Office, tells the
Inlander
that heavy caseloads along with Krzyminski's personal management style contribute to turnover. He describes instances where Krzyminski would yell at subordinates during disagreements.
"I've been subjected to that, I've seen him do that to other coworkers," he says. "Yelling for sure. And loudly."
"People started leaving, people were retiring before they ordinarily would have just because they didn't want to deal with the office anymore," Wallis adds. "And that was directly related to his management."
Joe Kuhn, the public defenders' Teamsters Local 690 union representative, says that Krzyminski's management style contributes to a "toxic" work environment that doesn't tolerate dissent and is compounded by low staffing and heavy caseloads.
"Anyone that dares raise a concern or question or say 'hey this isn't right,' they tend to get blowback from management," he says
. "
I think if management was more open and helpful, instead of criticizing these people when they raise an issue, I think you would see a better work environment."
"Attorneys with 20-plus, 15-plus years experience leaving? That's got to tell you something," Wallis says. "The management is bad and the caseload standards are unrealistic."
In response to the
Inlander's
requests for comment on the Mitchell case and turnover issues in his office, Krzyminski issued a written statement.
"Our attorneys are trained litigators working under a heavy caseload in a system where the odds are stacked against them. Legal skills and training gained in this office make our attorneys attractive to employers," he writes in an email. "I encourage and support our attorneys to pursue career aspirations. I am proud to see them grow and advance both inside and outside this office."
Krzyminski did not respond to further questions regarding
his management style and the allegations of yelling at subordinates.
At a packed July 25 hearing on Weir's motion in Mitchell's case, Spokane County Superior Court Judge Julie McKay declined to grant Weir's motion and ordered that the Spokane County Public Defender's Office provide him with another attorney. Currently, his trial is slated for late August.
In her original motion, Weir writes that, due to her departure, Mitchell's case will need to be reassigned again, and that the timeline is unrealistic for his new attorney to adequately prepare for the trial.
Back at the Spokane County Jail, Mitchell is frustrated. When asked if he trusts the Spokane County Public Defender's Office given the delays in his case and his subsequent 30 months incarcerated, he says: "Hell no."
This post has been updated to clarify the staffing breakdown in the prosecutor's office.