It seemed like Led Zeppelin was right, like the mountains might just crumble into the sea.
Though the boys from America were leaving the sticky thick of Vietnam once and for all, and even though the five-month Arab oil embargo against the U.S. had fizzled, the world was ailing.
In the first days of April 1974, a rash of 148 tornadoes ripped apart the Midwest.
By the 15th of the month, the Symbionese Liberation Army flaunted its kidnapping of a media heiress, 20-year-old Patty Hearst. She waved an M1 carbine at bank customers in a robbery, and soon made the term "Stockholm Syndrome" household vernacular.
And on that day, April 23, 1974, a plane carrying 107 people crashed into a mountain in Indonesia.
Far from all of it, in a sleepy college town, a long-haired junior at Eastern Washington University named Ed Bruneau could feel the world changing. Jobs were scarce. President Nixon was on trial. On Bruneau's own campus, the culture was shifting. Controversy arose with the change of the school mascot: The Eastern Savages changed, overnight, to the more digestible, accessible Eastern Eagles.
As the first sophomore editor of the college paper, The Easterner, Bruneau was known as a rabble-rouser. And as a candidate for student body president, he was no less rogue.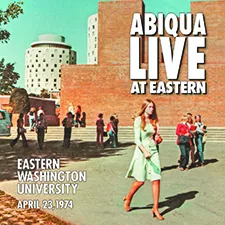 He campaigned on things that matter to 20-year-old kids: beer on campus, cohabitation in dorms. He argued that if the student body wanted to be the Savages, then it should be. He promised a nonprofit bookstore, a co-op with cheaper books and sundries.
Around campus, he hung bright-orange-and-mint-green signs that read "Care" in big black letters, showing the smirking, shaggy-haired Bruneau hugging two young children.
"I think maybe what I was trying to bring to the table was a little more liberation for the students," he says today.
To win their votes, Bruneau planned a free concert: "An evening of sound you may never forget," read pastel-purple promotional posters.
Today, he can't say how others felt about it. But he hasn't forgotten.
The Pence Union Building overflowed. Thousands of students filed into rows of seats, the rest standing outside the open doors to listen.
The band onstage was Bruneau's favorite: an unknown Spokane six-piece called Abiqua.
"They were a local band that had trouble finding gigs because back then you had to dance. And they didn't play dance music — they played arena rock. So they were in the wrong area, frankly. If they had been in San Francisco or L.A. or something like that, there would have been a lot more fans," he says.
For a band which mostly just played in a garage, midway through their first song — a cover of It's a Beautiful Day's "Hot Summer Day" — they didn't show any nerves, easily shifting the folk harmony into a psychedelic jam of flutes and guitars and distortion. Two members played Moog synthesizers; four sang. One member wore a top hat as he played flute.
They were unlike anything Cheney had seen before. "A lot of jaws dropped when they started playing," Bruneau says.
Abiqua played the Beatles, Jethro Tull and Led Zeppelin alongside their own songs — tracks that bubbled with urgency. Smoky-voiced and self-assured, singer Joani Cremar delivered a cover of Carly Simon's "Anticipation" — demanding at the mic (not begging like Simon) that "these are the good old days." Abiqua played like they were stars — not kids who worked day jobs.
Bruneau took the stage halfway through the concert to give a minute-long stump speech about his bookstore idea. The crowd cheered when he said "drug items" would be cheaper than at the campus store. He laughed.
He lost the election — not by a landslide, but by enough. And the band — which had no records or T-shirts to sell to the fans who cheered for them — was forgotten.
Abiqua would play one more show that Bruneau can remember. He'd mail out demo tapes to record labels, desperate to help this band he believed in and loved. The responses were the same: thanks, but no thanks.
"I felt the band really had potential, but I knew the potential wasn't in Spokane," he says today. "They needed to be an act for a group coming around like Yes or Emerson Lake and Palmer or something like that. They would have blown people away."
Now, at age 59, Bruneau holds a copy of a CD he released last fall. It's called Abiqua Live at Eastern — a moment in time he's immortalized for himself and for the band. The six members of Abiqua scattered around the country a long time ago.
A tiny part of him always wondered: Could have done something more to make Abiqua the stars he thought they should be?
"It's one of those funny stories that happens, particularly in music, where you have these people and they had it all together, but the pieces just didn't fall into place. I guess part of the reason why I got the CD out is just to get them their legacy," he says.
"I consider it one of my few failures in life that I wasn't able to help them."
Abiqua Live at Eastern is for sale on Amazon.com. Listen to a few tracks here.