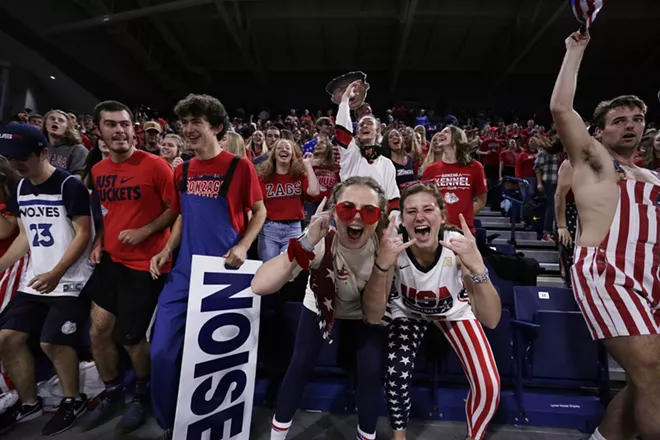 H
istorically speaking,
Gonzaga basketball has been very successful during the month of March. Though, that's not what rabid and uneducated college basketball fans around the country would have you believe.
On Sunday the Zags were named the No. 1 Seed in the West Region of the 2019 NCAA Tournament. Gonzaga owns a 30-3 record with a win over Duke, the No. 1 overall seed — which makes Gonzaga the only team in the country to defeat Duke while the Blue Devils were fully healthy. Yet, somehow, the conversation in the darker corners of college basketball fandom, namely Twitter and similar comment sections across the internet, is that Gonzaga doesn't deserve a top seed.
The Zags, as the haters will say, flame out every March.
It's a topic
SB Nation's Mike Rutherford has been chronicling
not just this season, but
for a few years now
. It's also a topic that is easy to disprove.
Let's start with what happened Sunday. Gonzaga earned a No. 1 seed in the NCAA Tournament for the third time in program history.
The Zags previously earned No. 1 seeds in 2013 and 2017. This decade, only Duke (four times), Virginia (four times) and Kansas (six times) have earned more No. 1 seeds than Gonzaga. The Zags are tied with Kentucky, North Carolina and Villanova for fourth most in that span. No other program has earned more than one.
Looking at that alone it would be pretty clear that Gonzaga, this season, isn't some aberration in the college basketball landscape. The Zags have been here before and they've been here more than most other teams.
So, why then do they seem to be the easy target for bullies? As far as I can tell, it's because they're a small school that people still don't know how to pronounce, from a city people don't know how to pronounce, that plays in a mid-major conference. But, that's not fair. And it's wrong.
Gonzaga has now made 21 consecutive NCAA Tournaments. That streak reached legal drinking age on St. Patrick's Day, which seems fitting. Only Kansas (30), Duke (24) and Michigan State (22) boast longer active streaks. Drop the word "active" and Gonzaga owns the fifth longest streak all-time.
Of course, making the tournament and doing well in the tournament are completely different things. But, Gonzaga's pretty good at both, to be honest.
Gonzaga has won at least one game in the NCAA Tournament for each of the past 10 seasons. Only Kansas can claim a longer such streak. The last time the Zags lost they faced a Davidson team led by Steph Curry — a man who went on to become a three time NBA Champion and six time NBA all-star — in the first round of the 2008 NCAA Tournament.
The Zags have made four consecutive Sweet Sixteens, which is something no other program in the country can claim. They've made two Elite Eights this decade and one trip to the National Championship game. To call that underachieving, regardless of the context, is completely absurd.
College basketball fans, broadly speaking, don't give Duke grief for underachieving like they do Gonzaga, even though the Blue Devils have been bounced in the first round twice this decade. They don't give Michigan State grief either, even though the Spartans haven't made it past the second round since 2015.
Gonzaga's an easy target, which is strange, considering the Zags are about as successful in this crapshoot of a tournament as any team can be.
If I could convince college basketball fans they're wrong, I would. But, 21 years into this, it seems nobody can. So, maybe I can convince some of them, just the Zag fans, to embrace the hate. You're fans of a program that is thriving in a hostile environment and that's awesome. Who cares if people don't like it? We like it, and we get to experience it every single year.
Regardless of what happens from here, the Zags are a No. 1 seed once again. And they earned it. Once again.