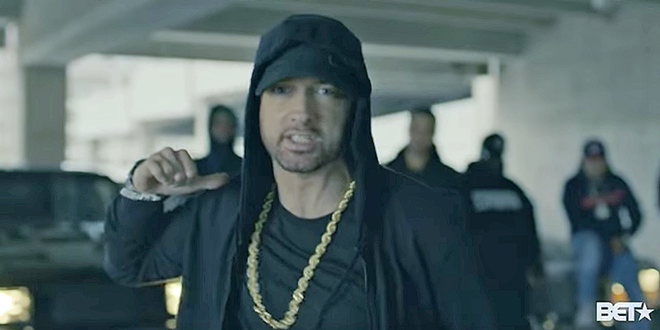 By DES SHOE and JOE COSCARELLI
© 2017 New York Times News Service
Rapper Eminem struck out at President Donald Trump in a video that played at the BET Hip Hop Awards Tuesday, accusing the president of racism, hypocrisy, disrespect of military veterans and more in almost 5 minutes of furious freestyle rap.

He also excoriated Trump for his responses to the recent violence in Charlottesville, Virginia, the devastation in Puerto Rico from Hurricane Maria and the mass shooting in Las Vegas.
The
video, titled "The Storm,"
was filmed in Detroit as part of the BET Hip Hop Awards' traditional cyphers, in which rappers typically aim to deliver showy verses in a group setting. In his solo appearance, Eminem, wearing a dark hooded sweatshirt and baseball cap, name-drops Colin Kaepernick ("This is for Colin/ball up a fist"), Barack Obama, Hillary Clinton and Stephen K. Bannon. Throughout, he alludes to an array of Trump's political clashes, including a reference to Sen. John McCain ("Unless you're a POW who's tortured and battered/'cause to him you're zeroes/'cause he don't like his war heroes captured.")
Kaepernick expressed his support on Twitter with a raised fist emoji.
Eminem also ripped into his fans who are Trump supporters.
"And any fan of mine/who's a supporter of his/I'm drawing in the sand a line/you're either for or against/and if you can't decide/who you like more and you're split/on who you should stand beside/I'll do it for you with this," he raps, before giving the middle finger to the camera.
Eminem, who has never shied away from a feud, has made Trump a target before. In August, during a performance at the Reading Festival in the United Kingdom, Eminem told the crowd that he "can't stand" the president before leading them in an obscene anti-Trump chant. Days earlier, at a concert in Glasgow, the rapper wore a shirt reading "FACK TRUMP" and made similar comments about the president before performing his song "White America." ("See the problem is/I speak to suburban kids/who otherwise would've never knew these words exist.")
This is not the first time that Eminem has tackled politics in his songs: He has also taken aim at Bill Clinton, Hillary Clinton and George W. Bush. Last October, he released the freestyle track "Campaign Speech," in which he called Trump "a loose cannon who's blunt with his hand on the button."