To ride down Third Avenue at the south end of downtown Spokane is to cruise through the gurgling gut of American fast-food chains. There's any bell or arch or box you could ever desire, their signs elevated to the height of I-90 in the hopes of luring road-hungry travelers off the freeway for a bite.
It's these places that give the "restaurant chain" a deep-fried connotation, but here in the Inland Northwest there are local eateries whose success has spawned mini-empires in the region. These are not places with visions of nationwide dominance, necessarily, but rather locally owned businesses that have expanded gradually, often far beyond the expectations they had upon their founding. The benefit of a mid-sized and geographically diverse market in this region has allowed a few restaurants to spread their culinary concept, often with prosperous results.
Trevor Blackwell was just 20 years old when he and his father, Jeff, opened Twigs in downtown Spokane's River Park Square in 2001. He was a bartender, a server, a cook and did everything else that came along with opening a family restaurant. Now, Blackwell is vice president of the Twigs operation, which has grown to include nine locations in Washington, Idaho, Utah and Oregon, including four spots in the greater Spokane area.
By 2018, they'll have another Twigs in Vancouver, Washington, and the years to come could see the opening of other locations in Arizona and Texas. And in August 2016, the company brought forth Tortilla Union, a Southwestern-style restaurant on the ground floor of River Park Square, marking their first departure from the Twigs brand.
"I think what we've done right is keeping it comfortable and casual enough that you can come on any occasion. You can come three nights a week — it's not just for your birthday," says Blackwell.
Twigs was serving a long list of craft cocktails before the term "craft cocktails" was even part of the culinary lexicon, making for a bit of a learning curve not only for their staff, but also a dining public that had never seen a lengthy cocktail list.
"It was a learning experience for the public and everyone, but then they began gravitating toward it. It wasn't a tough sell, but it was something different, for sure," says Blackwell.
The timing was right for Twigs, and their concept quickly gave birth to other locations where they focus on a reliable and consistent menu to keep a loyal following throughout the region.
Tom Burgess and his wife Matavee were also diving into the Spokane restaurant scene in 2001, opening Thai Bamboo in Spokane Valley. They soon realized that they had a similar educational duty as Twigs — they needed to teach people how to enjoy authentic Thai food. Clearly, the lessons have been absorbed by the region, as the couple now operates three Thai Bamboo locations in the Spokane area and another in Coeur d'Alene.
As the restaurant has expanded, Burgess has realized that his customers want the same Thai Bamboo dishes wherever they might see his yellow-and-red sign. He finds himself walking a fine line between the consistency of a chain and the environment and ambience of a Spokane-owned spot.
"The food has got to taste the same in each location. It does have to taste the same, and there has to be that consistency, but there's the warmth of the service and the feel that it's a local business and they're going to take the time to learn your name," says Burgess, whose restaurants are a perennial Best Thai Food winner in the Inlander readers poll.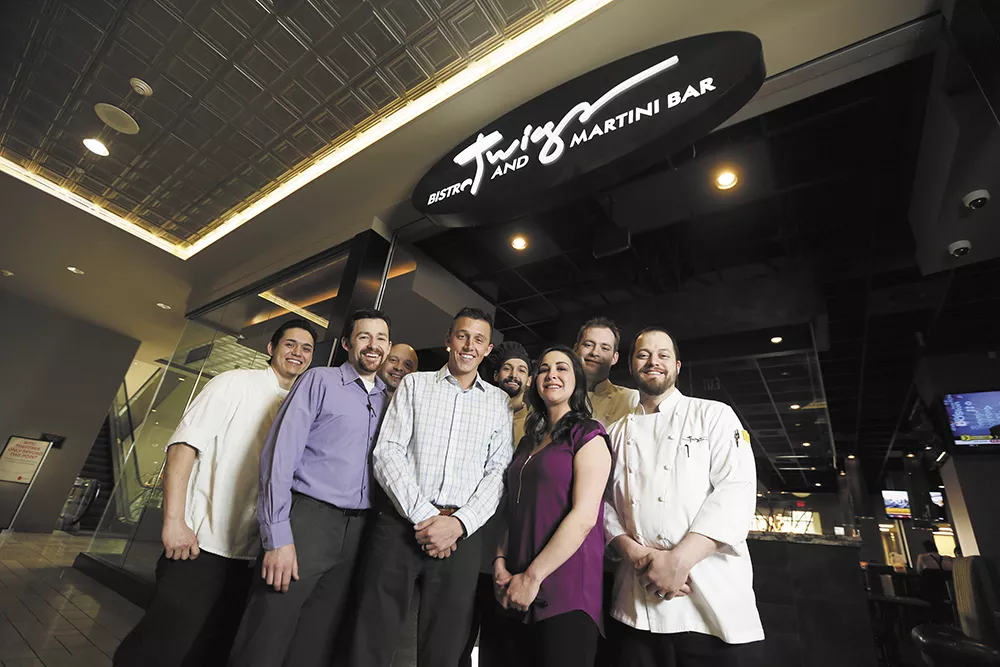 There are other prominent restaurant chains which got their start in Spokane. Of course there's Zip's, which was just a burger shack in Spokane in the 1950s and now has almost 40 locations in the Inland Northwest. Then there are restaurateurs who have a family of restaurants under their umbrella that you wouldn't necessarily realize were related.
Liz and Curt Nelson, along with Todd Phelps have worked together over the years to open six restaurants around Spokane, including Morty's Tap and Grille, Selkirk Pizza and Tap House, Fieldhouse Pizza, Steelhead Bar and Grille and, most recently, The Beryl. These spots all feature unique menus and distinct interior design, so you'd be excused for not knowing of this Spokane mini-empire.
The same goes for the family of pubs born in 1996 when John Grollmus and Brad Fosseen opened Moon Time in Coeur d'Alene. After realizing that people were coming from Spokane to enjoy the Moon Time's throwback pub environment, they then opened the Elk in 1999, which became an instant hit. That eventually spawned the Two Seven on the South Hill, The Porch in Hayden, El Que, a taco cantina attached to The Elk, and most recently, Geno's in the Logan neighborhood.
"We want you to feel like the one that's in your neighborhood is yours," says Grollmus.
He adds that the company has maintained a loyal following at all their locations by keeping the same people around — they recently celebrated the 20th anniversary of one of their employees — and also keeping an eye on the kitchen. Despite all their success, Fosseen still takes a shift in each of the restaurants' kitchens every week.
"We have a lot of other people who've been around for 12 or 15 years, and I think that the guests really love that," says Grollmus.
Then there are other individuals who have their hand in several different restaurants with different partners. That's the case with Matt Goodwin, who co-owns Fast Eddie's Bar and Grill, Press, The Boiler Room, Volstead Act and the Backyard Public House. He's about to open another spot called Remedy up on the South Hill. Goodwin told the Inlander that since he began bartending at Fast Eddie's in 2000, he had his eye on becoming a restaurateur.
"Once I found someone willing to open a restaurant with me ... one turned into two and two suddenly turned into three," he says.
The instinct to expand from a single kitchen has also been seen in the fine dining world. Chey Jeremy Hansen and his wife Kate found success with Santé in downtown Spokane and have since opened Common Crumb bakery. They also have plans to open Hogwash Whiskey Den and Inland Pacific Kitchen soon.
None of these successful folks in the industry are able to come up with any particular secret to their success. Thai Bamboo's Burgess says that being located in Spokane was part of the recipe for his success, partially because of the fraternal nature of the region's restaurant industry.
"When we first started out we got to know the other restaurant owners, and it's a real good group of people," says Burgess. "They will give you advice and help you out when you're starting out. It's good to know they have your back."