Jed Conklin is not a chef. He's a photographer, amongst other things, who shares his passion for hunting, fishing and foraging — and yes, cooking — through his Instagram account, Field to Feast (field_to_feast). He's also the photographer for Spokane's Hunt, the restaurant he co-founded earlier this year with celebrated local chef Tony Brown.
As the name implies, Hunt is also inspired by hunting, foraging and fishing, which Conklin has done almost since he was born.
"My mom went into labor with me while fishing," says Conklin "and I think I was 4 or 5 when I went deer hunting with my dad for the first time." He also remembers spending hours observing nature — every plant, bug, tree, bird and animal — in the woods behind the family's Kentucky home.
"Very early on I realized the importance of land, water and wildlife conservation," says Conklin, who found himself drawn to the Western landscape after a scout trip to New Mexico as a teenager.
After high school, Conklin attended Western Kentucky for print journalism and fell in love with photojournalism. Again looking west, Conklin ended up in Wyoming, Colorado and eventually Spokane, where an internship at the Spokesman-Review led to a permanent job.
After leaving the Spokesman in 2007, Conklin pursued freelance work, bouncing around the world chasing stories, including in Iraq. Later he traded hard-hitting photojournalism for photographing the kinds of things he personally liked to do, including outdoor sports, hunting, fishing, to sustain his young family.
"My editorial career was never that profitable but it taught me self-sufficiency, humility, and offered me global experiences that changed how I look at humanity," he says.
And because impacting the world through his photography was still important to him, he got involved with Team 5 Foundation, which sends medical and survival experts deep into extremely remote locations to educate local health care workers, provide medicine and donate supplies.
During his last deployment with Team 5, says Conklin, he was in the Amazon region, working with people who lived in the jungle on elevated wooden platforms with a makeshift roof, no walls and homemade hammocks.
"They were some of the happiest people I have ever met," he says. "When you compare their life with how you live, your focus changes a bit."
Conklin's focus includes helping others like he has been helped. In 2011, for example, his good friend, fellow artist and local real estate developer Dan Spalding suggested he purchase the Bickett Building, build a studio there and rent space out to help mitigate the inherent financial challenges of freelance work.
Spalding, he says, helped with design and financial support both.
"I truly hope I find someone I can help like he helped me — pay it forward, you know."
Conklin also hopes the Bickett will help enhance its community, while Field to Feast advances the idea of hunting, fishing and foraging, pursuits about which there are many misconceptions.
The majority of hunters, he says, rely on the meat of hunted animals — the original organic free-range protein, he calls it — while enjoying the camaraderie and outdoor aspect of hunting.
There is also an upside to license and tag fees, he says.
"That money goes to conservation and restoration projects, wildlife, education, law enforcement, and much more," Conklin says.
Moreover, most hunters regard the act of taking an animal's life with seriousness and care, he says. "Most of us have a deep respect for these animals."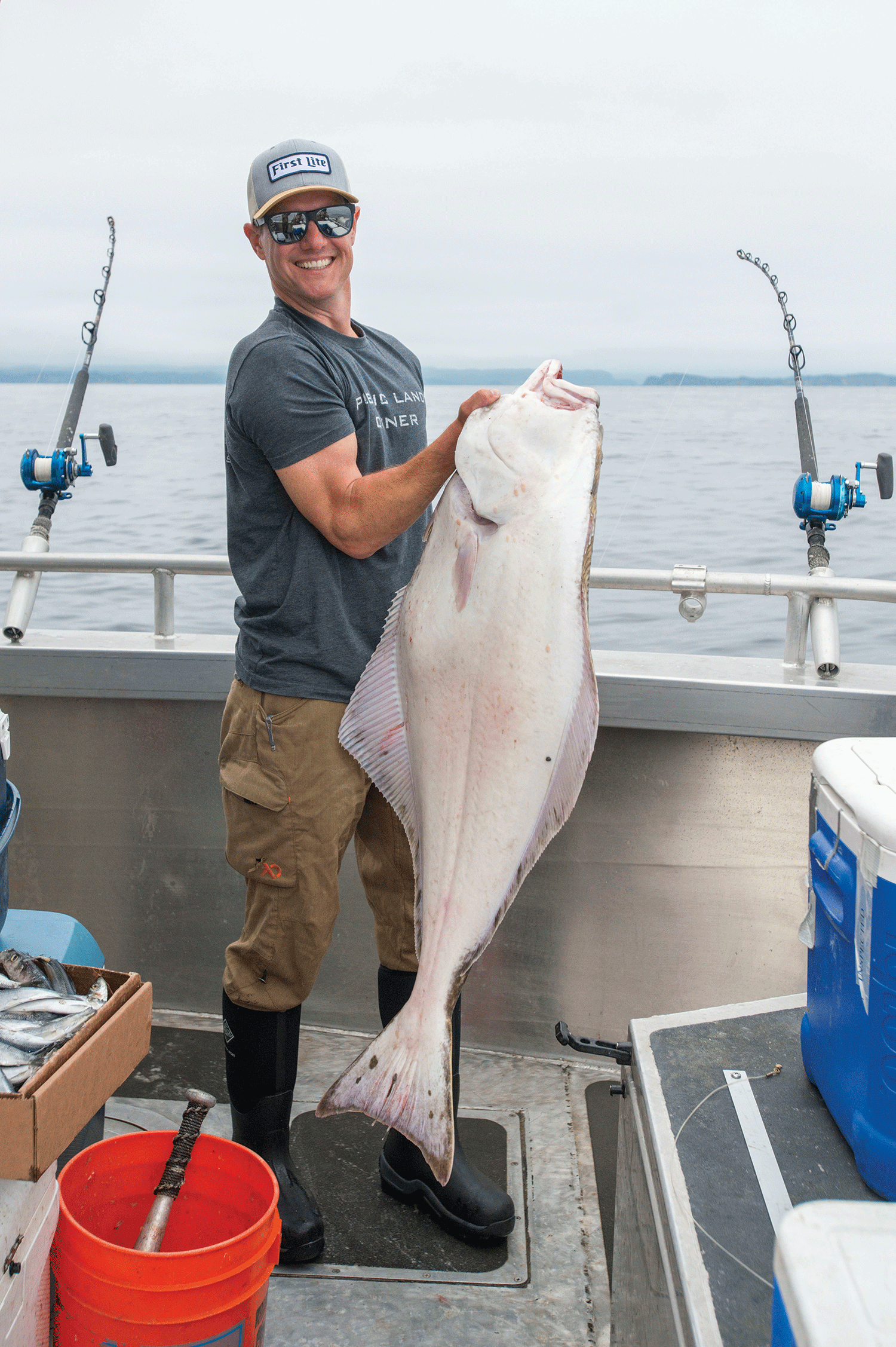 ---
GOING FISHING
Jed Conklin loves to fish, even if he doesn't keep all he catches. When he does keep a fish, he's not limited in how to cook it. It can be grilled, fried, smoked, even canned.
"I don't think I can pick a favorite way," he says.
"Walleye is my favorite local fish to eat," Conklin says. Introduced as a sport fish, the unintended consequence was that walleye turned out to prefer meals of native trout, steelhead and salmon smolt.
So Conklin feels good when he catches one. "Each [walleye] I eat is delicious and saves a wild, native fish."
Consult the Washington Department of Fish and Wildlife at wdfw.wa.gov for information on fishing licenses and regulations, as well as the types of fish available in various locations. Before eating freshly caught fish, consult the Fish Consumption Advisories from the Washington State Department of Health at doh.wa.gov.
---
For
Health & Home
, Jed Conklin made this meal with halibut he caught himself, but he says you can substitute any firm, white fish for a delicious, easy at-home gourmet meal.
PISTACHIO HALIBUT WITH SMOKED TOMATOES AND CORN SALAD

Pistachio Halibut
1 halibut filet, skinned, 12-16 oz
Milk
1/2 cup unsalted pistachios, chopped rough
1/4 cup cornmeal
1 teaspoons salt
3/4 teaspoons pepper
Cayenne pepper (optional)
Olive oil or avocado oil
Soak skinned filet in dish with enough milk to cover bottom half of filet for 30-45 minutes in the refrigerator, flipping once during soaking.
Add cornmeal, half the salt and pepper and cayenne if you're using it to chopped pistachios and spread over plate.
Remove fish from milk letting excess drip off but don't wipe dry. Sprinkle remaining salt and pepper over both sides of filet.
Press filet on pistachio mixture. Flip over and repeat. Use fingers to press remaining mixture onto halibut.
Add oil to large skillet to about 1/2-inch deep. Heat to medium.
Gently add filet, turning once, and cook just until center turns from translucent to white, about 8-10 minutes.
Smoked Tomatoes
Grape tomatoes
2 tablespoons olive oil
1/2 teaspoons salt
1/2 teaspoons pepper
Using a smoker or grill adapted for smoking, maintain a temperature of 225 degrees.
Combine olive oil, salt and pepper in a small bowl. Brush tomatoes with olive oil mixture.
Smoke for about 30-45 minutes. If tomatoes are too small for the grill you can place them in a skillet.
Remove from heat.
Corn, Hazelnut & Mint Salad
4-5 ears of corn, shucked
1/2 cup hazelnuts, toasted
4 ounces goat cheese, crumbled
1/2 cup chopped mint
1/4 cup chopped Italian parsley
2 tablespoons orange juice
2 tablespoons olive oil (use blood orange olive oil if possible)
2 tablespoons white wine or champagne vinegar
1 large garlic clove, finely chopped
Zest from one lemon
Pinch of red pepper flakes
Grill corn until charred in some spots, approximately 10-12 minutes on medium heat. Let cool.
Preheat oven to 350 degrees. Toast hazelnuts on baking sheet until golden brown, approximately 8 minutes. Let cool, then roughly chop.
Combine garlic, orange juice, olive oil, vinegar, lemon zest and salt into a small, nonreactive bowl and whisk.
Cut corn off the cob and add to a larger bowl. Add cooled, chopped hazelnuts, goat cheese, mint, parsley, and red pepper flakes.
Add dressing and toss to combine.
Fennel Yogurt Sauce
1 cup Greek yogurt
2 tablespoons olive oil
1/2 cucumber, peeled, seeded, finely diced
2 tablespoons chopped fennel fronds
1 tablespoon finely diced shallot
3 tablespoons lemon juice
Zest from 1 lemon
1 tablespoons chopped mint
Salt and pepper to taste
Combine all ingredients in a small bowl and whisk until smooth.
---
BLACK ROCKFISH TACOS
Either a smoker or a grill will work for this recipe, which can be adapted for use with any flaky white fish. Conklin serves the fish wrapped in heated tortillas along with his fish taco slaw, pickled red onions and jalapenos, and sweet pineapple salsa, as well as some crumbled cotija cheese and chopped cilantro.

Rockfish
12-16 oz. rockfish filet (or other flaky white fish)
1/2 cup olive oil
3 limes, juiced
1/2 tsp salt
1 garlic clove, chopped
1 tsp cilantro, chopped
Mix olive oil, salt, a few leaves of cilantro, garlic and lime juice in nonreactive bowl. Pour over fish and let marinate in refrigerator for 30 minutes, no longer.
Heat smoker or grill to 450 degrees.
Remove fish and cut into about 1.5-inch strips.
Cook just until fish is white through the center, about 6-8 minutes. Remove carefully and set aside.
Pickled Red Onion and Jalapeños
1 cup water
1/4 sugar
1 cup white or apple cider vinegar
1/2 red onion, sliced thin
1/2 jalapeño, sliced thin (including seeds, adds more heat)
1 tbs whole peppercorns
Heat water on low and stir in sugar until dissolved.
Pour into a Mason jar and add vinegar, peppercorns, onion and jalapeños.
Cover and refrigerate for 1 hour or longer. (Will keep in the refrigerator for at least a week.)
Pineapple Salsa
1/2 pineapple, peeled, cored and cut into 1/4-1/2 inch pieces
1 tablespoon olive oil
1/4 red onion, finely diced
1/2 cup cilantro, coarsely chopped
1/2 jalapeno, finely diced
1 lime, juiced
Salt

Combine all ingredients in a nonreactive bowl.
Fish Taco Slaw
1/2 green cabbage, thinly sliced
1/2 cup cilantro, roughly chopped
2 limes, juiced
1/2 cup Greek yogurt or sour cream
2 tbs smoked chaabani olive oil
1/4 tsp cumin
Salt to taste
Slice/shave cabbage as thinly as possible and put in a bowl. Add cilantro.
In a separate bowl, combine yogurt or sour cream, lime juice, olive oil, cumin and salt.
Pour dressing over cabbage and toss to combine.