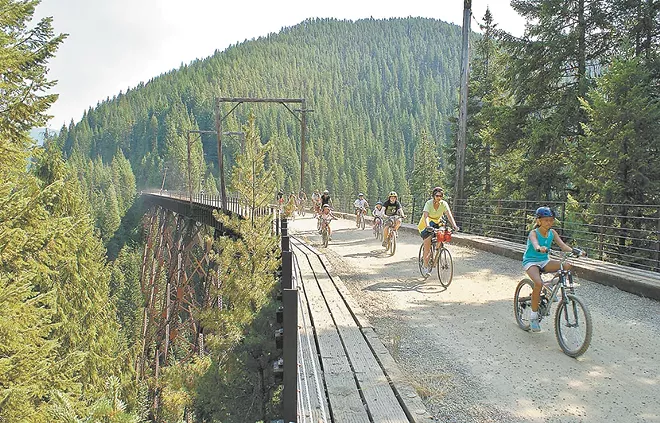 The terrain in North Idaho varies from rolling grassland to the tree-lined shores of Lake Coeur d'Alene to majestic peaks swathed in evergreen. That, combined with a thriving bike culture makes for a range of rides for all ages, abilities and attitudes.
Take it easy down the ROUTE OF THE HIAWATHA TRAIL, a gentle 15-mile incline from just shy of the Idaho-Montana border to the North Fork of the St. Joe River. Talk about epic! Stunning views, the eerie cool of former railroad tunnels, the reassuring rumble of the river below make this is a trip everyone will remember forever and you'll wish you'd done sooner. Visit ridethehiawatha.com or call 208-744-1301 for details on ticketing, gear rental — helmets, bike lights, (trust us, you need at least one) bikes, even lunch — and the shuttle available for hauling you and your ride back up the mountainside.
A popular gentle ride unfolds along 72 miles of paved, mostly flat trail with plenty of entry points along the route. Managed by Idaho's State Parks & Recreation, the TRAIL OF THE COEUR D'ALENES, takes you to the charming town of Harrison, past several small lakes and historic Cataldo Mission. Trail amenities include restrooms and interpretive signage. Visit parksandrecreation.idaho.gov/parks/trail-coeur-d-alenes.
Finally, before it climbs upwards from Bennett Bay, the NORTH IDAHO CENTENNIAL TRAIL is another mostly flat paved ride, from State Line across the prairie into Coeur d'Alene, through town and along Coeur d'Alene Lake Drive. Visit northidahocentennialtrailfoundationinc.wildapricot.org, and remember to factor in stops at your favorite watering holes.
And if you feel the need for speed or off-road action, head north to SCHWEITZER MOUNTAIN to get a little of both with their mountain biking options. Take the Great Escape Quad up the mountain — bring your bike, of course — and prepare to be amazed by the food at Sky House, the epic views of Lake Pend Oreille and the heart-stopping action of your two-wheeled ascent. Visit schweitzer.com/play/mountain-biking.
---
Upcoming Events
Live After 5
JUNE 20
Celebrate the start of summer with the first Live After 5 outdoor concert of the year. The Kelly Hughes Band takes the stage this week with their fun-loving, boot tapping, brand of country music. Free, 5-8 pm, McEuen Park. Go to visitcda.org to see the rest of the summer band lineup.
Cedric the Entertainer
JUNE 21
Cedric the Entertainer will have the audience at the Coeur d'Alene Casino laughing all night long. A man of many talents, Cedric started his stand-up career in 1987. He's gone on to star in hit movies like Barbershop, Madagascar, Intolerable Cruelty, Johnson Family Vacation and The Original Kings of Comedy, to name a few. Tickets $35+, ages 21+; 7 pm, Coeur d'Alene Casino.
Ironman 70.3
JUNE 24
The grueling and inspiring 2018 Half Ironman starts just after sunrise at 5 am, with a 1.2 mile swim in the clear waters of Lake Coeur d'Alene, followed by a curvy 56-mile bike ride and a 13.1 mile run that loops along the lake. Thirty of the elite athletes competing this day will qualify to compete at the Ironman World Championship in South Africa. From 5 am-5 pm; check out visitcda.org for spectator information.