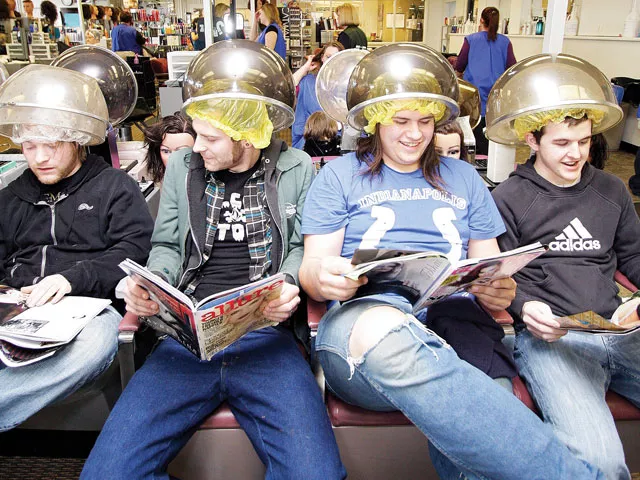 In the furthest eastern reaches of Hillyard, hidden in the midst of warehouses and dirt roads, Bryan Nelson of Jedediah the Pilot waves me down in the darkness. It's 11 o'clock at night, and I have just arrived at a remote house that serves as the band's rehearsal space. Before we can begin to talk about their music, Nelson — who sings and plays a Mini-Korg synthesizer in the group — points out the other band members among the small gathering of friends, roommates and girlfriends clustered nearby.
"It's really rock opera-based music," Nelson says. "We write our story, and we try to stay off the path of a pure, single genre. We like music, videogames and movies… pretty much anything that's of epic proportion."
Their story is a complex and fantastic one, involving "adventure, sci-fi and conspiracies, set in a post-apocalyptic future," says guitarist Jason Overdorff. The group takes its name from the unscrupulous "gyro captain" who robs Mel Gibson at the beginning of the movie Mad Max Beyond Thunderdome.
Once they chose that name, the band gradually grounded its songwriting in fantastical storytelling — each member adding characters and plot points to their collectively written mythology. Each song tells part of a tale (a story that will be laid out in its entirety in a booklet that will accompany their forthcoming album). It's an "epic quest" of Jedediah to save Arolus (the brother of his lover, Ryshana), who has been wrongly accused of a murder by the "Brotherhood of the Hand" and sent into a hellish exile. The slave of a character named Klaus, Arolus has been transformed into a half-man, half-bear monstrosity and forced to fight to the death in arena tournaments.
Majestic, experimental tracks such as "Oracle Act I" (the first part of a trilogy) expound upon the story of Jedediah and Arolus. The band's songs take on a grandiose form: a mix of post-hardcore and progressive metal, with elements of electro and jazz.
"We're a diverse conglomerate," says Travis Singleton, the band's drummer. "We just write whatever we want in a song. If we feel like adding a jazz part, we do. We don't follow a traditional song structure."
Bassist Michael Grimm elaborates: "We have no breakdowns, and we have no sweeps, which people expect from a band like us. We'll start playing a song, and [listeners] will be getting into it, expecting a breakdown, and they'll be left standing there, staring at us. We don't really fit [into that mold]."
Overdorff says that's precisely what the band doesn't want to be: just another band fitting into a predetermined mold. It's something they've all realized after playing in an exhausting list of Spokane bands: Jedediah the Pilot is made up of former and current members of Small Town Nation, Hero of Time, Deadhorse Express, My Fatal Mistake, Undone, Johnny Get Down, Welcome to Whittier and Gutterballs. That isn't even the full list.
"[This band] started as an acoustic project, in a living room. We all like metal, but we don't want to be just another deathcore metal band from Spokane."
"We've all been in a few bands," Overdorff says. "A few awesome bands, and a few awesome but terrible bands."
But now, in this band, they all know what they're trying to do.
"It's a little out there — it's a storytelling metal band. We seem to be cursed with technical difficulties, and we can't replicate our sets — every show is different," Overdorff says. "We build up [crowd] anticipation, and right when they expect the breakdown," audience members find themselves staring awkwardly "as Travis and Mike play some little jazz thing."

Jedediah the Pilot with Grab the Camera, I Am the Monster, A Cryptic Ending and Shadoya Jones at the Cretin Hop on Tuesday, March 23, at 6 pm. Tickets: $5. All-ages. Call 327-7195.