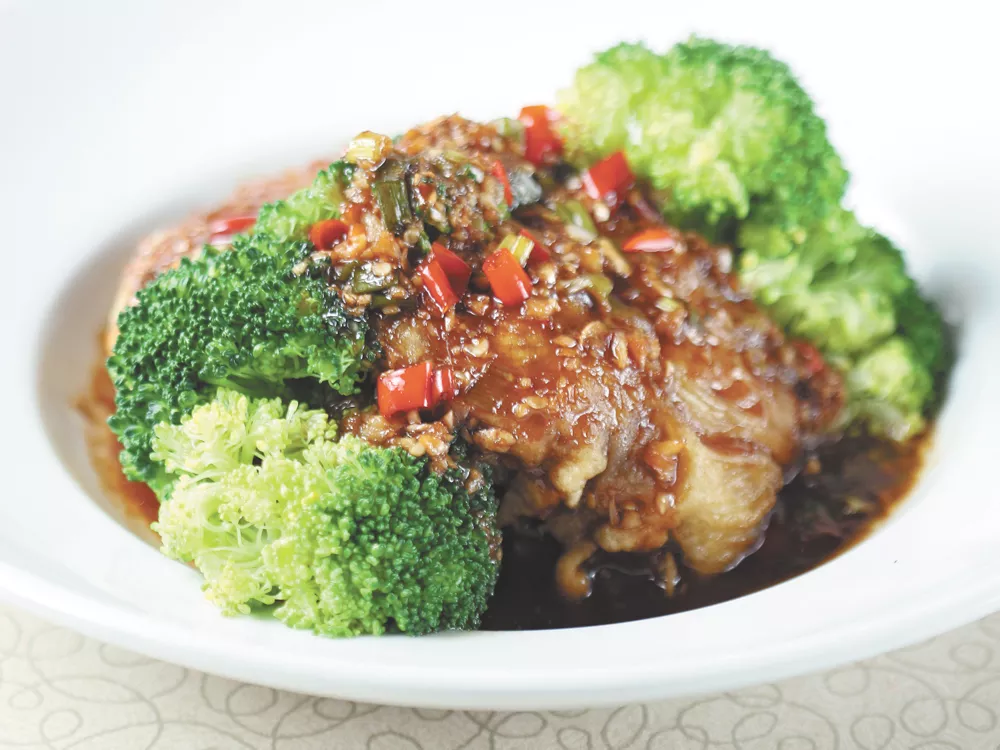 If you've ever been to Gordy's Sichuan Cafe, you know that your food can come with caveats. Notes of caution, even. Like: watch out for the chili pods that are nesting in your dish unless you want your tongue to feel like a cigarette butt.
Or, in the case of their black vinegar snapper, your order may include a polite assessment of your qualifications: Do you like fishy-tasting fish? Because if you don't, you may want to move along to something else on the menu. That turns a lot of customers off, one server told me last week.
But if you do like your fish to taste pungent, then Gordy's black vinegar snapper will have you licking the bottom of the bowl. Literally. I watched my own brother — perhaps the pickiest eater I know — do just that.
Black Vinegar Snapper has been featured on the "hot" portion of Gordy's menu for at least five or six years, says sous chef Dan Burns. He says it started as a special, but became so popular that his boss — Sichuan chef Gordy Crafts — finally upgraded it to the regular menu.
In some ways, it's a surprising dish in every possible way. It's presented simply and without frills: three chunks of snapper smothered in a sort of brown, chili ginger sauce. The color of the dish comes only from the edges of the plate, where large bright green steamed broccoli florets stand sentinel around the fish. It's clean, but hardly a shocker in terms of looks.
And when you take your first bite — and your second, third... even 10th bite — you will feel your eyebrows furrow as you go in for another. Maybe an "oh my god" will come out as one mouthful gets swallowed and more fish goes in. The fish is blanketed in a crispy, crunchy breading that cracks to give way to smooth, silky white fish beneath. Yet it's not greasy. That's because of the high heat the cooks at Gordy's use, Burns says. One server claims that the fish only needs to be in the wok for a minute or so, which allows for the breading to crunch, but not soak up any grease.
The taste might shock you, too — starting at the back of the tongue with a tangy wallop of ginger, hot chilis and a pungent vinegar taste. That's a Chinese vinegar: kong yen black vinegar, Burns says.
And you might find — like I did the first time I clashed chopsticks with my brother and sister-in-law over a dish of Black Vinegar Snapper — that despite all the things that you didn't expect, this is, without question, some of the most interesting, complex and delicious food you've ever tasted. The sweet, sour and salty sauce, savory breading and lingering bitter vinegar taste: with this dish, Gordy's seems to have mastered umami.
When you think about it: perfectly breaded fish served with a vinegary sauce? Those are flavors you've had before, maybe when you stood in the rain in London, clutching a newspaper cone of freshly fried fish and chips, dumping malt vinegar on every bite. These are flavors that so many people around the globe can agree go well together. But Gordy's proves that ages-old flavors can be both nostalgic and evocative — and yet a completely new experience every time you eat it.