"OK, now about three fingers in from the left side of your canvas, you're going to make a little dot and that's where you'll start your tree," the instructor says into her mic headset.
At a long folding table lined with wooden easels, a trio of young women sit side-by-side in front of nearly identical, bright orange- and yellow-hued canvases, now with the beginnings of a backlit, leafless tree.
"Oh wow, my tree looks really fat."
"No it doesn't! Yours looks way better than mine!"
They laugh, and one of them wonders out loud what her husband will think. There for a Thursday evening girls' night, the women are joined by about 35 other students, all wearing identical black aprons adorned with the logo of the newly opened downtown Spokane paint-and-sip franchise Pinot's Palette, at the corner of Second Avenue and Browne Street.
Art classes offered as a combined social experience and a guided expression of creativity are booming across the U.S., and the Inland Northwest is quickly catching up to the trend. Pinot's Palette is the latest art-meets-booze business (some models also offer all-ages courses) to open in the region, joining the ranks of similar locally owned ventures Tipsy Muse, Van Gogh and Merlot, and Polka Dot Pottery.
And yes, most businesses in this category have alliterative or punny names; Spirited Art (East Coast), Colors & Bottles (Midwest), Corks and Canvas, Palettes and Pairings (Seattle area).
Although the wine isn't ever a requirement at any of the Inland Northwest's paint-and-sip offerings, business owners say it's often the key to get many of their customers relaxed before beginning what may feel like a daunting task. Many of the adults signing up for these kinds of events haven't painted since childhood — or ever. But the step-by-step instructions, from priming the blank canvas to the final touches, makes completing a painting attainable even for the least artistically inclined.
"It's really fun and amazing to see people come in who are a little apprehensive and say, 'I'll just drink my wine and do what you say,' and by the end of the night you see them open up and get really excited about it," says Jackie Casey, owner of the new Pinot's Palette franchise.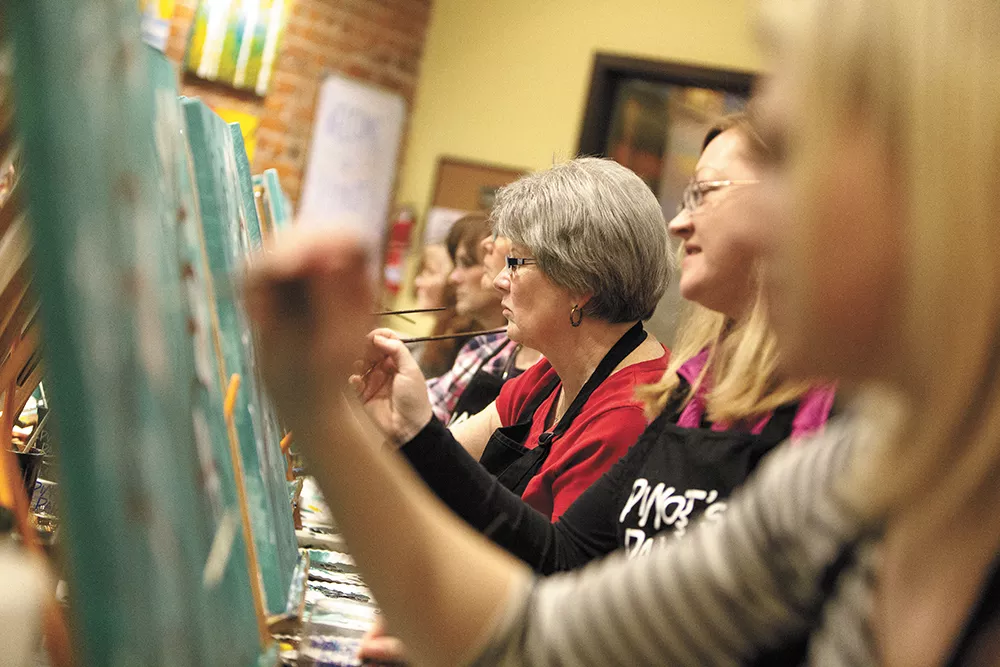 Another group at the recent Thursday night Pinot's class are members of a casual women's dinner club, who sought something else to do together than dine out each time they meet.
That aspect — participating in an individual activity as a group — seems to be another big factor in paint-and-sip classes' rapid rise in popularity, says Tiffany Saraceno, a local entrepreneur who owns Tipsy Muse, based in Spokane Valley, which only holds mobile classes in a variety of locations.
That, paired with the Inland Northwest's booming local brewery and winery industries, has created a separate level of interest in the art classes, Saraceno says.
Acrylic paint on canvas is the primary format of most paint-and-sip classes, but Spokane-based Polka Dot Pottery has long hosted classes in which students can decorate ceramic pieces, with the option to bring their own beverages. Because of demand, owner Kimberly Geiger recently added canvas to the mix, giving customers the option to choose the medium they'll paint.
For many, the allure of paint-and-sip classes is the opportunity to participate in a different kind of social activity than, say, going out to bars, but for others it's more about mastering or improving art techniques.
When Ulysses Mireles started his now 3½-year-old mobile painting-and-wine venture Van Gogh and Merlot, his hope was to expose more people in the community to art. Hosting classes at local businesses including coffee shops, wine tasting rooms and restaurants, Mireles has doubled the number of Van Gogh and Merlot classes each year since he started.
"I think a big part of the success of these paint-and-wine concepts in general is that people feel like it's an opportunity to express themselves, and we're giving the everyday person the tools and instruction to be able to do that and tap into their artistic side," Mireles says.
By exposing students in his classes to the process of making art, he hopes people become more likely to look at, buy and support other local artists' work.
"That creates a new level of art for the community, and from day one that has been our mission," he says. ♦