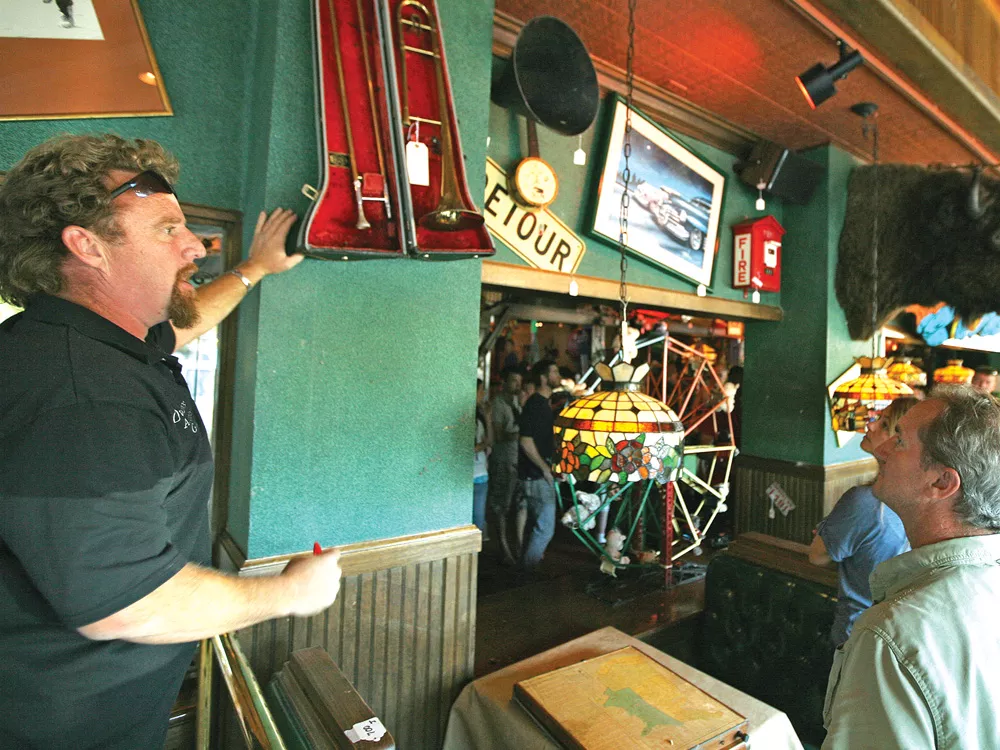 The auctioneer's voice moves so fast that it's hard to hear the numbers he's calling out. Up for bid is a vintage neon Motorola sign. Brendan Genther looks around the crowd nervously. He loves this sign. He's been coveting it for years, eyeing it every time he and his fiancée have come to Cyrus O'Leary's. He and his daughter Alyssa have been at the auction for three hours and now it's finally up for sale.
The bidding starts at $600, and Genther looks at his daughter with surprise and disappointment. He doesn't flip his card to bid, and without much back-and-forth, the sign goes to an absentee bidder for $650.
"I just couldn't go $600," Genther says. "It's disappointing, but we are taking home one of the lamps today, so it's OK."
Cyrus O'Leary's was famous for bric-a-brac like this. The walls of the family restaurant, which opened in downtown Spokane two weeks after the eruption of Mt. St. Helens in 1980, were covered in memorabilia — a hand-carved Mighty Mouse from a 1930s carousel, an antique Coca- Cola sign, pictures of Elvis, a Red Baron airplane model wrapped in Christmas lights.
But all of that — plus the booths, chairs, tables and lamps — are for sale today. The restaurant's last day of business was Sept. 11. In a difficult economy, and with increasing competition from new restaurants, business had been declining in recent years. "It was making money but not as much as our landlord wanted," says owner Erkki Oranen. "She wanted more money out of this building than I was really able to afford."
But Oranen wanted to give his loyal customers a chance to take a piece of the restaurant home. Today, each piece of beloved miscellany has a price tag dangling from it.
At two items a minute, it takes auctioneer Jeff Owens and his team five hours to sell off the 550 items up for sale. As he works his way around the restaurant, winning bidders begin removing their prizes and making trips to the car. Bidding had been lively, and although there's a sense of sad nostalgia in the air, people seem excited to take home a piece of history.
Mike Moravec nets several items but says he was happy to do so because a portion of the auction's profits go to the Vanessa Behan Crisis Nursery. His biggest prize is a bear that slides back and forth on a tightrope.
He says Cyrus O'Leary's was special because the food was good, the people were friendly and the memorabilia made it an amusing place to come.
"It was just a great restaurant," he said. "It's a loss but where something old goes out, we can hope something new comes in."