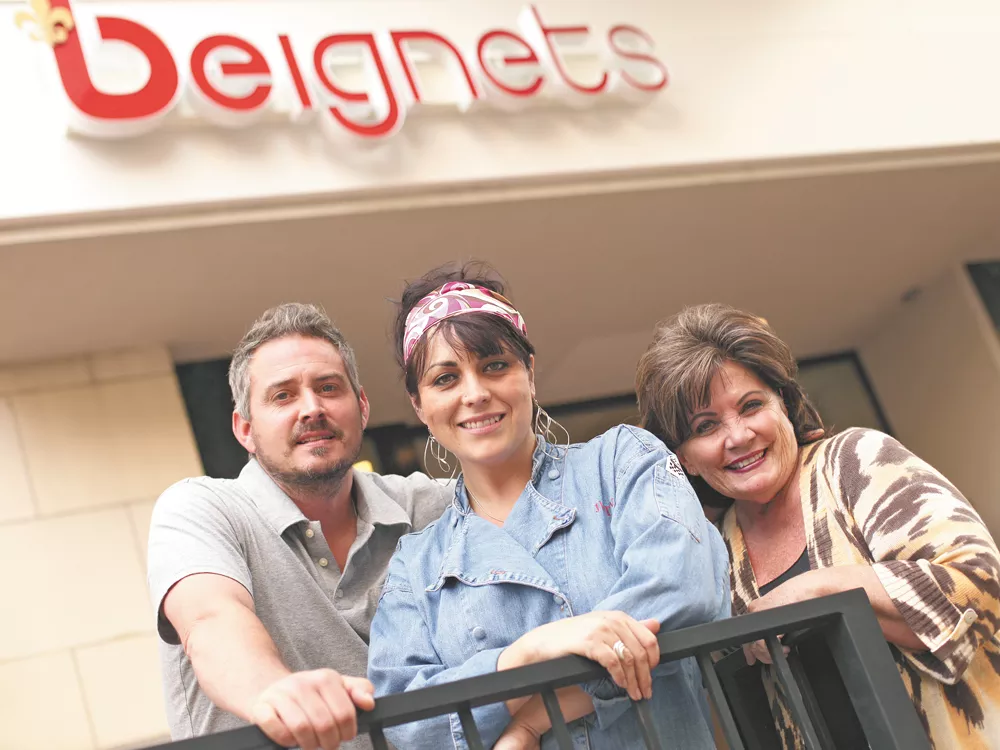 If you're reading this, you ate something this year. Maybe you didn't get to eat out as much as you'd like, but hopefully you had a chance to sample some of the increasingly excellent cuisine we have in this region. Or perhaps you made your own food from locally sourced ingredients. And if you drank your dinner most of 2012, we don't blame you for that. So, here's what happened on the plates and in the glasses of the Inland Northwest this year.
IN MEMORIAM
The restaurant industry is a tough one. Anyone who's owned or operated an eatery will tell you that. Every year, Spokane and the surrounding areas have seen restaurants close, and 2012 was no exception.
Here are some — but not all — of the places that didn't make it through the year.
Beignets: One of the more surprising closures of the year came from a downtown restaurant that had only been open for three months when it shut its doors. With a focus on European cuisine, Judie and Ryan Sowards, a son-and-mother duo, painstakingly planned the interior of the restaurant, after having travelled across the Atlantic to get a taste of the real deal. In October, the business closed with only a couple days notice. When asked, Judie cited the gathering of young people along the pedestrian-only section of Wall Street outside the restaurant as the reason they could no longer operate. "We had to put 34 people on unemployment for the sake of 106 kids who don't want to work," she said at the time.
Ionic Burritos: Loyal fans of this grab-and-go Mexican spot knew it as Sonic Burritos before it became Ionic, and they were none too pleased to see it close its doors in early April. A posting on the wall said it was to become another location for Rusty Roof's Burger and Shake Shack, but that's still yet to materialize.
Rex's Burgers and Fraiche: Another hole was left in downtown over the summer when both Rex's Burgers and Fraiche closed. Both of the popular downtown spots were co-owned by Connie Naccarato of Scratch.
Moxie: This fine-dining restaurant reached a similar fate as Rex's and Fraiche when its owner and chef Ian Wingate decided to close after falling ill. A statement posted on the website of the Euro-Asian fusion spot read: "With sadness, Chef Ian Wingate has closed Moxie Restaurant permanently due to health reasons. We would truly like to thank our loyal customers over the years." The spot is soon to be home to Fire Artisan Pizza.
Perry St. Café: This closing happened just last week, as the last days of 2012 were ticking off the calendar. Owner Debbie White says the upswing in foot traffic and new businesses in the burgeoning South Perry District definitely helped the diner's bottom line but was not enough to keep them going. They were in business for about six years. (MIKE BOOKEY)
We Thought More About What We Eat
Our gamey, turducken-y corner of the Northwest got a little more of a collective conscience this year, continuing the conversation that food isn't really just food anymore. In 2012, we, the eaters, continued to ask the question: Why do we eat what we eat?
You could argue that the first public display of that question started because of a rabbit.
Last April, a group of animal advocates and chef Jeremy Hansen, chef/owner of Sante, got into an online flap over a rabbit that was butchered for a class at the restaurant. Advocates lambasted Hansen for even serving rabbit in his restaurant, while other animal rights folks criticized Sante for having foie gras on its menu. Hansen, who has long preached whole-beast cooking and close chef-farmer relationships, saw an opportunity for a community-wide discussion: organizing a community forum on ethical eating practices and showing his openness to all perspectives. He proved it on the plate: serving appetizers both meat-heavy and totally vegan.
Hansen wasn't the only chef considering relationships with small, local farmers this year. After a Chewelah-area chicken farm — Heritage Naturals — emerged, boasting its own pesticide- and genetically-modified-free chickens, many local chefs began to question the quality of the meat they were serving. Main Market Co-op hosted a tasting of the heritage chickens in July, and chefs questioned whether the Spokane diners would truly pay for small-scale farm meats at the table.
This year also saw a wider discussion of thinking of food as fuel. In August, Method Juice Cafe opened its doors, bringing an all-organic juice bar with only vegan food on the menu to the center of downtown Spokane. Opened by co-owners of Seven2, a local advertising agency, the cafe aims to educate people about what they eat, the benefits of putting wholesome food in their bodies and, of course, that not all vegan food is gross. (LEAH SOTTILE)
We Cared More About How Our Restaurants Taste, But Also How They Look And Feel
While the Inland Northwest lost some gems of restaurants this year, it also gained new ones and longstanding eateries continued to push the envelope.
New to the scene were places like Clover and Casper Fry, which brought new and innovative approaches to a culinary scene that welcomed them with open arms. In the Gonzaga district, Clover opened in early May, right across Sharp Avenue from the storied Jack and Dan's. Making use of an old house, Clover quickly became a popular place for a lunch on the patio, a fresh and locally sourced dinner date and a place to sip a unique cocktail. It seemed the environment became as much of a draw as the cuisine.
Casper Fry brought its down-home Southern goodness to the hipper-by-the-second Perry District — but only after plenty of hype. Owned by the same team that brought us Madeleine's downtown, Casper Fry's interior quickly made it one of the more "I can't believe we're in Spokane" restaurants in town. The furniture is made of reclaimed materials, and the servers dress delightfully old-timey.
"The hardest thing was making it unique," says co-owner Megan Van Stone. "We wanted a place where people could come and relax." Mission accomplished.
A more unlikely cool environment popped up out in the Valley when a completely revamped Top of India, which hurtled into the present — or perhaps the future — with an overhaul complete with a sleek look that matched the excellent spiciness of their Indian cuisine. Gone are the deep-green leather chairs, yellow walls and the sense that you are sitting in someone's dimly lit dining room, replaced by gleaming white tables and urban-style décor.
Proving that we like what we eat here, but we also like where we eat it, was the addition this fall of Central Food, chef David Blaine's new venture that is becoming the anchor of the new Kendall Yards neighborhood. Here, diners can look at the falls while tasting an eclectic yet affordable menu in a space that's not lacking in the cool department. (MIKE BOOKEY)
PRIDE OF DRINKING
We might as well own it — the Inland Northwest likes its adult beverages.
And it was a good year for booze in these parts. The most notable development was the transformation of Northern Lights Brewing Co. into No-Li Brewhouse. Not only did the company change its name and its logo, it also began getting its beers into bottles and out to the public. Along with that effort came some recognition. No-Li's beers took home gold medals from the Great American Beer Festival and the Japan International Beer Festival. They also got some ink from Esquire magazine. Not a bad year.
In other beer news, the region got new breweries in Iron Goat Brewing, located just east of downtown Spokane, Tricksters Brewing, which opened this fall in Coeur d'Alene, while River City Brewing is set to unveil its creations sometime soon.
Cocktails had their day in the sun, too, with tasting events at places like Bon Bon, and bars like the Sapphire Lounge continued to push the limits of what can be created behind a bar. (MIKE BOOKEY)