It may sound crazy, but the great, All-American pastime of sleeping outside is not off-limits in the months between October and June; with some preparation and some essential know-how, winter camping can offer a beauty and solitude unmatched in the summer months. If the thought of sleeping in the snow sounds like more punishment than reward, let us guide you through the essentials.
Clothing
First things first, if you are going to partake in the magic that is winter camping, it's essential to prepare yourself for staying comfortable and safe. The folks at REI have provided a short list of appropriate gear for the beginner.
Staying dry and warm is the most important thing to consider when preparing for snow camping, so learn to layer clothing correctly. For premier protection you are going to wear three layers: one that manages body moisture, a middle layer for insulating heat, and finally your outer layer that will protect you from the elements. Your base layer should either be synthetic-blend fabric or merino wool. Harald Starnegg of REI recommends a zippered turtleneck for flexible changes in temperature: "You want to avoid sweat at all costs; if you are starting to sweat, zip down or remove layers." Moisture wicking material for your top and bottom base layer, as well as socks, will keep you dry and cozy when you're having frigid fun, but make sure to avoid cotton. Out in the snow your middle layer should consist of micro-fleece fabrics for your shirts and pants, and a lightweight down jacket will finish off your middle layer, assuring you have ease of movement and proper insulation. Top yourself off with a water resistant and breathable jacket made with Gore-Tex fabric, stick your feet into a set of winter boots, cover your head with a wool cap, place your hands into a pair low-temperature gloves and you will have built yourself up as an impenetrable force to be reckoned with.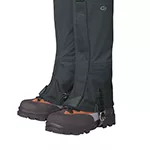 Starnegg recommended Outdoor Research Revolution Gloves (A) as an affordable option, saying, "These out-perform gloves twice the price." With a temperature range down to -5 degrees and at $69 dollars, these gloves are a solid option for keeping toasty fingers. A pair of Outdoor Research Crocodile Gaiters ($85; B) will go a long way in keeping snow and debris out of your boots.
Sleeping Gear
Ok, phew, we have made it through dress up, but what you curl up in to go to sleep at night is equally important.
Sleeping bags come in all sorts of fabrics and sizes, but these days it's good to have one made from synthetic materials. I camped in cotton sleeping bags as a kid, but unless you are in an environment where there is no chance of moisture, this will not suffice. A lightweight winter sleeping bag can make or break you. If you're planning on driving in to your camp spot, a lightweight and super compact bag might not be necessary, but if you plan on snowshoeing or hiking any distance, go for something that rolls tight and light.
REI's Co-op Magma sleeping bag ($349) compacts nicely and will keep you warm down to 7 degrees! Once encapsulated in a Marmot Midgard 2 tent and plopped down on an insulated sleeping mat like the NEMO Cosmo ($220; C), all your creature comforts can be marked off the checklist. The weather that has kept you indoors every winter since forever will be a thing of the past, and the great outdoors will once again open its arms to you.
Extras
You can bring in your own firewood for a night under the stars and snow and forgo a camp stove, but camp stoves make cooking a breeze compared to a fire. Colder temperatures necessitate a liquid gas-cooking stove. Consider the MSR Whisperlite liquid stove ($100; D).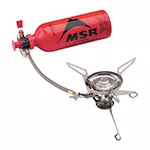 While you are at it, grab a headlamp. If you ever decide this camping thing is not for you, it'll still be of use to you when you go on some wimpy summer time camping trip you've been dying to go on since December. It's best to have a strobe function on your headlamp for emergency situations and there are dozens to choose from so pick your preference.
Where to Go
So you are all set and ready to roll, but where? For your initial foray into winter camping, it's best to keep it safe and simple. An enchanting spot to venture just 20 minutes north of Coeur d'Alene is Farragut State Park at the southern point of Lake Pend Oreille, home to 223 campsites and open year-round with no hike-in required. Even closer is Bowl and Pitcher campground within Riverside State Park, 9 miles north of Spokane and offering 16 year-round campsites.
Snow camping is not as complicated as it may seem — you're still standing around a fire with your friends and loved ones drinking hooch and eating sausages — so gear up, start a fire and get some fresh air. You've been in the house too long. ♦