Just a few months ago, Russell and Tammy Fleming were looking for a space to develop into a commercial kitchen to take Mutu Coffee Roasters, their fair-trade, organic coffee roasting business, to the next level. The couple's friend Matt Dolan — then wine and beer steward at Rocket Market on Spokane's South Hill — heard that Petunias Marketplace on the Northside was up for sale, and encouraged them to take a look.
"We came in and checked it out and felt the vibe," says Russell. "We looked at each other like, 'Wow, this place is loaded with opportunities.' It had a way larger scope than what we first had our sights on, but we said 'OK, if that's where we're led, we'll embrace it.'"
This was just what former Petunias owner Stacy Blowers wanted to hear.
"She said she almost gave up on the idea that somebody would walk in and see the opportunity," says Russell. "Both Tammy and I were [saying] 'Wow, Stacy, you've created something really unique here. We want to know what you've done, and carry that on like a legacy.'"
Besides making the market's former owner happy, this was what Blowers' customers, many of whom have been loyal to her business since she opened Petunias seven years ago, wanted to hear, too.
Petunias devotees know they can find wine, beer, coffee, chocolate, deli meats and cheeses, local eggs, and specialty, imported and local products at the postage-stamp-sized market tucked just past Northwest Boulevard on Madison Street.
While the Flemings hope to grow the market's offerings and put their own stamp on the products offered there, they're already in full-on learning mode; learning from both Stacy, who's offering pearls of wisdom before moving out of the area, and their customers.
"I have customers come in and they'll say, 'Well, do you have this?' and I say, 'I don't know, let's look,' and we look on the shelves together," says Tammy. "Or they know exactly what they're looking for, because this is the only place they can get it in Spokane, and so I'll say, 'What do you use it on at home? How do you love to use this?' and then they get to tell me their story, and I can convey that to other people. It's this beautiful way of learning."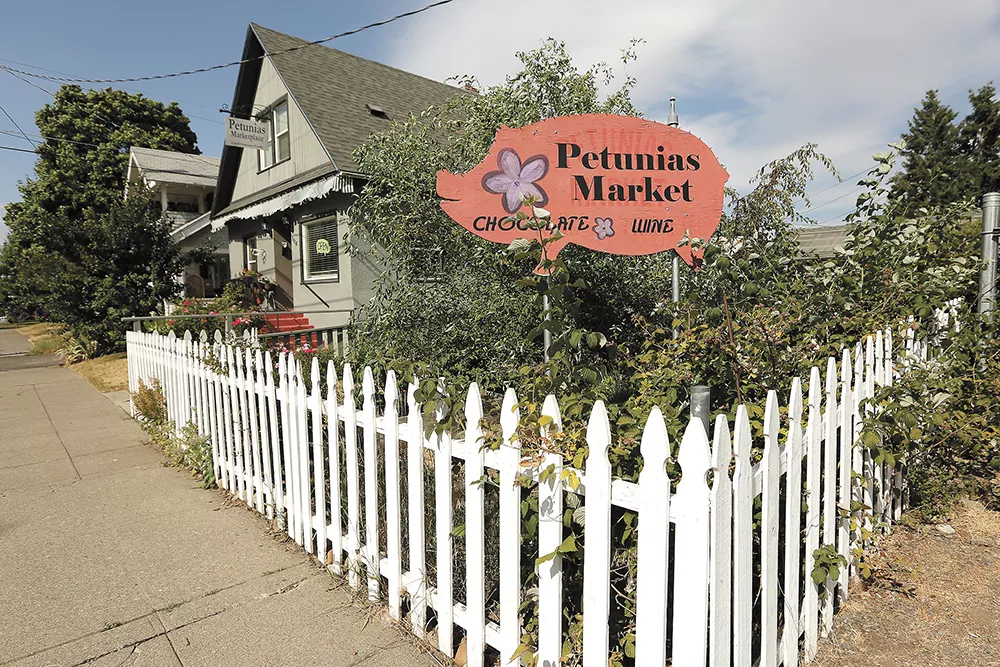 It made sense for the Flemings to ask Dolan to be part of the venture, and he joined the team of proprietors, bringing along his wine and beer knowledge, as well as a desire to pair food and drinks.
"What's exciting about this particular chapter is that it gives me a chance to go deeper into my curiosity about food, and really develop that," says Dolan.
He's planning weekly food and drink events, and monthly dinner events. The proposed schedule ranges from a grilling demonstration with Ramstead Ranch — featuring specialty sauces and Spiceology rubs, all carried at Petunias — to a Spanish tapas and wine event with a guest importer on hand to discuss the nuances of Spanish vino. Dolan also envisions a rosé and bubbly tasting with light snacks, and has much more still to plan. And he's always open to suggestions.
Cooking classes are another big part of Petunias. As the weather gets cooler, Russell is excited to feature fresh pasta-making classes.
"I've been making pasta since I was a little boy — I'm Italian on my mother's side," he says. "It's wonderful to see all of the experiences we each have coming together here."
For classes and events, the tiny retail space is transformed into a family-style dining room. "I see this as a restaurant alternative," says Russell. "This is the kind of dining experience I've longed for."
In classes they've already hosted, he's seen just the kind of guest engagement they've been hoping would happen: "It was like a secret club. There's a magic here, and we want to tap into that."
Though there are many plans for the future, including coffee, beer and wine service and seating for impromptu meals fresh from the kitchen, the team is doing their best to build slowly and sustainably.
For every member of the Petunias team, community is the word of the day. They want customers to feel that they are a part of the family, complete with a greeting from Bella, the shop dog (delightfully, the Flemings' dog has the same name as Blowers' dog, who also presided over the shop).
To further aid in the continuity of ownership, the new team is adding a massage therapist and an esthetician upstairs (Blowers managed both of those roles, in addition to running the store), so that former clients can keep coming to the same place for those services.
"It will be new faces, but a similar feel, building off of what [Stacy] has already created," says Tammy. "Because you can always find somewhere to buy something, but to find somewhere where you connect on a deeper level, I think, is the exciting thing."
For the most up-to-the-minute news on happenings at Petunias, follow them on Facebook, or just stop by and say hello. ♦
Petunias Marketplace • 2010 N. Madison • Open Tue-Fri, 10 am-5 pm; Sat, 10 am-4 pm • petuniasmarket.com • 328-4257