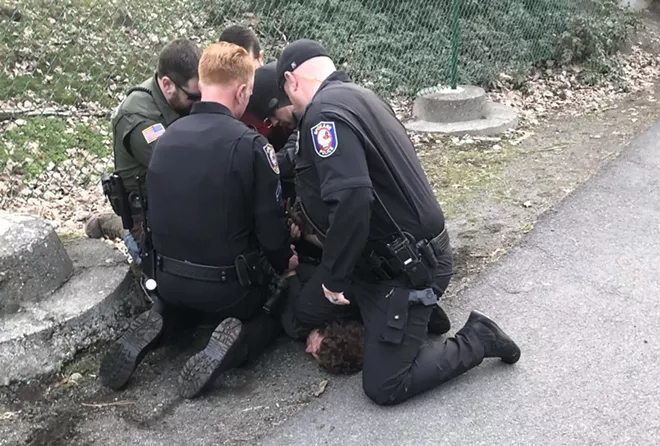 Last Wednesday, Spokane Police Chief Craig Meidl watched the video. He saw the final moments in George Floyd's life as the 46-year-old unarmed black man struggled to breathe with a white officer in Minneapolis kneeling on his neck.
Immediately, Meidl says, he recognized that the Minneapolis police officer's knee on Floyd's neck would be against SPD policy, that Floyd should have been rolled on his side — or even uncuffed — as soon as he said he couldn't breathe, that the off-duty firefighter who was pleading with the cops to check the suspect's pulse should have been let in to check vital signs.
"I'm cringing. Because I know what's going to happen. You just want to yell, 'Do this! Don't, don't do that!' but you can't because the event is over with,'" Meidl tells the Inlander. "It's heartbreaking. You feel helpless, watching something like this, and not being able to do anything about it."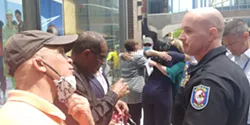 He begins making phone calls to minority community members like NAACP President Kurtis Robinson to share his grief and offer his support.
"He expressed his absolute disdain for that kind of behavior by any law enforcement officer," Robinson says.
But now, Meidl is once again facing demands to clean up his own department. On Friday, two days after watching the Floyd video, Meidl would learn of an image of his own officers pictured in a very similar situation — kneeling on a suspect's neck during an arrest at Riverfront Park.
"The young man says, 'I can't breathe.' No response. He says again, 'Please, I can't breathe,'" says witness Eddie Westerman, recounting the March 2 incident involving Spokane police. She says she started taking photos and yelling at the cops that the guy they were arresting couldn't breathe.
"One of them turned to me and said, 'If he can talk, he can breathe,'" Westerman says. "I was in tears, and I was mad at myself that I was in tears."
It terrified her. It reminded her of Eric Garner in New York, who also pleaded with cops that he couldn't breathe before his death in 2014.
But she didn't send the photos to the police chief immediately. She says that Meidl's response to an officer's sexist comments — remarking about the appearance of women outside of the local Planned Parenthood — made her think that the department wouldn't do anything about her concerns.
But then the Floyd video came out.
"I just feel sad that I didn't do something sooner," Westerman says.
Contacted by the Inlander about the incident, Meidl says, "We forwarded [it] to Internal Affairs." The department declined to give any additional information or reveal the officers' names, only saying that they have launched an internal investigation.

"The knee to the back is an approved arrest tactic," says Julie Humphreys, police spokeswoman, but a knee on the neck is not.
Spokane Police Ombudsman Bart Logue tells the Inlander that multiple sources forwarded him Westerman's account as well.
"That picture from March 2 was pretty telling," Logue says. "It's hard to point your finger at what's happening at Minneapolis when a moment later a picture comes out that looks pretty doggone close to me."
Since being appointed police chief in 2016, Meidl has actively sought to improve community relationships, particularly with the black community.
"He's been consistent in his desire to engage and learn and change," says Robinson.
But that goal became even more complicated Sunday night. As photos of his own officers appearing to kneel on a suspect's neck continued to spread on Facebook, as marchers called for an end for police brutality, as looters shattered downtown windows, Meidl's department lobbed tear gas canisters and fired rubber bullets at curfew-violating protesters.
PRAYERS, PLEAS, AND TEAR GAS
On Sunday afternoon, Meidl joined a gathering at Riverfront Park — the same park where Westerman took her photos — and joined a prayer circle with other local leaders calling for peace and justice in the afternoon's protests.
"Father God, please let it be peaceful," Meidl prayed, head bowed and hands clasp. "Let voices be heard in a peaceful way."
And for most the day, the voices are. Protesters pack outside of the Spokane County Courthouse, holding signs that aren't only focused on outrages in Minneapolis, but on Meidl's department as well. One sign bears a red-handprint and the name of Josh Spotted Horse, an American Indian shot and killed by Spokane police in 2017. Another includes one of Westerman's photos of the Riverfront Park arrest.
But even amid the intensity, community members like Robinson fight to keep the peace.
"Myself and several other people were actively engaged in seriously dismantling some situations that could have gone awry," Robinson says.
Others follow suit. When protesters lob objects at the police or the crowd, other protesters jeer them down.
"Quit throwing shit!" one woman yells. "This is peaceful! Get the f—- out of here."
And police officers offer their own show of support, kneeling down in solidarity with the victims of, well, police brutality.
But then afternoon slides into evening. Someone busts out the windows on at the downtown Nike store. Looters pour in and out, and the cops start firing tear gas canisters. Buildings are spray-painted. More windows are shattered. Right-wing militants march down the streets with rifles. The mayor calls a downtown curfew.
The cops don't manage to arrest the looters that night. Instead, they enforce the curfew using tear gas and rubber bullets. Even the peaceful protesters who refuse to leave downtown get gassed.
At noon on Monday, Meidl stands near the plywood-covered windows of the Nike store, flanked by black leaders, and defends his policing strategy during a press conference.
Officers, Meidl says, had been pelted with rocks and bricks and had chemicals sprayed on them, he says, and showed incredible restraint. He says that the officers were outnumbered 20 to one, and, considering the nationwide context, it wasn't safe to wade in and separate the violent protesters for the non-violent ones.
"We can't go and individually pick these folks out. Which is why we have the curfew, saying you all need to leave," Meidl said. "Right here now, it feels nice and safe! But it didn't feel this way right at this intersection last night. Not when you had 200 people here."
But a woman standing towards the back of the press conference identifies herself as a life-long Spokanite and objects to Meidl's strategy.
"I was kneeling in the street praying. I watched other people demonstrating peacefully with their hands up, and I watched them tear-gassed and shot with rubber bullets," she says. "How can you justify that?"
And that's the tension Meidl is facing as helicopters soar overhead, as sirens wail and the National Guard marches into Spokane: Community relationships that take a long time to build can be burnt down in a single week.
TALK AND ACTION
Some leaders like Robinson heap praise upon Meidl's efforts to strengthen relationships with minority communities through humility and vulnerability.
"He's come to me and says, 'Hey, I know I've got a blind spot, tell me about it, please,'" Robinson says. Meidl makes mistakes, Robinson says, but he tries to correct them.
Meidl says that's meant "raw and heartfelt" conversations with community leaders about issues like slavery and horrible experiences with arresting officers decades ago.
Meidl says these conversations slowly shifted his perspective. He began to become more empathetic, to understand the way the weight of generations of racism continues to traumatize communities of color.
"Because I was able to have those conversations, at some level, it's almost like they were able to take off their glasses and let me look through their lens," Meidl says. "Quite frankly, it was through love. That probably sounds cheesy to a lot of people, but that's the best way to describe it."
Empathy can only go so far, others argue.

"How can you promote dialogue with a populace you are firing bullets — whether they are rubberized or otherwise — at?" asks Devon Wilson, chair of the NAACP's criminal justice committee and City Councilwoman Kate Burke's partner.
He credits Meidl with his willingness to show up to events and listen to community complaints. His frustration isn't with Meidl so much as the department he leads.
As the Inlander has previously reported that, while the number of use-of-force incidents has declined in recent years, a disproportionate number of use-of-force incidents have involved minorities. Minorities are also disproportionately arrested in Spokane. While Meidl has required implicit-bias training to combat this issue, he suggested to the Inlander last year that the continued racial disparity in arrests last year was, at least in part, because a disproportionate percentage of crimes were committed by minorities.
"He is a nice face for this powerful entity in the community," Wilson says. "But we still have to reckon with the fact that an officer in Spokane can kill a human and still, given the laws and protections, get off relatively scot-free."
More people were shot by Spokane cops in 2017 than any year in decades — and half of them were American Indians. Later, an officer kicked a handcuffed suspect in the testicles. One officer, with a long record of using force to his name, shoved a police dog through the window to bite a surrendering suspect.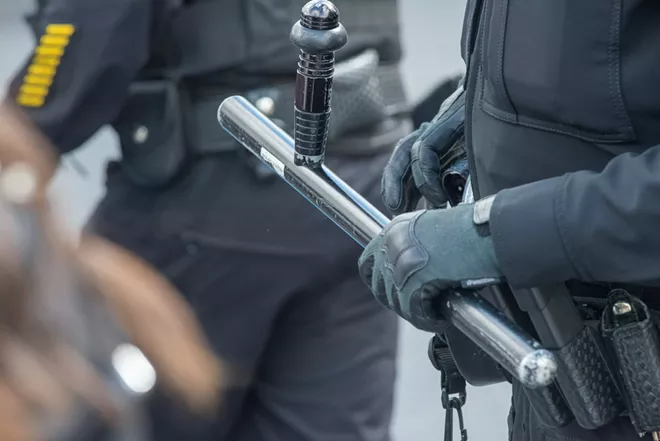 Logue, the ombudsman, says his office is about ready to issue a report that's pretty critical of the way the city handled the canine incident. He says that under Meidl, the department has slowly improved the way it handles its use-of-force policies, but he still sees room to improve.
Asked about the photos taken by Westerman, Logue says that, actually, according to Spokane's use-of-force standards, resting bodyweight on a subject's neck isn't technically considered a "use of force" under the department's current standards — unless the suspect is visibly injured or complains about an injury.
"How [Meidl] responds to unlawful violence in the street — that will inflame some and not inflame others," Logue says. "When this is done, we will carefully look at the tactics used by SPD again."
Today, Meidl says, he personally reviews every internal affairs complaint. He says every example of a cop who's cocky, arrogant, heavy-handed or disrespectful hurts the image of the department. It's why he says he's careful about who he hires, and why he gives the same speech to everyone he does hire.
"I tell them, 'To whom much is given, much is required,'" Meidl says. "I make it very clear to them that, 'We are given a tremendous, tremendous amount of authority from the community. And because of that, we require a lot of you. You are held to a higher standard. That's on-duty and off-duty.'"
But here's a problem that protesters point to: With all the legal and union protections surrounding police officers, they argue, cops are actually held to a lower standard than members of the public.
"His hands, as well as so many other hands in law enforcement, are tied on the issue of police accountability by the Police Guild," Robinson says.
Meidl acknowledges that tension. He says it's a lot easier to fire a bad grocery clerk than a bad cop.
"There's conduct that I don't think would necessarily be tolerated in the private world, [where] they would absolutely probably get their walking papers the next day," Meidl says. But fire a cop for that behavior, and in many cases, the union will object and then, six months later, your decision will be overturned. It happens all the time.
Meidl fired the officer who kicked the suspect in the crotch. But he didn't fire the officer who shoved the dog through the window. And he didn't fire John Gately, a Spokane police sergeant who tipped off a fellow officer, under investigation for raping another cop, that investigators were coming to collect his DNA.
Instead, Meidl booted Gately from the Peer Assistance Team and placed him on four weeks of unpaid leave. But the guild appealed even that light punishment, and an arbitrator cut the four weeks of leave to only one.
"I don't get angry or bitter about it," Meidl says. "I'm not going to get bitter about something that's been in place for decades. I just have to work within it."
But if there's anything the flames and chants and broken glass across the country have shown during the past few days, it's that plenty of Americans aren't willing to keep working within a system that's been in place for decades.