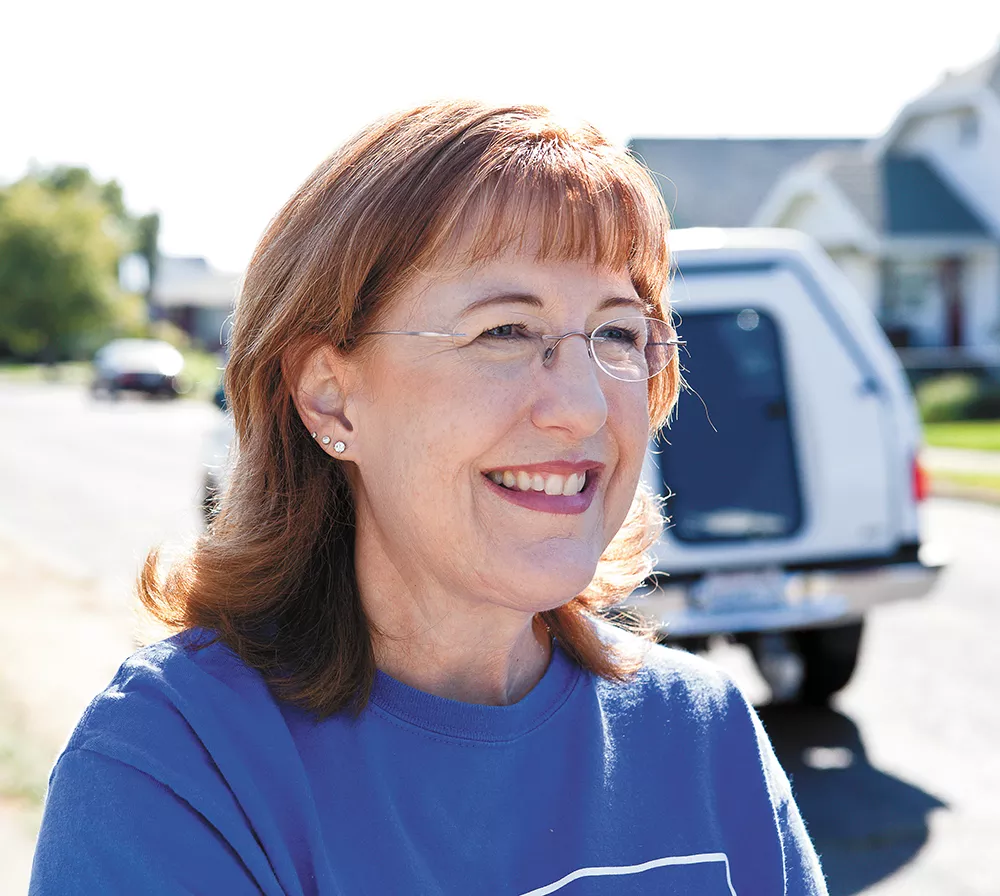 During nearly a decade on the dais, Nancy McLaughlin made her name as a staunch conservative, pushing for fiscal responsibility, business interests and, recently, covering up nearly nude baristas. But as she prepared to leave office because of term limits, her district went in the opposite direction, electing a union-backed liberal to replace her. A few days after McLaughlin's final city council meeting, she sat down with us over a nonfat mocha to talk about what she's learned, her advice for her replacement and what comes next.
On what she's learned during her time in office:
"Sometimes there's just not easy answers, and that it's not as plain-cut, black and white as you would hope it would be, and so you gather all the information around a particular issue as you can and you try to throw in your common sense, and come out with as good of a decision as you can."
On her advice to newcomer Candace Mumm:
"Listen a lot. Listen more than you thought you were ever going to listen. Listen and try to get as much information about whatever the topic is before you come to a conclusion. If people feel like they're being listened to, even if you end up not agreeing with them, they will respect you. ... Take those phone calls from people who are frustrated."
On Mayor David Condon:
"He's brilliant. ... I really appreciate [his] initiatives, especially around making things easier for businesses and for trying to keep the costs down to families."
On partisanship on the City Council:
"The council's become so much more political in the last four years. When I came on eight years ago, it didn't feel very political; it really seemed nonpartisan. I wish I knew [why], but really, four years ago, it seemed like there was a switching of a light that suddenly, let's make that political."
On the future of the city:
"There will be challenges, no doubt about it. There are challenges in any great city that is trying to move forward. I think they are not insurmountable as long as you keep talking and communicating and finding solutions."
On the challenges of public office:
"One of the hardest things is when one of your people that you represent comes to you over maybe a hard issue and they're demanding you vote a certain way, saying, 'You represent me and I elected you to represent me.' Then somebody else also in your area with the completely opposite view demands the same thing. ... I would love to make everyone happy all the time, but you just don't, and it's exciting that way."
On governing as a "woman of faith:"
"It's been important to me to really kind of prayerfully ask for the Lord's guidance on issues [when] I have really thought, 'Is there a right and wrong? God, how do you feel about this?'"
On the toughest issues:
"Environmental issues, for one. It seems like there are extremes on both sides of the issue and I like to say I've advocated for balanced and cost-effective environmental stewardship. ... I think people thought that I was anti-environmental because of some of the stances I took, but I'm going, 'No, I'm not. It's just that the government just can't pound the environment as the only issue for cities. It's not. We have other needs where our dollars need to go to.'"
On her accomplishments:
"When I first came on to council, we didn't have any kind of a rainy day fund. ... We set aside $5 million. It's very easy for councils, because of the many needs, to say, 'Let's just spend it.' To actually set aside $5 million and put it in a rainy day fund was huge ... We desperately needed that during these last few years.
"I believe I was one of the initial big pushes for the establishment of the police ombudsman. ... I've been very supportive of a civilian oversight model from the get-go. I'm just sorry that I wasn't able to help bring it to fruition at the end of this year fully.
"[The council's] budget principles: I helped work with the finance department on those. Some are common-sense things, like 'Don't spend one-time excess monies on ongoing excess expenses.' Don't set ourselves up for that, because if you embed a new program and the next year that extra money isn't there, then you have to look at the heartache of cutting it off."
On her post-council plans:
"I have people who wanted us to move out into the 4th legislative district. ... I'm still passionate about getting in there [to state government] and trying to make some of these changes to help improve our city life, but the handwriting is pretty obvious on the wall that I can't get elected in the 3rd [legislative district] ... But that's a very serious change for us. ... We kept saying, 'Lord, if you want us to move, then we have to love something and it has to be affordable' and that hasn't happened yet.
"Cathy McMorris Rodgers hasn't filled her district director position. ... [That] would be something I would be interested in because, No. 1, I am supportive of Cathy and, No. 2, I think it would be a good fit for me having local government experience that would be beneficial to her office.
"I know that it really was kind of a God thing [to run for City Council] and ... now that I've done it to best of my ability, I keep thinking, 'What can I do now with this to continue to serve?'" ♦