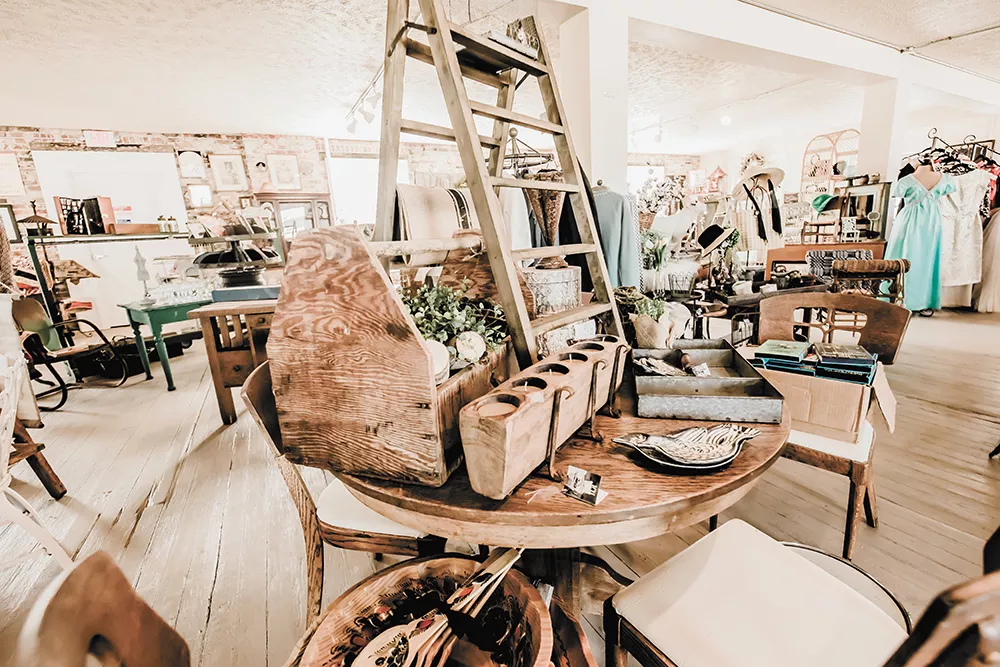 North Monroe Business District
In recent years, one of the best local spots to thrift, antique and hunt for unexpected finds has become Spokane's North Monroe Business District. All the shops in this neighborhood are worth your while — we suggest starting at one end and working your way down. A great first stop is BOULEVARD MERCANTILE (1905 N. Monroe), located inside a prominent, historic brick building at the corner of Monroe and Northwest Boulevard and Indiana Avenue. Boulevard is home to numerous local vendors of vintage, antique and repurposed salvaged home goods on its main floor and in the building's basement. Vintage clothing galore, from cut-off Levi's and funky graphic tees to jackets, shoes and Western-style button ups can also be found in a large corner of the basement from vendor Vagabond Soundtrack.
Continue working your way north and stop at the following shops along the way:
Newcomer to the district CHIC & SHAB (2321 N. Monroe), which relocated in early 2019 from Hillyard, offers a wide range of decor styles — sleek midcentury modern to charming, shabby chic farmhouse pieces — from its many local vendors. Meet all of the shop's curators at chicandshab.com.
Just up the street from here, TOSSED & FOUND (2607 N. Monroe), one of the larger stores in the district, is packed with goodies from all eras and styles; get a sneak peek of what's in stock on the shop's Facebook page. Keep moving another two blocks north to another local favorite, 1889 SALVAGE CO. (2824 N. Monroe). Owner Gina Campbell is also constantly posting social media updates on the store's latest inventory if you have specific pieces in mind, or want to get first dibs.
Nearby, D & L's RUSTIC TREASURES (2910 N. Monroe) is a hotspot if the shabby chic, farmhouse style is your jam. Just up from there, MARILYN'S ON MONROE (3111 N. Monroe) is another longtime vintage and antique purveyor to add to your list, with wares often spilling out onto the sidewalk to catch the eyes of passersby. Across the street from Marilyn's, finish your hunt at PAINT IN MY HAIR (3036 N. Monroe), which features a mix of new and repurposed inventory from its many vendors, along with shelves of the popular furniture chalk paint brand Annie Sloan.
Sprague Union District and Spokane Valley
In the recently renamed Sprague Union District (aka East Sprague, or the International District, near The Tin Roof), a corner shop called ERA VINTAGE HOME (1802 E. Sprague) is bound to blow your midcentury-modern-loving mind. Its owners are constantly bringing in new pieces from their massive collection to stock the small storefront and are happy to chat with customers stopping by looking for a specific piece. Nearby, shoppers can find goods from all eras at BLUE CAT VINTAGE (1919 E. Sprague), which is home to a massive showroom floor stocked with items from dozens of local pickers who continually update their inventories of clothing, shoes, art, home decor, furniture and more. Just down the street to the east is local favorite TWO WOMEN VINTAGE GOODS (2012 E. Sprague), which relocated its store from west downtown in late 2018. The new space, which is double the size of the shop's downtown spot, also includes the cafe Cream & Sugar Coffee, offering coffee, tea and baked goods. Don't forget to head upstairs to find lovely collections from more vendors.
Spread your vintage hunt further east to the Greenacres area of Spokane Valley and hit another couple of vintage spots worth a stop. RELICS (17325 E. Sprague) offers home decor and furnishings in all styles: midcentury, farmhouse, cottage, shabby chic, rustic and more. While you're in the area, also swing by the GREENACRES VENDOR MALL (16814 E. Sprague) to shop its many curated vendor booths, many of which offer a range of vintage and antiques, often mixed in with reproductions, original art, clothing and other handmade items.
Midtown Coeur d'Alene
In North Idaho, make plans to spend a full day exploring Coeur d'Alene's Midtown Neighborhood, home to the locally beloved treasure trove formerly known as Junk, recently renamed to MIDTOWN HOME & VINTAGE MARKET before it moved, in late summer 2019, into a new and larger spot (1003 N. Fourth St.) just a few blocks from its old location. Keep heading north from here on Fourth to check out fellow antique/vintage goods purveyors THE WAY BACK (1103 N. Fourth), FORGET ME NOT SHOP (1402 N. Fourth) and PARIS ANTIQUES (1815 N. Fourth). South from these, and closer to downtown Coeur d'Alene, there's also LOOKING GLASS MARKETPLACE (848 N. Fourth).
There's plenty more to be found across the Inland Northwest when it comes to vintage and antique goodies. Beyond the neighborhoods suggested here, take a gander at the dozens of shops listed by area in the locally published and free Vintage Directory, which can be picked up at most of its featured vendors. Find out more at facebook.com/VintageDirectoryUSA and then start planning a day on the hunt in Sandpoint, Cheney, Pullman or beyond.