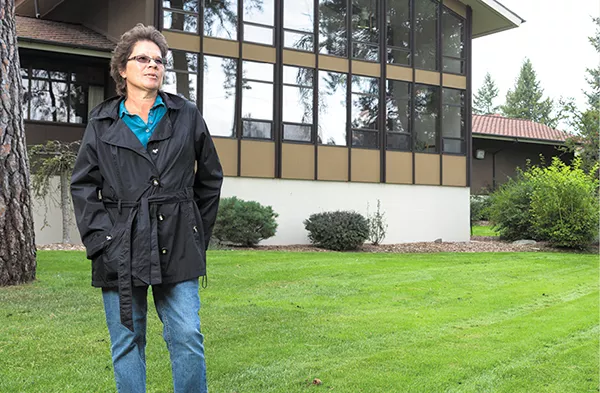 Two days a week, 52-year-old Tamela Carlson grabs a 2-inch-thick binder filled with detailed laws and regulations and winds her way past 100 rooms housing elderly, sick and wheelchair-bound patients. She checks in at the front desk, then pops her head into rooms throughout the facility, waving to some patients and stopping to talk to others. Sometimes she just says hello; other times she listens and listens.
A volunteer for the nonprofit SNAP's Long Term Care Ombudsman program, Carlson is assigned to check in on a north Spokane nursing home, looking for signs of insufficient care or helping patients resolve concerns or questions. The program handles serious abuse issues if they come up, but more often deals with the small comforts or questions from patients or their families about care plans.
"Everything else gets taken away. They lose their loved ones, they lose their homes, they lose their independence. So much is lost as they get older," Carlson says of the people she visits. "It's helping them hang on to what little bit they have left, [like] their favorite chair or a few decorations from home."
The program is mandated by amendments to the federal Older Americans Act, which outlined protections states must have for elderly people living in assisted living facilities and strengthened protections against age discrimination. The Eastern Washington program, an extension of the statewide ombudsman, currently has about 40 volunteers and an office that takes calls from around the region, serving nearly 300 nursing homes, assisted living facilities and small adult family homes (where a caretaker looks after just a few people), says program director Linda Petrie. The program covers five Eastern Washington counties, from Spokane south to Whitman, north to Pend Oreille and west to Ferry. The program is all-volunteer, making it naturally vulnerable to understaffing. But it's still robust compared to other states, where an ombudsman program can be as little as a poster in an assisted living facility offering a phone number to call with complaints or concerns.
"Elderly people always deserve dignity and respect. As ombudsmen we go into these facilities and can become the eyes and ears for the residents or, perhaps, for their family members who do not live in Spokane," says Sharon Niblock, another volunteer with the program. Six years ago, when her own mother was in an assisted living facility and Niblock found herself unhappy with the care, the ombudsman program helped her move her mom to another facility. Now, at 70, Niblock says the program gives her the opportunity to stay active and give back to the community.
She checks on three South Hill locations any time she's out running errands, stopping in sometimes just to say "hello" and help build relationships with residents. This, volunteers say, is crucial to getting residents to trust the program enough to actually express concerns about their care.
"In that age group — 80, 90, 100 — when they were growing up they were basically socialized not to complain," Niblock says.
The need for oversight is great. According to the Nursing Home Report Card Project — a report released annually by the nonprofit Families for Better Care — nearly 90 percent of all nursing homes have been cited by state agencies for deficiencies in care, and one in five nursing homes has mistreated or neglected residents in almost half of all states.
"I've seen more neglect and abuse than anyone needs to see in a lifetime," says Brian Lee, the executive director of Florida-based Families for Better Care, who has also worked in ombudsman programs in Illinois and Florida. "There have been many attempts to improve [nursing home care], but it's no better today than it's been in a long time, if ever."
Families for Better Care ranks each state with a letter grade based on data from state and federal agencies measuring performance and resident complaints. This year, Idaho received an A grade, while Washington got just a C. According to the reports, Idaho nursing homes offer more hours of staffing per resident — a crucial metric for measuring how attentive care is. (The ideal for "direct care staffing hours" per resident per day, Lee says, is 2.8. Washington is at just 2.5; Idaho is at 2.75.) But Washington had a higher rate of verified ombudsman complaints, which, while it negatively reflects on the state's score, could also mean the state simply has a more active ombudsman program, Lee says. More than 85 percent of facilities in both Washington and Idaho report deficiencies, and more than 30 percent have "severe deficiencies," which are "immediate jeopardy or actual harm violations that resulted in resident injury, abuse, neglect, or death," according to the group.
Back in SNAP's quiet, tree-surrounded headquarters near Spokane Falls Community College, Petrie says just the existence of oversight can mean facilities behave better, and that improves care for everyone. Despite struggling with funding cutbacks and volunteers who come and go, Petrie says, volunteers addressed 304 complaints and logged more than 5,500 hours in facilities across the region last year. Now, Petrie has just trained a new crop of volunteers to help with the program, arming them with an understanding of rules and regulations, plus old-fashioned intuition.
"We're looking at quality of life stuff," Petrie says. "You have a sense. If somebody's not being listened to, you know. I think we all have that instinct [to say] 'Hey, this person's being overlooked.'" ♦
To volunteer with the Eastern Washington Long Term Care Ombudsman Program, call 456-7133. To report a concern about a facility in Eastern Washington, call 800-562-6028. To report a concern in North Idaho, call 800-786-5536.
---
Checking the report card
Find state report cards from Families for Better Care at nursinghomereportcards.com. Similar state-by-state reports, sponsored in part by the AARP, can be found at longtermscorecard.org. Find and compare nursing homes based on health inspections, staffing and quality measures at medicare.gov/nursinghomecompare.