AN EXTENDED HAND
A room in a building off of Market Street, not far from where she grew up, is where Bonnie Robinson started to remember who she is.
"I came here because I had been a caregiver for my husband 24-7," says Robinson. Sitting in a circle with several other women, Robinson, 70, recalls how after being hospitalized for anxiety, she was referred to Frontier Behavioral Health's Elder Services program that provides support for people doing the emotionally taxing labor of caring for an ailing family member. "I was emotionally worn out, and I didn't hardly know who I was, and why I was here in this world."
"I haven't seen you smile this much in months," chimes in Joyce Tucker, a therapist running the session, noting Robinson's toothy grin.
The building was built in the 1950s, and Elder Services set up shop in 1977 to anchor more services in the struggling neighborhood, says Jeff Thomas, Frontier's CEO. It's here that Frontier provides counseling and case management for older residents of Spokane County, as well as support groups for caregivers, people experiencing grief and even just knitting circles meant to break social isolation. From here, volunteers (which Frontier can always use more of) drive "care cars," their own personal vehicles, to help elderly people without other means of transportation get to medical appointments.
But this population isn't known for asking for help, and reaching them requires an extended hand.
"We're not sitting here waiting for an elderly person to walk in because you won't find that with an older population," says clinical supervisor Linda McGrath. "They won't say, 'Take me. I have a mental health issue.'"
With demand for its services increasing, Frontier plans to remodel and expand the building and turn a neighboring dirt lot into a community garden. Thomas says that while Hillyard is "a neighborhood that has great need by almost every indicator," he says the Zone Project puts Hillyard in a position to overcome its challenges. (See "In The Zone" on page 25.)
"There's a steady sense of pride among residents here," he says. "People identify with it as a place not doing well, but that pride can capitalize on it."
DOCTOR'S ORDERS
Blocks away, the health clinic operated out of the Northeast Community Center treats the mothers-to-be, recently arrived refugees who only speak Dinka or Farsi, people who've lived their entire lives in Hillyard and the retirees who've abruptly discovered that the doctor they've had their entire working life won't take Medicare.
The staff at the clinic, operated by Unify Community Health, are a small part of their patients' stories: the refugees coming back in for a checkup a year later who now speak English and have jobs, new moms cradling babies, families about to see their first child graduate from high school.
"I don't know if 'disparity' is the right word," says Kai Nevala, the clinic's director. He pauses, searching for how to describe why his organization is here. "But there's a little bit of gap in services, and this is why the clinic is here."
Jean Farmer, executive director of the Northeast Community Center Association, says the clinic opened up in 2011 to serve as a safety net after Community Health Association of Spokane, another community health group, moved away.
"When we built that building, it was done to expand medical access," she says. "The 99207 zip code had 19,000 medically uninsured people."
Now, she says, more people have insurance as a result of the Affordable Care Act. But that hasn't solved all the problems.
"The biggest challenge, from my perspective, is we struggle to meet the need," says Nevala. "I wouldn't say it's just in this clinic... but particularly in these neighborhoods, it's pretty substantial."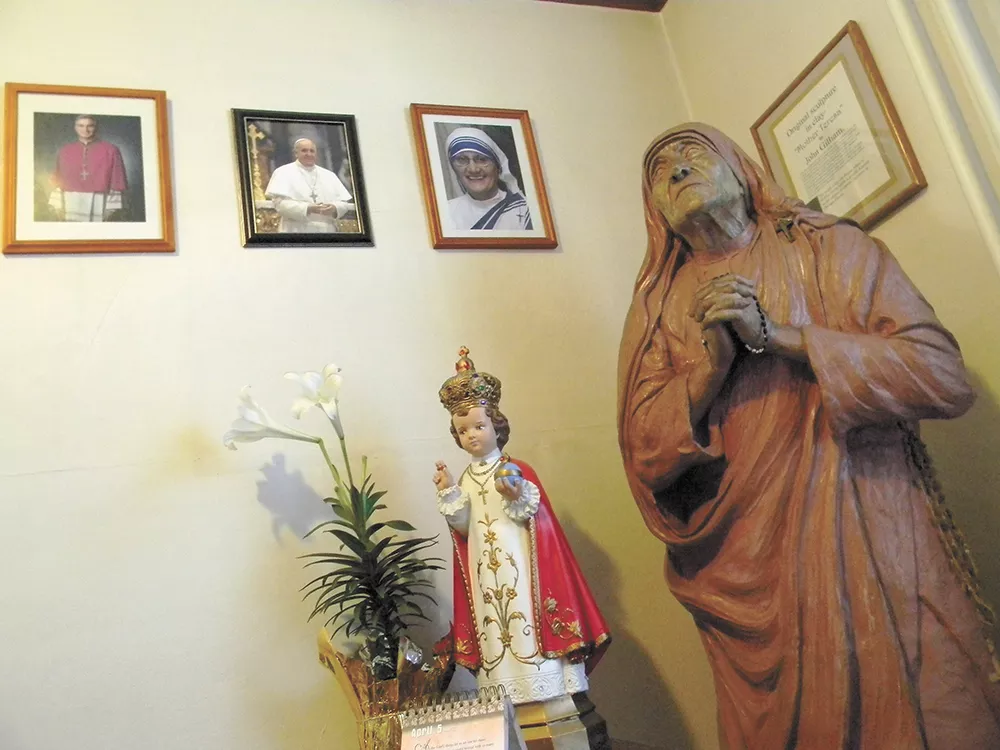 'PROUD AND INDEPENDENT'
In 1968, Gerald Madren, a former Spokane County Republican chairman bristling at Hillyard's designation as a "ghetto," "slum" and "poverty area," called for city leaders to put a proposed housing authority to a public vote.
"We admit to being economically poorer than the average of people in some other areas of the city," he said in the Spokane Daily Chronicle, pointing out that many residents were skilled industrial workers and actively involved in their neighborhood's civic life. "But we, nevertheless, are proud and independent. We would lay claim to superior handling of the resources we possess. We also lay claim to as large a portion of the economic and social life of the city as any area."
FROM INDIA TO SPOKANE
For the four nuns who live in a house on Lacey Street, where a statue of the Virgin Mary overlooks a flower bed, the day begins at 4:15 am. Morning prayers are held at 5. Then there are chores, including hand-washing the saris that were made by leprosy patients in India. After mass and breakfast, the nuns, wearing the white habits and blue-bordered saris that have become hallmarks of their famous order, begin their work seeking to alleviate not just the material but the "spiritual poverty" in Hillyard.
Ten years ago, the Catholic Church decided to set up in Hillyard a branch of the Missionaries of Charity, an order founded by Mother Teresa, who became an icon for her work with India's poorest.
Although the order draws its members from all over the world, the nuns at Spokane's branch are, at the moment, all from India. In a room, near the door is a statue of Mother Teresa, which the nuns affectionately refer to as "mother." In the statue's arms are pictures of sick children, which have been placed there in hopes of speeding their recovery.
The nuns provide shelter for five homeless women and also hold Bible camps for kids. Most days, the nuns knock on doors. Some people who answer the doors have left the church and aren't happy to see the nuns. Some listen and come back to the church. The nuns also regularly visit shut-ins and help with cleaning and provide some much-needed company.
"Sometimes they are depressed and live alone and no longer see the light," says Sister Rosalie, who oversees the branch. "We are not there to convert. Only God can convert them." ♦