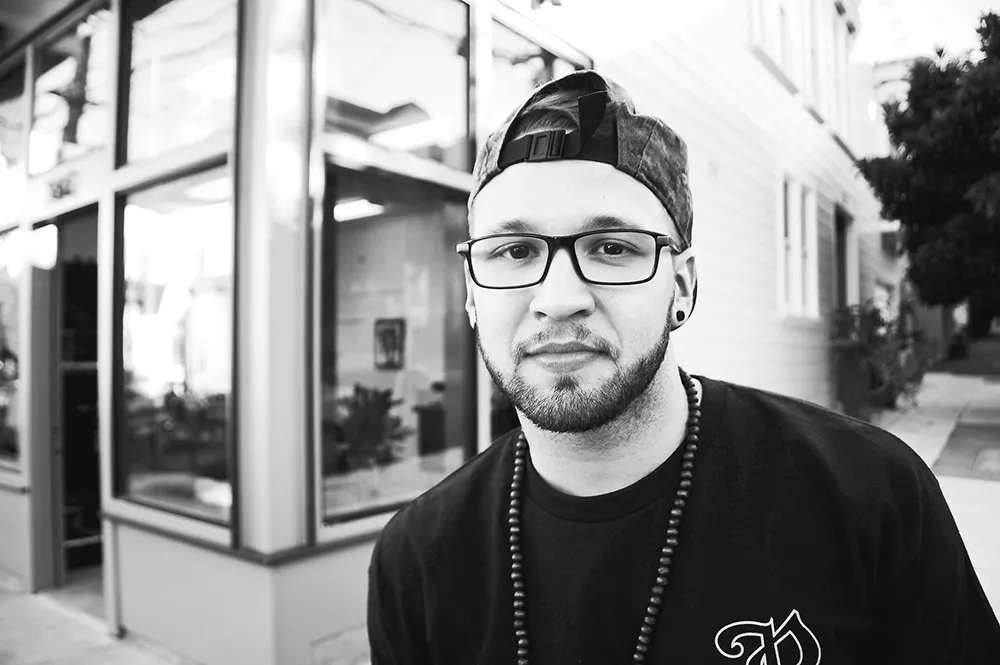 Andy Mineo wants you to text him. The inclusive rapper's phone number is posted in the bio for his Twitter account — which has 224,000 followers — and he'll respond if you message him. Touring is all about interacting with his fans, he says.
"I'll go to a city, and I'll text everyone from there in my phonebook to meet up at a movie or somewhere," says the New York-based musician and one-time pastor while traveling through Arizona last week. "I'll text people on their birthdays, too. I want to open up a conversation."
His current tour, which stops at the Knitting Factory on Friday, continues that theme. Stick around after the show, and you may find yourself playing dodgeball with the rapper.
None of this is completely novel for an underground hip-hop artist with a viral following. What is different is that Mineo's a Christian rapper, though he bristles at the classification. He says he's just a musician who also has a faith.
"Regardless of whether you agree with my faith, there's a general sense of positivity and joy from my music that seems to relate to people," Mineo says. "That's why I don't like labels with the music I make, that's so limiting, it says my music is only for these certain people."
Mineo has never heard one of his solo songs on the radio, Christian or secular. Yet his 2015 album, Uncomfortable, debuted at No. 1 on the Billboard Hot Christian Albums and has received millions of listens on Spotify. And he's not alone.
In the past couple of years, Christian rappers have gained even more recognition in the mainstream, and the stats are impressive. Mineo's Reach Records labelmate Lecrae (who's coming to Riverfront Park in June with Switchfoot) went No. 1 on the Billboard charts back in 2014, a feat only achieved by four other Christian records. Meanwhile, Christian rapper NF's Therapy Session currently sits on the iTunes Top 10 albums rankings. That's incredible, considering most slots are taken up by Beyoncé and, of course, Prince.
Hip-hop essentially always has had an accompanying Christian rap scene, but it often wasn't taken seriously. In the early aughts, TobyMac was the first rapper to break out into Christian radio, making it suddenly OK for Christian kids everywhere to listen to hip-hop (a taboo genre in many conservative circles).
Today, outspoken rappers like Kanye West and Kendrick Lamar talk about God in their music. Last weekend, Snoop Dogg dropped a video of himself singing the Gospel song "I'd Rather Have Jesus." But these artists' music also includes loads of misogynistic language and cursing, and some religious internet commenters haven't been kind. Mineo says there's a better approach.
"We need to be more compassionate and open," Mineo says. "They're showing glimmers of growing in their faith, people are all on journeys. A lot of people who aren't Christians, or aren't for the church, are that way because they see this judgmental side, and that's not everyone."
Mineo has his own group of internet trolls to contend with — people who think he's too Christian, or not enough. When asked how he handles the haters, he says, "I don't deal with them."
He explains that when someone has a genuine question, he'll respond, but otherwise, he doesn't have time to think about those who don't like him.
Ryley Alderman, program director at Kingdom Culture ministry in Hillyard, also sees hip-hop as a tool for kids to express themselves. His program, reLEAST, works with teens, mostly in the Hillyard and North Central neighborhoods. They meet every Friday night to create art, including hip-hop music, and his group recently released a mixtape.
A couple of months ago, Alderman's team did a show at the Pin! called Convergence.
"We went in there with secular artists, and we brought our Gospel hip-hop," Alderman, 20, says. "There was no judging, it was people being honest. A lot of people just really love that. We've seen a lot of people respond well to this kind of music."
Alderman says that honesty is why rappers like Mineo and Lecrae are connecting so well with this generation — that, and their music is quality.
Mineo admits that his catchy music may be overly honest for some listeners, that his lyrics covering forgiveness, grace, race, love and Jesus may make some uncomfortable.
"I'm not comfortable with the state of music and the country," Mineo says. "And with my music, I want to inspire people." ♦
Uncomfortable Tour with Andy Mineo • Fri, April 29, at 7 pm • $25-$55 • All-ages • Knitting Factory • 919 W. Sprague • sp.knittingfactory.com • 244-3279