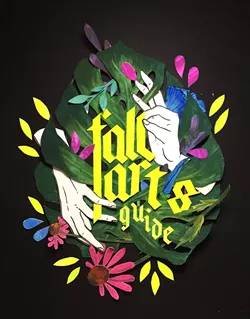 We say it every year, and it's as true as ever: Tons of cool things are happening right now!
Terrain is turning 10, the MAC is pinning big hopes on the Titanic, and the local theater community is regrouping after a tough year. The Spokane County Library District is celebrating 75 years, and the Fox Theater is likewise celebrating the 10th anniversary of its grand reopening after the classic downtown Spokane spot was restored to its original grandeur.
You'll find stories about all those things in this year's Fall Arts guide, as well as information on can't-miss events of the fall and a week-by-week calendar to keep you busy through the end of the year.
Enjoy the stories, and the cover art done by Spokane artist Marina Gulova!
---
GO DIRECTLY TO FALL HIGHLIGHTS IN THESE AREAS: