MUSIC
ANDY McKEE
Oct. 2
Andy McKee ranks among the world's most talented acoustic guitar soloists, coming from humble beginnings as a YouTube sensation. The online community brought his clips to somewhere around 80 million views, blasting him into stardom and inspiring guitar players around the world. If you can believe it, his real strengths lie in his compositional skills — even with his insanely adept picking and strumming ability, he sometimes finds it difficult to play his own compositions. On his website, Andy writes of his Spokane concert: "It will be rocking!" (BN) Bing Crosby Theater, $25, 8 pm
WORDS
2013 INDIVIDUAL WORLD POETRY SLAM FINALS
Oct. 3-5
Slam poets from across the U.S. and Canada are set to hit Spokane and hit it hard. There will be bouts between poets, workshops for the poetically inclined and enough thought-provoking verbiage to carry both the sensitive and the boorish through 72 hours of soul-searching. The event concludes at the Bing Crosby Theater, where the final 12 wordsmiths will sweat, pace, stomp, speak and cause your emotions to flit from laughter to sorrow to empathy and back with their clever phonemes and heartfelt intonations. (AF)
Schedule of events at iwps.poetryslam.com
CULTURE
HUMANITAS FESTIVAL
Oct. 3-5
The African diaspora has left footprints throughout the Western world, and WSU's Humanitas Festival is set to celebrate this influence with performances by Step Afrika!, Okaidja & Shokoto and Aché Brasil. Okaidja & Shokoto's three musicians perform Afro-Cuban, Afro-Brazilian and Afro-Peruvian compositions alongside American blues, jazz and tap. Aché Brasil, a musical, acrobatic and dance ensemble, celebrates Brazil's diverse culture. Step Afrika! tours internationally, showcasing stepping, an African-influenced dance style that features footfalls, claps and spoken word. This form of dance first gained popularity in African-American sororities and fraternities, but has since gained a worldwide following, picking up influences from many cultures. On Saturday, the Cougar World Party and Outdoor Festival provides daylong entertainment. (AF) WSU Pullman Campus and other venues, free
VISUAL ARTS
ART FROM THE HEART
Oct. 3-12
Art lovers, listen up. The Coeur d'Alene Arts & Culture Alliance hosts its 11th annual arts festival, Art from the Heart, in October. If you're into any type of art, you can't miss this event. The local arts nonprofit pulls out all the stops, bringing an orchestra, multiple theater companies, bands and musicians, dancers and visual artists. Regional artists and enthusiasts gather to celebrate, share their craft and teach the community in performances and workshops. It continues through a full week at multiple venues, so attendees can choose a day when the whole family can find something they're interested in. The aim is to build friendships and share opportunities to foster a stronger art community. (BN) Locations throughout Coeur d'Alene, free admission, event times vary
CULTURE
TERRAIN
Oct. 4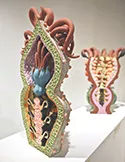 Yes, Spokane's grassroots cultural event is growing up — turning 6 years old, in fact. The juried art show/performance art/music showcase/celebration of anything and everything creative returns to the old Music City building during the Visual Arts Tour. Sorry for those backslashes, but this is an event that requires a few of those to accurately explain. Featuring artists from around the region, Terrain is as good a sampling of Spokane's creative culture as you're going to find anywhere in the city at any time of the year. Here's proof — they received some 700 submissions for the show. You can see 200 of those on display. Not bad. (MB)
Music City Building, begins at 5 pm, free
VISUAL ARTS
VISUAL ARTS TOUR
Oct. 4-5
As you likely know, on the first Friday of every month, galleries (and places serving as galleries for that night) around Spokane exhibit the works of our numerous local artists. But that monthly show is supersized twice a year, in October and February, when it becomes the Visual Arts Tour, a weekend-long celebration of creativity. This time around, you'll find 31 different exhibitions spread throughout downtown Spokane and other spots around the city. There will be painting, sculptures, performance art and a sampling of just about any other medium you can think of. It's a good way to get into gear for the region's bustling fall arts season. (MB) Throughout downtown Spokane, begins Fri, Oct. 4 at 5 pm
VISUAL ART
ARCHIE BRAY FOUNDATION RESIDENT SHOW
Oct. 4-25
The annual Archie Bray Foundation Resident Show has become an October institution here, and it's the best place to see some of the most seriously kick-ass ceramic work around. Jim Kolva and Pat Sullivan, connoisseurs of great, edgy, groundbreaking art, invite residents from Montana's Archie Bray Foundation — an incredible educational institution focused on ceramics — to show their works here each year. The show takes on many different forms: everything from micro-works to coffee cups and giant installations, often with great narratives and heavy explorations of irony. (LS)
Kolva-Sullivan Gallery, free, opening reception Oct. 4 from 5-9 pm; on display through Oct. 25
PERFORMANCE
RENAISSANCE FAIR AT GREEN BLUFF
There are still about 150 days until the Season 4 premiere of Game of Thrones, so you might need to get your swords-and-knights fix elsewhere. Though the jousting on Green Bluff may not be as bloody and vindictive as that on Westeros, winter is coming, and sometimes you have to do what you have to do to make it 'til spring. Actors, minstrels, storytellers and nobles have headed for the hills of Green Bluff, ready to welcome us non-artisan peasants with activities like jousting, dancing and that crazy new game the Europeans call bocce ball. So break out that bodice and live your historically romantic fantasies. Men, spruce up those jerkins. Bring the kids (scouts in uniform get in for free) and enjoy the joust. (AF) Back of the Bluff, Green Bluff, $5-$25, 10 am-5 pm
MUSIC
BON JOVI
Oct. 6

Before
Jersey Shore
flushed the state of New Jersey's barely-hangin'-on-reputation down the toilet, Bon Jovi was its No. 1 advocate. (OK, Bruce Springsteen was there, too.) After releasing the seminal
New Jersey
— which included the chart-toppers "Lay Your Hands On Me" and "Bad Medicine" — back in 1988, the hair-metal band, with the exception of a few breaks in the '90s, hasn't stopped since. Gracing Spokane with their presence as part of the "Because We Can" tour, the Jon Bon Jovi-fronted act continues to wail — because, yes, they can. (LJ)
Spokane Arena, $59-$179, 7:30 pm
WORDS
SHERMAN ALEXIE
Oct. 9
This Spokanite long ago left this side of the state, but every once in a while he'll hop on over to remind us why he's still one of the most significant literary figures ever to emerge from our region. Sherman Alexie has been riding high off the success of The Absolutely True Diary of a Part-Time Indian for a while now, making him perhaps the premier Native American writer at this moment in time. He's coming to town with his most recent book, Blasphemy, in tow. The new collection of short stories features 15 tales fans have come to love, with another 15 brand-new pieces featuring his experiences from a youth spent on an Indian reservation, and more of the humor and wry observations that have made him a mega-famous writer. He'll read from the book, probably make you laugh and then sign your copy. (MB) Auntie's Bookstore, 7 pm
WORDS  
SPOKANE IS READING
Oct. 10
Author Maria Semple, whose credits include writing for Arrested Development and Saturday Night Live, injected her newest book Where'd You Go, Bernadette with wit that requires Seattleites to not take themselves too seriously. Just as Semple did, the story's protagonist, Bernadette, moved from L.A. to Seattle and found much to loathe. Haphazard five-way intersections, Keens, snobby Queen Anne housewives and compulsory small talk about the possibility of rain all plague the neurotic ex-architect who lives with her Microsoft husband and gifted daughter. Spokane is Reading presents two opportunities to meet the author, who will read from Bernadette and field questions. The events are free, but seating is first-come, first-served. (BN) Spokane Convention Center Auditorium, free, 1 pm; CenterPlace Event Center, free, 7 pm
FILM
THE ACT OF KILLING

In 1965, after a failed coup attempt in Indonesia spurred a military crackdown against suspected communists, low-level gangsters became a feared squad of executioners. Now middle-aged (and older), they happily reminisce about the killings with a documentary filmmaker. At his invitation, they re-enact scenes of violence in the styles of their favorite film genres, until memory bleeds into fiction and becomes too real. Werner Herzog and Errol Morris both liked early versions of the documentary enough to sign on as executive producers; it's won a ridiculously long list of awards and critics have been almost unanimously awed. But everyone also agrees it's a raw and difficult film — watch it in the theater, with other people who will want to talk about it afterward. (LW)
Magic Lantern Theatre, $7, 7 pm
CULTURE
SPOOKY SPOKANE
Oct. 10-11, 17-18 and 24-25
In the weeks leading up to Halloween, get chills up and down your spine during the Spooky Spokane walking tours, which feature some unusual and surprising tales regarding the Lilac City's scarier, lesser-known history. Even for those who scoff at the idea of ghosts, the guided tours through downtown Spokane reveal a darker past in some of the city's most recognizable historic places. Sure, some of these tales are long-surviving urban legends, but that doesn't mean they're any less fascinating or entertaining. The 90-minute tours take place after dark, for obvious reasons, and start at the historic, Art Deco Fox Theater, which apparently has been known to host a ghostly spirit or two. (CS) Martin Woldson Theater at The Fox, $15, 7 pm
WORDS
SISTER HELEN PREJEAN
Oct. 11
You might not know it, but there are some nuns out there who are serious badasses. Leading that pack is Sister Helen Prejean. After witnessing the execution of a death row inmate in 1982, she wrote the book
Dead Man Walking: An Eyewitness Account of the Death Penalty in the United States
— which then became a movie and a play. But she didn't stop there: Prejean has done what few others will, standing beside six men as they were executed and continuing to fight for the banishment of the death penalty. She has also written extensively about, and continues to fight for, the wrongfully accused. (LS)
Gonzaga University Globe Room, free, 7 pm
MUSIC
WELCOME TO ZUILL
Oct. 12-13
Zuill Bailey, classical heartthrob and recently appointed artistic director of Northwest Bach Festival, takes cello in hand for both Robert Schumann's "Cello Concerto in A minor" and Tchaikovsky's "Rococo Variations"
in this chock-full concert program that also features Andrew Norman's modern piece "The Great Swiftness" and the entirety of Beethoven's "Seventh Symphony." Eckart Preu will conduct. The "Welcome to Zuill" title of this second concert in the symphony's Classics series is either painfully matter-of-fact or a head-scratching shot at a pun; if the latter, it might have something to do with the fact that Bailey's holding a free master class (get it? Zuill/school?) at 3 pm on the Friday before the concerts. (EI)
Martin Woldson Theater at The Fox, $15-$54, Sat at 8 pm, Sun at 3 pm
MUSIC
SYMPHONY IDOL
Oct. 19
In this clever, genre-spanning concert with the Spokane Symphony, a trio of recent
American Idol
finalists — LaKisha Jones, pictured, (from Season 6), Haley Scarnato (Season 6) and Matt Giraud (Season 8) — bring their voices to the Spokane stage. Expect to hear hits from Celine Dion, Journey, Whitney Houston, the Charlie Daniels Band,
Evita
and more — all backed by instrumental arrangements performed by our city's resident symphony orchestra. Morihiko Nakahara, who also serves as music director of the South Carolina Philharmonic, will conduct this entertaining start to the symphony's SuperPops concert season. (EI)
Martin Woldson Theater at The Fox, $26-$62, 8 pm
MUSIC
THE AVETT BROTHERS
Oct. 19
Mere months after the bluegrass/folk-loving Avett Brothers took on the Festival at Sandpoint, the group announced they would rather not skip the stop between Seattle and Montana on their upcoming tour. For fans of banjo-infused anything, the announcement of the Spokane stop was most thrilling. Even better is the fact the Avetts' latest disc Magpie and the Dandelion (let's be honest, there could not be a more girly name for an album) comes out earlier the week they perform, meaning Spokane will be one of the first places to hear all of the new music live. (LJ) INB Performing Arts Center, $34.50-$45, 8 pm
CULTURE
14TH ANNUAL AUTUMN HISTORIC HOME TOUR
Oct. 20
Last fall, with the National Trust for Historic Preservation Conference held here in town, Spokane Preservation Advocates organized a special tour of the impressive South Hill homes on Sumner Avenue and Cliff Drive. This year, the tour explores a less-traveled area of historic significance: Millwood. The self-guided tour begins on North Marguerite Road and includes the Rosebush House, a unique example of the cottage-inspired French eclectic style built in 1923 for the general manager of the Inland Empire Paper Company, now listed in the National Register of Historic Places. The ticket price gets you the tour brochure with a map of the locations and information about each home. (LW) 3303 N. Marguerite Rd., Millwood, $15, noon to 4 pm
VISUAL ARTS
LES LE PERE
Oct. 22 - Dec. 20
With a penchant for pencil sketches and drawings, Les Le Pere has been an artist for most of his life. The Magic of the Objects exhibit is a collection of a lifetime of his work, "from some of his first scribblin's to pieces created especially for this show." A native of Eastern Washington, Le Pere earned his MFA from Washington State University. This influence may be seen in his outdoor backgrounds, but the foreground tends to be pure Americana. If his intricate, quirky and almost always narrative drawings seem familiar, then you may own a few Tom Robbins novels — Le Pere's work graces the covers of several. (AF) Jundt Art Museum, free, reception Oct. 25 at 5 pm, lecture at 7 pm
WORDS
PANEL OF POET LAUREATES
Oct. 23
For someone who pens lyric and rhymes, perhaps the utmost career achievement is being named a poet laureate; meaning he or she has been appointed by a government or institutional body as its official poet. The U.S. has one, states have them and many major cities also have designated poet laureates. Spokane is currently in the market for one, and the person who takes that title will be revealed sometime this fall. Aptly timed with the upcoming announcement is Auntie's Bookstore's regional poet laureate panel, featuring Washington state Poet Laureate Kathleen Flenniken, Boise's Poet Laureate Diane Raptosh and U.S. Children's Poet Laureate and Spokane resident Kenn Nesbitt. They'll be joined by Spokane's to-be-announced, first-ever poet laureate. The panel discussion centers on answering the question of what role poetry plays in modern life. (CS) Auntie's Bookstore, free, 7 pm
MUSIC
MACKLEMORE AND RYAN LEWIS
Oct. 23
Nothing can hold these two down. Not whacked-out music videos, not bad haircuts, not the absence of a major record label — nothing. Instead, Macklemore's rapping paired with the producer/DJ skills of Ryan Lewis keeps getting bigger and bigger, thanks to relentless radio play of their various singles. Thankfully, because Lewis originally hails from Spokane, the act never fails to stop here while on tour. For them, it really is giving back to the bedrock fans, the ones who always believed. As
The Heist
— much of which was performed at last year's smaller-venued Spokane show — has been out for a year now, it will be interesting to see if the duo pulls out new material for this tour. Either way, fans will be thrilled by their presence. (LJ)
Spokane Arena, $32.50-$45, 8 pm
THEATER
CARRIE: THE MUSICAL
Oct. 23-24
Yes, there's a musical version of
Carrie.
It first hit Broadway in 1988, not starring Sissy Spacek. At the time it was one of the most expensive flops ever to hit the stage, closing after only five performances. Last year, off-Broadway dusted off the relic of a production. This year, the brand-new local theater company Lilac City Performing Arts follows suit. Raising funds for its cause on Indiegogo.com and by other means, the community group is built on the philosophy of producing plays that will provoke thought and inspire discussion. This will be the company's first show. (LJ)
Bing Crosby Theater, $20-$25, 7:30 pm
THEATER
NEVER THE SINNER
Oct. 24 - Nov. 9

Interplayers, Spokane's professional theater, showcases some of the region's best acting talent every year, and its 33rd season will be no different. This October brings
Never the Sinner
, a theatrical recreation of the historic 1924 Chicago trial of Leopold and Loeb. The two wealthy university students kidnap and murder a 14-year-old in an attempt to commit the perfect crime, and lawyer Clarence Darrow comes to their defense in a stand against capital punishment. The Interplayers cast brings the drama to life, starring Michael Weaver as Darrow. (BN)
Interplayers Theatre, $12-$28, opening night, Oct. 24, 7:30 pm
THEATER
LEND ME A TENOR
Oct. 25 - Nov. 10
You can't have a farce without a few mistaken identities, and
Lend Me a Tenor
has them in spades. There's also the jealous wife, the slamming of doors and ludicrous costumes. To go into the ins and outs would require far more space than we're allotted here (this is farce, after all), but let's just say in a suitably breathless way that there's a nervous tenor who's supposed to play Othello in a Cleveland Grand Opera Company production, but then someone gives him a tranquilizer and he falls asleep and everyone thinks he's dead but the show must go on so someone else fills in for him and earns rave reviews, resulting in confusion. Phew… and any disclosure more risks being a spoiler. (EI)
Lake City Playhouse, $11-$17, Thurs-Sat at 7:30 pm, Sun at 2 pm