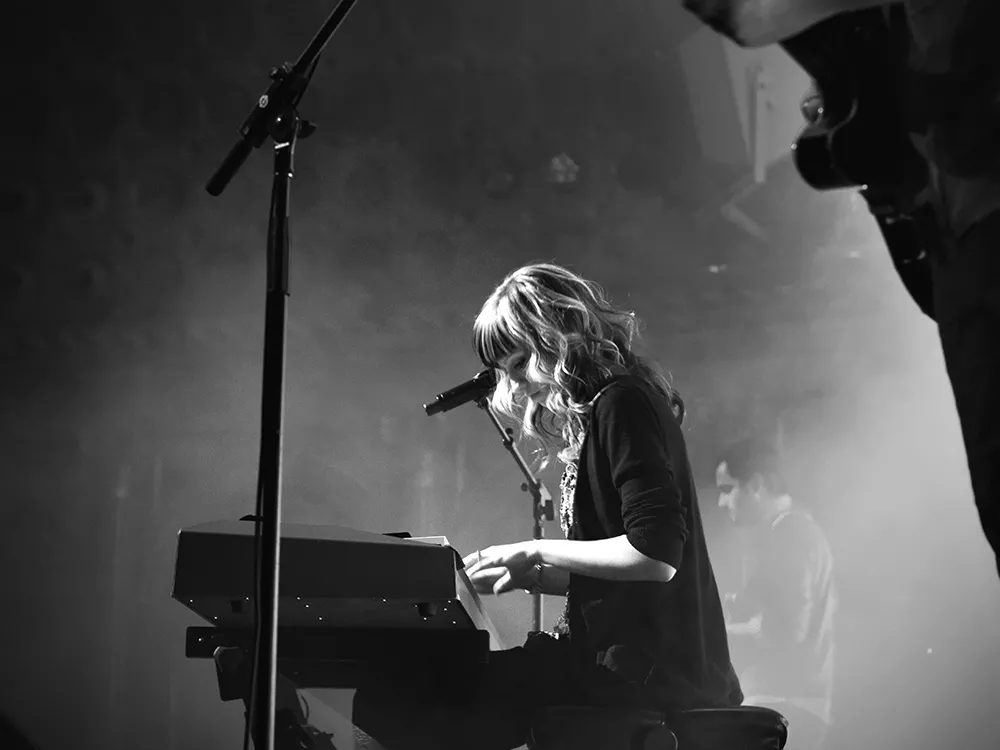 The hour was late for a school night, yet Cami Bradley held the Bing Crosby Theater audience in the palm of her hand.
"I can't help falling in love with you," she effortlessly sang, reenacting her springboard moment from her recent stint on America's Got Talent.
The feeling of love, of pride for the hometown songstress, was as palpable in the room as the haze formed from the fog machine. Bradley thanked her fans from behind her keyboard, and one loudmouth fan in the back blurted out, "We love you Cami!"
On Sunday night, Bradley — along with fellow contestant Taylor Williamson, who kept making jokes about how he thought he was in Tacoma — performed to two sold-out shows, the second of which got out past midnight.
"I was so excited when the first one sold out, so we added another one," she says. "But we thought the second one being at 10:15 would be pretty late for most people, so when that one sold out the next day it was a huge surprise."
Bradley is exhausted yet spirited. She's just gotten back from New York City, where the show was taped, and will have only a few days to recuperate before going on a two-month tour with the rest of the AGT finalists.
The last couple of months have been almost unimaginable for her. She says she never expected to make it past the first round, but week after week her stirring vocal performances convinced enough people to pick up a phone and vote for her.
"I don't know, I don't have a story," she says. "I wasn't in the army, I'm not funny. There are a ton of other things the other contestants had going for them. I guess I stayed true to myself, and that was able to resonate with people."
The sting of disappointment was very real for Bradley last Wednesday when she was named the sixth-place finisher out of the final six contestants, missing out on $1 million and a Vegas show contract.
"I remember being nervous, but I wasn't worried because I had given what I wanted and people had gotten to see what I had," she says. "I was a little disappointed that I got last place, but all five of the acts I was against I respect and adore."
Known for coming to music naturally and never taking a lesson, Bradley says the people who helped cultivate her most on the show were the ones you don't see on TV, the AGT music department. Well, them and Howard Stern.
"He's the judge I was most afraid of, he's very blunt," she explains. "But if there was a criticism or critique, I took what he had to say to heart and made it better for the next week."
Strangely, Bradley had no intention of ever participating on a reality show; she even passed one up when she was 17. But she became intrigued when a few people from AGT reached out after seeing her YouTube videos, encouraging her to audition for the show.
"I had never wanted to do a show like this; I'd never been a fame seeker," she says. "But I thought this was a good way to get out of my comfort zone. Anytime this show airs, it has 9.6 million viewers; the exposure this show gives you is huge."
Last Sunday, friends, family and admirers gathered to pay homage to Bradley. Playing songs from her recent album, Seas, and selections from what she performed on the show with the help of her backing band, she more than appeased them.
While her future is uncertain, she has no immediate plans to leave the city where it all began.
"I love visiting New York, it's very different," she says. "But I really do love Spokane. This is my home."