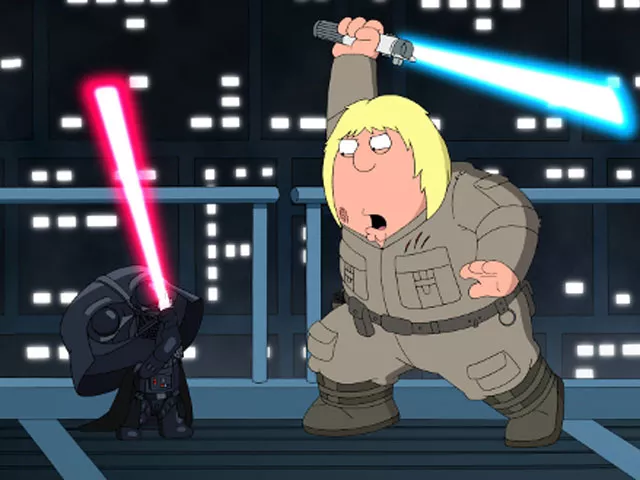 Here at The Inlander, I have the coveted position of Official Judge of Star Wars Parodies. That's because no other staffer, at age 14, wrote Salk Wars — a 123-page Phantom Menace parody set in his own middle school.
There's something equally, painfully nerdy about Family Guy creator Seth McFarlane. For all his lip-curled hate, there's a lot that McFarlane loves. He loves old show tunes. He loves '80s pop-culture references. He loves Star Wars. Oh, boy, does he love Star Wars.
If Hot Fuzz and Shawn of the Dead have taught us anything, it's that love is the secret ingredient to a good parody. Parodies fueled by anger seem more like a movie critic's rant than something light-hearted.
Something, Something, Something Darkside is the Empire Strikes Back follow-up to Blue Harvest, Family Guy's line-by-line parody of Star Wars: A New Hope. It's basic stuff. The same plot, with characters swapped out with the Family Guy cast, and Airplane-style gags stuffed in the white space.
Of course, it's not great. Family Guy aims for laughs and cringes, never for something as ambitious as great. Generally, it's the same mix of racist/homophobic/gross-out/ hey-remember-that-'80s-TV-show gags, but the hit-miss ratio is better than ever.
Generally, the plot in Family Guy is just a rickety coat rack to hang gags on. But by riffing off the plot we've all seen 100 times (or, in my case, even more often), the expectation of key moments become the perfect joke set-up.
"I love you," Leia/Lois tells Han as he's lowered to be frozen in carbonite.
"F--- off," Han/Peter replies. The best part of Family Guy — the very weird pop-culture riffs — are made even better. The Taun-Taun llama-like creature of the ice planet Hoth becomes a "Don-Don," with the head of Don Knotts. The training montage of Luke Skywalker is interlaced with clips of Ivan Drago training the Soviets from Rocky IV. If Family Guy is the Star Wars prequels, Something, Something, Something Darkside, is the original series.
The DVD features include a popup factoid version of the film and a two-minute, table-reading preview of the upcoming Return of the Jedi parody.