Family is rarely far from Chef Patrick Fechser. Hay J's, the wildly popular Liberty Lake restaurant he opened with his mother Rhonda Entner in 2006, is named after Fechser's two children. Brother Jeramie Entner is sous-chef there, while sister Natasha Nixon works the front of the house with Rhonda. Yet another family member — Fechser's uncle, Martin Dean (Rhonda Entner's brother) — is involved on the business side in management.
As busy as he is, Fechser still likes to keep things simple.
"Simple and fresh cooking, if done with perfection in mind," says Fechser, "can be accomplished by anyone if they put their mind, heart and soul into a dish."
It's a kitchen philosophy he's honed for more than 20 years, most of them learning on the job at the former Percy's Cafe Americana in Spokane Valley. What excites the 39-year-old chef is creating "an atmosphere and dialogue about great food, great wine and great experiences through dining."
It's that kind of approach that has made Hay J's Bistro a hit with cuisine often described as New American, featuring dishes like goat cheese and fig crostini, a seafood Cobb with langoustine, blackened ahi and Gorgonzola, and a chicken Marsala risotto. Besides seasonal, fresh ingredients, Fechser gets inspiration from the rare, precious mini-vacations he takes with family. A recent trip to San Francisco's famed Scala's Bistro has him thinking about risotto.
Located in an not-exactly-picturesque spot adjacent to a gas station just off Interstate 90, Hay J's is nonetheless fostering spin-off business ventures. In addition to their nearby Eau de Vie wine shoppe (opened in 2011), Fechser, his mother and cousin Eddy Rogers recently added yet another new venue — Butcher Block — which Fechser says will allow them to enhance their reputation for fresh, seasonal cooking.
Butcher Block, explains Dean, has the ability to bring in seafood from throughout the Northwest, and from Hawaii via next-day air. Don't be surprised, says Dean, if Butcher Block items show up on Hay J's menu.
When Fechser isn't in the kitchen, he's likely to be found doing something physical: racquetball, softball, football, paddleboarding on Liberty Lake, or playing with his two Labradoodles. And of course he spends a lot of time with family. ♦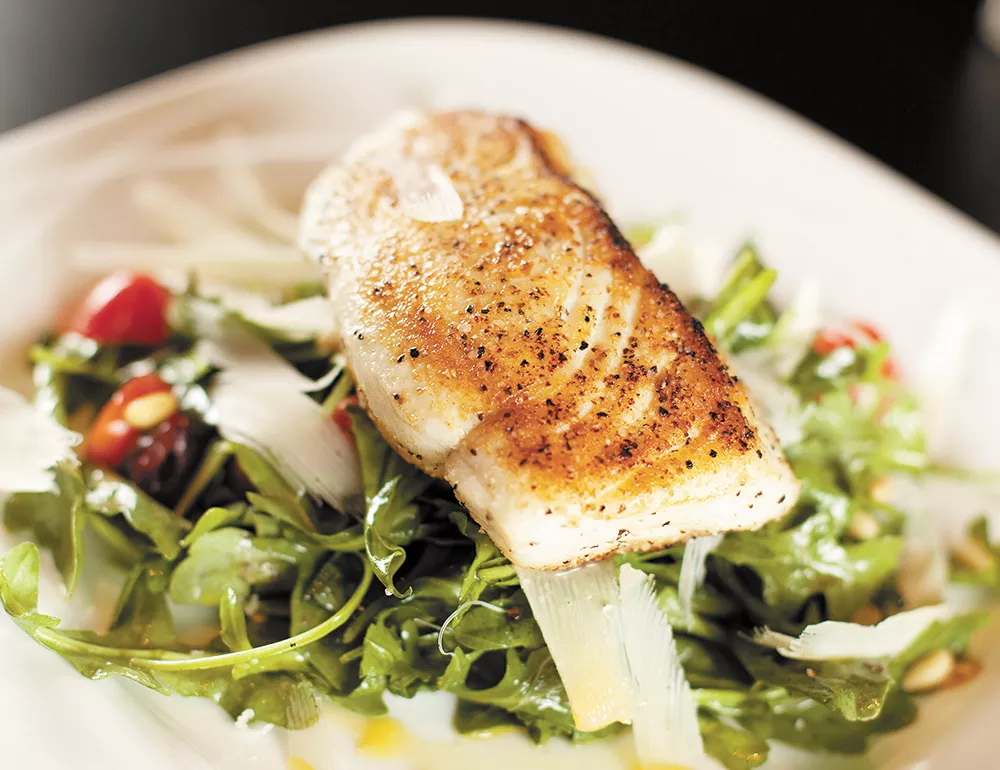 Halibut with Rocket Salad
High in vitamins A and K, arugula (also known as rocket) is bright and peppery. Chef Patrick Fechser's recipe is a variation on Hay J's Rocket Salad, and he chose the halibut because it's simple to prepare — something he and his kids typically eat at home.
Rocket Salad
12 ounces arugula
6 ounces shredded Parmesan cheese
1 cup diced tomatoes, heirloom if possible
2 tablespoons capers, drained
½ cup Kalamata pitted olives, rough chop
6 anchovy filets, rough chop
¼ cup fresh-squeezed lemon juice
¼ cup + 2 tablespoons extra virgin olive oil
Freshly cracked pepper and sea salt
2 tablespoons pine nuts, raw
1. Combine first six ingredients in a large mixing bowl.
2. Mix lemon juice and olive oil. Toss with salad mix just before serving.
3. Season with salt and pepper and top with pine nuts.
Pan-Seared Halibut
Four 6-ounce halibut filets
Salt and pepper
2 tablespoons canola oil
1. Season each filet with salt and pepper.
2. In a nonstick sauté pan, heat canola oil on medium high.
3. Add each filet and let sear for 2-3 minutes until you have a nice, dark golden color.
4. Carefully turn each filet over and sear for another 2-3 minutes.
5. Serve on top of salad or on the side.