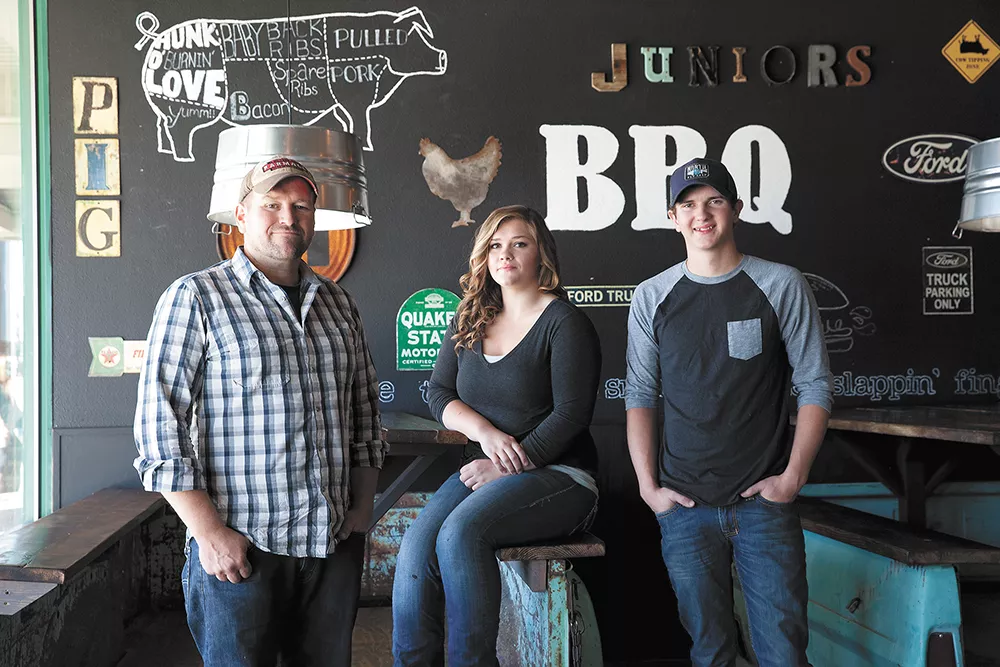 If any of the Potter children want to go into the family business, they'll have plenty of options from which to choose, although given the example set by their elders, they're likely to open their own places.
The patriarch, Travis Potter, started Tractor Soda Company (tractorsodaco.com), an organic, non-GMO fountain soda business, after a lifetime in the food industry that included ranching, farming and owning both meat stores and yogurt shops. His oldest son, 19-year-old Travis Potter, Jr. — everyone calls him Junior — recently opened Junior's Barbecue (facebook.com/juniorsbarbecue) in Hayden's Prairie Avenue Shopping Center. Just two doors down from Junior's is 1920 Soda Fountain (facebook.com/1920sSodaFountian), which sister Cheyenne, 18, will open around Labor Day.
"Every one of the kids is into farm, 4-H and food," explains Cheyenne, who counts on sisters Paisley, 16, and Ryelee, 14, to pitch in with baking and making ice cream. Everyone, she adds with a smile, helps test flavors.
For Junior, the restaurant is the culmination of a dream 11 years in the making. The family had been living in Georgia, and 8-year-old Junior helped out in the meat shop, making sausage. One day he announced that what he really wanted to do was farm and barbecue. His father's response?
"I told him, go online and figure it out," says Travis.
Junior has since honed cooking Southern-style favorites inspired by childhood memories. Inside a smoker he built from an old boiler with help from a friend at the neighboring Local Deli, Junior prepares tri-tip, brisket, pulled pork and smoked chicken. Get your choice of meat in a taco ($3), sandwich or salad ($10-$12), with one side (or fixin'), all from family recipes — his paternal grandmother's beans or his mother's mashed "taters." Specials include pork ribs on Tuesdays and fried Southern classics, like okra and hush puppies, on Friday.
Junior's Barbecue features a covered-porch storefront, made out of salvaged wood, and three turquoise truck beds from the junkyard, each a platform for table and bench seating. Rustic signs punctuate black walls, alongside handmade illustrations and lettering promising "toe tappin' lip smackin' knee slappin' finger lickin' jaw droppin' dang good barbecue."
When it opens next week, Cheyenne's 1920 Soda Fountain will harken back to Prohibition-era soda shops. The design is crisp, fun and fanciful, with gray walls adorned in mirrors, vintage-style lettering and black-and-white seating and tables.
"I want people to feel special," says Cheyenne of the interior.
On the menu at 1920, look for milkshakes, floats, sundaes, and egg creams — they're actually made with milk, chocolate syrup and seltzer. They make waffle cones on demand, so they're warm and crispy when filled with scratch-made ice cream using rBST-free milk. Flavors will vary: tart lime Rickey, chocolaty Tootsie Pop and a sweet-savory combo of candied orange peel and pepper.
Cheyenne likes to experiment with flavors, as does her father, who developed the idea for an organic soda company while still in the organic beef business. He'd been approached by some investors looking for his opinion on starting an organic burger chain, which Travis calculated relied on the availability of organic beverages.
The idea of producing a healthier soda stuck with Travis, who says that he'd been interested in how food impacts health ever since graduating from a Minnesota-based college program on meat and meat-cutting. He began promoting healthier options in his successive businesses, like no-nitrate bacon in the family-run meat shop and organic puddings, creamers and smoothies in his yogurt shops.
Based in Coeur d'Alene, Tractor Soda has a staple line of cola, root beer, ginger beer, cherry cream, coconut, blood orange, lemongrass, Meyer lemon and cucumber, plus specialty flavors. National distribution covers approximately 35 states, and you can try Tractor Soda locally in either of the two restaurants that extend the Potters' food industry legacy into the current generation.
With nine siblings following budding restauranteurs Junior and Cheyenne, one can only imagine what the future holds for this dynamic dining dynasty. ♦