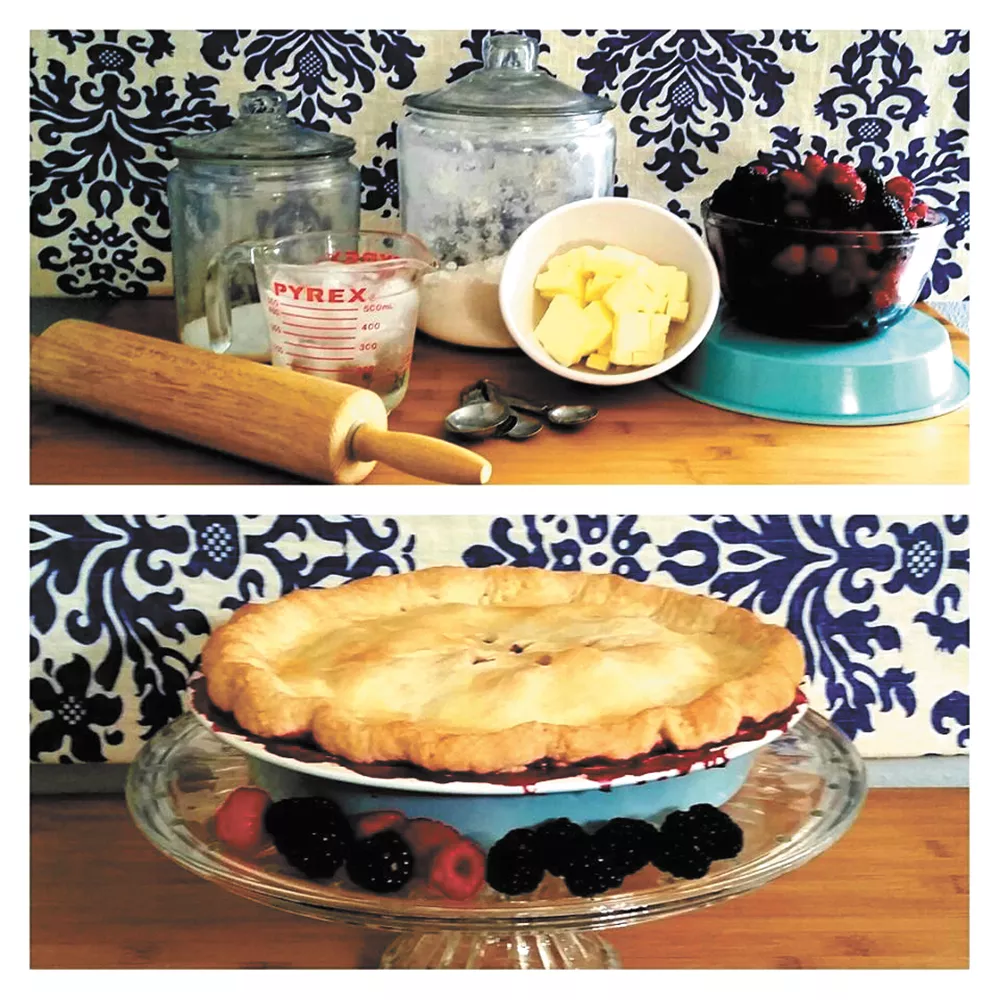 Almost every booth is filled with a family. An elderly couple eats breakfast for lunch, friends catch up while their kids play with a kitchen toy set, and a multigenerational clan pulls over an extra table, where two little girls soon sit down to color pictures of farm animals.
The dining room of Chomper Cafe used to be the garage of a farmhouse in Hayden's Stoddard Park. Sarah Baker, the café's owner, oversaw a massive remodel to transform the house into the café, but its past is preserved in photos hanging on the walls that show the farmhouse and other Hayden farms dating back to 1903. Out of the dining room window, you can still see the big red barn and its silo.
"I'm just trying to bring the history of the area here and make it feel like home, like it's a farmhouse for real," Baker says.
A white, red and black aesthetic sets the café's mood. Mismatched red chairs surround the tables; Baker's friend painted giant roosters and a pig on the walls, standing in fields of black grass and red flowers.
Baker, who worked at Europa and then Cottage Café over the past 15 years, lives just a couple of miles down the road. She'd been wanting to open her own restaurant here, a mostly residential area where the cities of Hayden, Coeur d'Alene and Post Falls meet.
"We're just kind of in the middle of the whole community," she says. "There's not a lot of options over here, so I really wanted it to be family-friendly."
One of Baker's favorite things to recommend on the menu is the corned beef. It's slow-braised in-house for 12 hours, and you can get it on the Reuben ($9) or the corned beef hash ($11) served with potatoes, onions, two eggs and toast.
Pastry chef Kari Bice bakes for Chomper's catering service and makes all the biscuits and pies found on the breakfast and lunch menus, including the cinnamon roll special ($5.50). You choose a classic, maple pecan or seasonal cinnamon roll served with two eggs and either bacon strips, links or a patty. ♦
Chomper Cafe • 2345 W. Prairie Ave., Hayden, Idaho • — Open daily, 7 am-3 pm • chompercafe.com • 208-719-0441