As Dan Dvorak stands on a ladder above a mill in the back of Black Label Brewing Company early on a Saturday morning, Joel Williamson stands near the motor — which once powered a washing machine — pressing his hands against the side to make sure no grain falls through without being milled. Typically, a little malted barley not perfectly milled might not matter all that much, but this is different.
While Black Label brewer Dvorak works with malt daily, he doesn't normally know where it was grown. But thanks to Palouse Pint — a new Northwest regional craft malting facility — he knows this malt was grown at Joseph's Grainery in Colfax.
Williamson and Dan Jackson know they live in a big grain-growing area, so when Williamson — a home brewer of six years — wanted to continue localizing ingredients, they both wondered why malted barley couldn't be bought locally.
"Ninety-five percent of the grain we grow is exported and is sold in the commodity market," says Jackson. "You don't control the price, and you really have no idea where it goes."
As a farmer, Jackson wants other farmers to get a price that's fair for their product. As a brewer and maltster, Williamson wants to know his ingredients are fresh and local. So together they decided to make that happen by creating Palouse Pint, distributed by LINC Foods, a company that sells locally farmed produce to the region's stores, restaurants and educational institutions.
After approaching brewers around Spokane, they were excited to learn th other people supported the idea of Palouse Pint and what it could become. While half of the funds needed to get custom malting equipment and start Palouse Pint came from local investors, Jackson knew they'd need to get creative to raise the other half. The Working World — a New York-based nonprofit with revolving loan funds — funded the other half. Once Palouse Pint begins repaying that loan, the money will be put into a local loan fund, available to lend to support other projects.
Similarly to Williamson, Dvorak has always worked to keep the ingredients Black Label brews with as local as possible; he's excited to know the farmer who grows the grain and the process he grows it with.
"This is huge for Spokane and this entire area," says Dvorak. "It's pretty easy for us to be onboard and want to support what they're doing."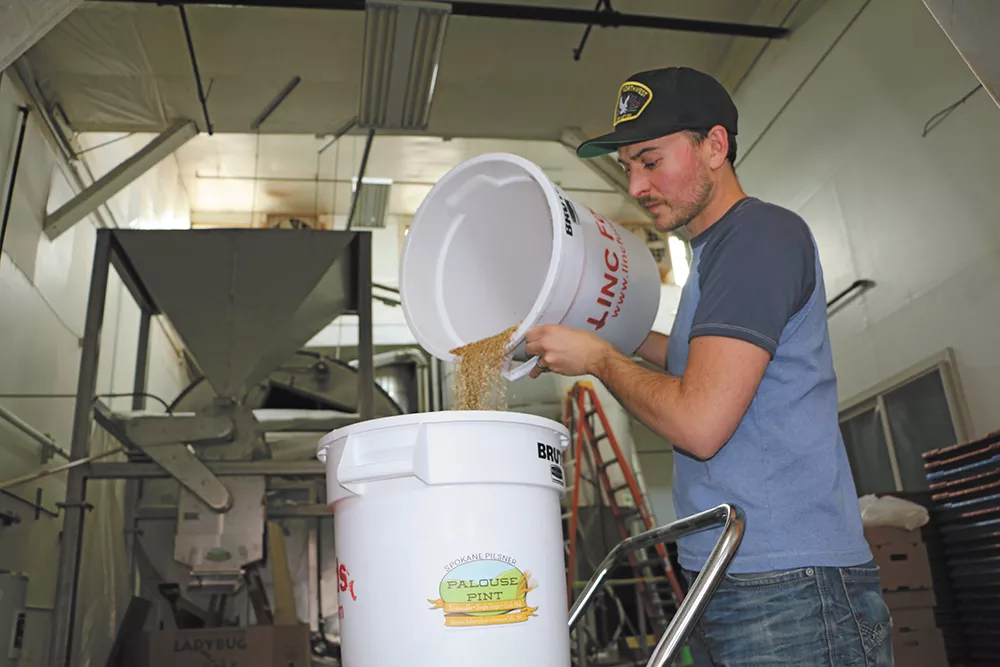 When Black Label and Badass Backyard Brewing were deciding what kind of beer they wanted to make with Palouse Pint's first batch of malt, they started looking for a weird hop neither brewery had previously used — or even heard of. With Cleopatra hops and Palouse Pint's Spokane Pilsner, they created the Palouse SMaSH, a single-hop, single-malt beer.
Williamson who gained his maltster title in Winnipeg, Manitoba, wants to experiment with flavors and characteristics of different malts. He plans to work with Crystal 40, English Pale and White Wheat and Oat malts next.
To celebrate Palouse Pint's opening, a launch event benefiting Second Harvest is being held on May 11 at the warehouse in Spokane Valley. Brewed with the first batch of malt, beers from Bellwether Brewing, Big Barn Brewing Company, Black Label Brewing collaborating with Badass Backyard, Hopped Up Brewing Company, Orlison Brewing Co., No-Li Brewhouse and Young Buck Brewing will be showcased, along with Tinbender Distillery's All Spokane single malt white whiskey.
Tickets ($40) purchased online include tasting, chances to meet the farmer and brewers, a pig roast and other food from Clover chef Travis Dickinson and Culture Breads baker Shaun Duffy — including malted pretzels.
"We want to push the levels and styles of beer being made in this area," says Jackson. "Because honestly, Spokane is the perfect place for that."♦
— Palouse Pint Showcase • Wed, May 11, from 6-9 pm • $40 • 3808 N. Sullivan Rd., Building 12, Suite P, Spokane Valley • 230-1223 • lincfoods.com/malt