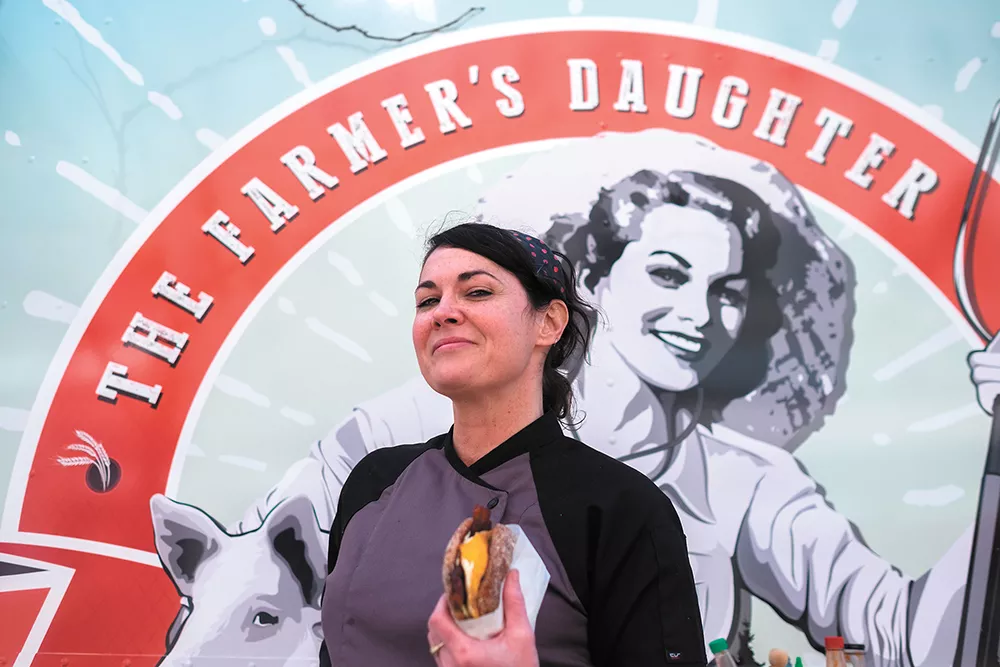 Jillian Gay wants to change the minds of people who see eggs and pork only as "morning" foods.
That's one reason the Le Cordon Bleu graduate decided to launch her one-woman restaurant on wheels, The Farmer's Daughter, which exclusively serves up classic breakfast ingredients, mostly in the form of handheld sandwiches. Fitting of her business's name, Gay sources all of her eggs and pork products from her father, Dave Gay, who owns New Ground Farm in Deer Park.
Having returned to the Inland Northwest last year, after living outside of the area for the previous 15 years, Gay was inspired to open a food truck because of the diverse mobile dining options she'd encountered in her former city of residence: Oakland, California.
"There are so many, you couldn't imagine the crazy different kinds of [trucks] there, and with my dad partnering with me, it made sense," she explains. "And I've always been drawn to breakfast food. I love cooking eggs, and I love eating eggs. I love eggs!"
Beyond the staple ingredients of pork and eggs, Gay sources other ingredients from local farmers whenever she can. She makes everything on her menu from scratch, including English muffins for the truck's various breakfast sandwiches.
"It's a lot of work, and I'm still doing it, but I wanted it to be different, and when people eat my sandwiches, I wanted them to be able to tell that there is something special about it," she says.
Gay's most classic offering is a fried egg sandwich ($7), which comes with a choice of bacon, ham or a sausage patty, topped with cheese and garlic aioli. But this farmer's daughter's other creative takes on breakfast shouldn't be overlooked.
The PBJ&B, for example, is an English muffin stacked with Gay's homemade peanut butter, a jam of the week, and bacon ($8). Other variations include a pork chop sandwich ($9) with apple onion chutney and a fried egg, along with a French toast sandwich, a breakfast quesadilla, an omelette sandwich and a few other rotating specials. Besides these handheld choices, Gay regularly serves up sourdough hotcakes, biscuits and gravy, and a crispy potato hash ($3).
Vegetarians need not worry, since Gay also has a black-bean patty option for her breakfast burger, and several other menu items can be ordered sans meat.
Despite our region's long and dreary winter, customers may have seen Gay's mostly pale blue and black, red-accented diner on wheels around Spokane as early as February. After her planned summer 2016 launch date was delayed due to the retrofitting of her truck, Gay became tired of waiting for winter to leave, so she started setting up shop in the mornings and early afternoons around downtown Spokane before the snow had melted. She plans to be open four to five days a week, and wants to set up shop at local community events and farmers markets as the warmer season continues.
During the week, hungry breakfast lovers can find Gay in downtown Spokane at least one day, usually near the intersection of Riverside and Lincoln. Regardless of her schedule, though, customers can always find out when and where The Farmer's Daughter is headed next on social media, where Gay posts updates each day she's open. ♦
The Farmer's Daughter • Facebook: The Farmer's Daughter Food Truck • Instagram: @farm2truck • farmersdaughterfood.com